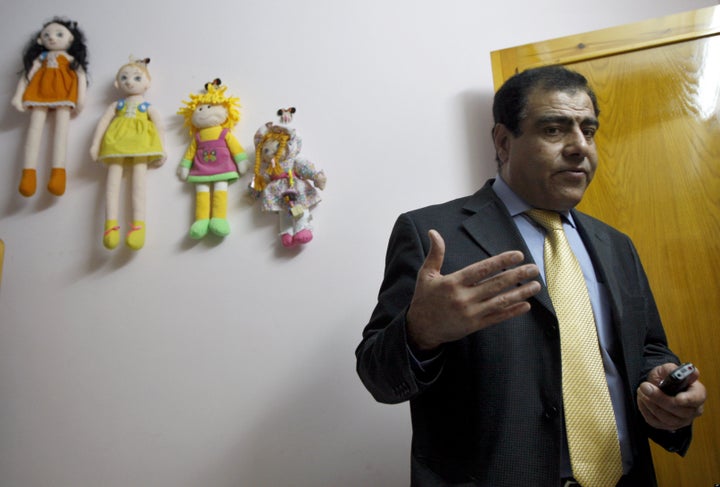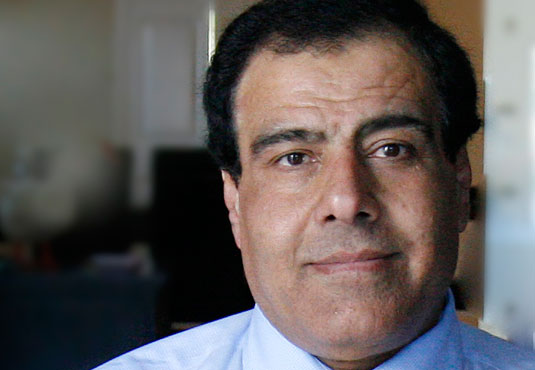 I was almost knee-to-knee with Dr. Izzeldin Abuelaish as we sat in the lobby of his hotel in downtown Los Angeles, talking about his new book, I Shall Not Hate, and the work he is doing to create a lasting peace between Palestinians and Israelis. His energy was irrepressible and contagious and the smile that permanently graces his face as he talks belies a life of suffering and heartache. In January 2009, during the three-week long war in the Gaza Strip and a mere four months after losing his wife, Nadia, to cancer, an Israeli tank fired two shells into Dr. Abuelaish's home, killing three of his daughters, Bessan, Aya and Mayar, and his niece, Noor.
His story is also one of tremendous opportunity. Born in the Jabalia refugee camp, he experienced deprivation. Yet, through sheer determination and hard work, the young Izzeldin studied medicine in Cairo and pursued further specialization in Saudi Arabia, becoming the first Palestinian doctor to receive a staff position at an Israeli hospital.
On the night I spoke to Dr. Abuelaish, we had just come from the downtown branch of the Los Angeles Public Library where Washington Post reporter, Laura Blumenfeld facilitated a discussion about his book in front of a packed auditorium, part of the ALOUD series put together by the Library Foundation of Los Angeles.
You only have to listen to him for a few minutes to understand his single-minded focus on saving lives and to see the way that the practice of medicine is a metaphor for everything he does. He remarks, with a smirk, that an Israeli and a Palestinian will share a room in the hospital when that arrangement would never have happened outside the hospital.
But perhaps what stands out most about Abuelaish is his belief in humanity's inherent goodness. He appears to have no doubts that peace will be achieved between Israelis and Palestinians. When I asked him if he ever lays down in bed at night and thinks to himself, "People will never change!" he replied without hesitation, "Ayyy, no! Never! If I believe in that -- that this patient will never be cured..." His voice trailed off. "I don't believe in that because today he is not going to be cured, but God knows what will happen tomorrow."
God is a decisive factor for Abuelaish. His Muslim faith is the source of his passion for saving lives, but his appreciation and respect for Judaism and Christianity is also remarkable. While discussing the role faith plays in his work he remarked, "Saving one life, you save the world. Killing one, you kill the world." This is a paraphrase of a statement, not from the Quran as you might expect, but from the Talmud!
"Like Martin Luther King Jr., I too have a dream," he writes. "My dream is that my children - all Palestinians and their children and our cousins, the Israelis and their children - will be safe, secure, and well fed; they will have their own citizenship and identity." This doctor wants to cure more than individual patients. He wants to cure the hatred between Palestinians and Israelis. More than this, he wants to cure poverty and injustice that is the source of that hatred.
In his book, Abuelaish fingers the real culprit.
Hate is a chronic disease, and we need to heal of ourselves of it and work toward a world in which we eradicate poverty and suffering. If a free society cannot help the many who are poor, it cannot save the few who are rich from hating one another (230).
This statement reminds me of Dr. King's famous statement:
Darkness cannot drive out darkness; only light can do that. Hate cannot drive out hate; only love can do that. Hate multiplies hate, violence multiplies violence, and toughness multiplies toughness in a descending spiral of destruction. ... The chain reaction of evil -- hate begetting hate, wars producing more wars -- must be broken, or we shall be plunged into the dark abyss of annihilation.
In spite of the incredible pain and injustice that has been his experience for more than 50 years, he refused to give in to hate. He says, "Our enemy is our ignorance." Education is his solution. In the end, he says, we will be judged by three things:
Your money: from where did you get it and what did you do with it? Your education: what did you do with it? Did you keep it in your heart and mind or did you spread it to others? And your time: did you help others with it? Did you invest time or spend it in fun here and there? That is religion.
Many have commented that the Palestinians and Israelis need a Gandhi -- a Martin Luther King, Jr. It appears that this time has come.
Related
Popular in the Community