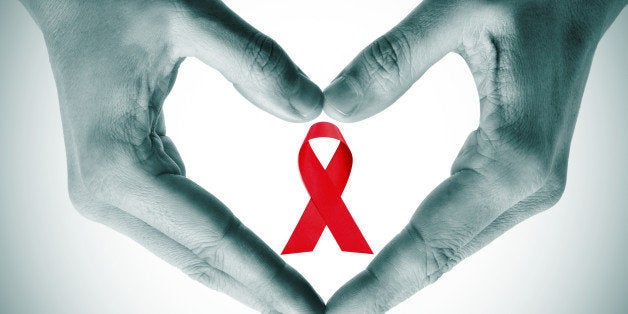 The scenes by now seem familiar. Activists blocking traffic at busy city intersections with locked arms, chanting "We're fired up. We won't take it anymore." Protestors taking over streets and civic buildings, to raise awareness about the tragic loss of lives in their community and a government's complicity in those deaths.
Only the year is 1988, not 2015, and the protesters are from ACT UP, a grassroots, leaderless and national coalition of local, direct action organizations to stem the loss of lives to AIDS in communities across the United States. Their tactics of civil disobedience drew from past civil rights movements, and resonate today with the Black Lives Matter movement. Sadly, however, there is still a need for movements today that value the lives of those who are too often seen as disposable.
Last Tuesday was World AIDS Day, and this year's theme again is "Getting to Zero" -- meaning zero new infections, zero discrimination and zero deaths. Thanks to life-saving medications and treatments, we have the tools to get to zero infections and zero deaths. But medicine alone cannot stop this epidemic, as long as HIV stigma and discrimination still exists. When stigma and discrimination continue unchallenged, it keeps people from getting tested and receiving treatment -- both critical steps in ending the epidemic.
However, we must go beyond ending stigma and discrimination. We must also value the lives of those who are most at risk of becoming infected -- through our words, actions and most importantly policies.
Finally, we cannot place value only on the lives of people living in the U.S. There are almost 37 million people worldwide living with HIV, with 2 million new infections and over 1 million deaths each year -- most of them black lives in sub-Saharan Africa. And yet, U.S. funding to fight the global AIDS epidemic has plateaued in the last 5 years, even though total global funding to fight HIV is still below what the global community has set as the amount needed to end the epidemic.
HIV disproportionately targets the most socially and economically vulnerable in our society. That is why, if we are to reach our goal of getting to zero, we must focus on counteracting the many ways our governments, institutions and society devalue the lives of those who are most marginalized in society.
Gay men know what it was like to have their lives mean little to a government entrusted to protect their interests. To hear silence from government officials as their family members are dying. To have politicians call for special identification and quarantine of HIV-positive individuals. To be blocked from entering the U.S. based upon their HIV status. Sadly, the history of discrimination has a habit of repeating itself. That is why on this World AIDS Day, it is time again to act up for the lives most at risk of being lost to the epidemic.
Calling all HuffPost superfans!
Sign up for membership to become a founding member and help shape HuffPost's next chapter