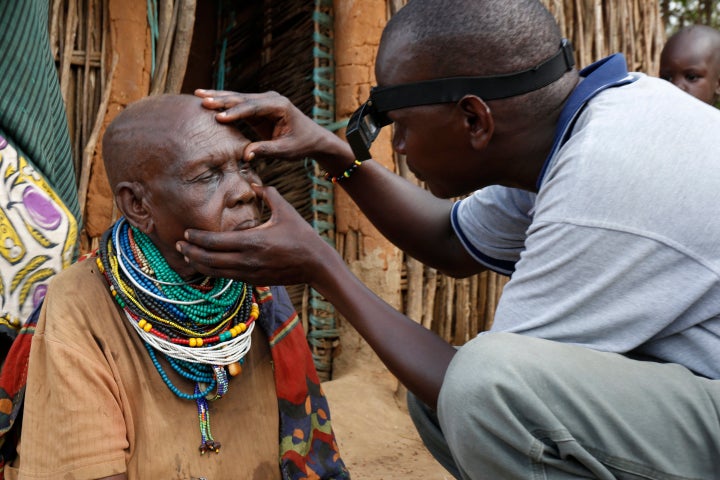 Despite 'unprecedented progress' further gains depend on water and sanitation, says the World Health Organization
87-year-old Itai Nakoru, opens her eyes slowly so the doctor can examine them. She's in excruciating pain because every time she blinks, her eyelashes scratch her corneas.
"For the last six years, my eyes have been itching so much, this year, my left eye totally lost sight," she explains.
Itai lives in Uganda's north-eastern Karamoja region. She's being examined by a doctor to determine if she can have surgery to treat her trichiasis, which is a result of repeated trachoma infection. This eye disease is caused by the bacterium Chlamydia trachomatis and leads to inflammation, scarring the inside of the eyelid. The eyelids eventually turn inwards causing the eyelashes to scratch the cornea.
Trachoma is the leading cause of preventable blindness in the world, affecting almost two million people globally. In this region of Uganda, trachoma rates are the highest in the country, largely because the area is hot and dusty and sanitation is poor, making it a perfect breeding ground for bacteria.
Itai and her family do not have access to clean water, and their house has no toilet meaning they practice open defecation, like three million other people in the country. Poor personal hygiene – especially hand and face washing – make trachoma transmission more likely and treatment more difficult. But improving people's access to clean water, sanitation and hygiene can help eliminate it.
Uganda, along with several other trachoma-endemic countries, has committed to eliminating trachoma by 2020. But this requires a multi-track approach: surgery to treat the blinding stage of the disease, antibiotics to clear the infection and improved access to clean water and sanitation to keep the face clean and reduce transmission. While surgery and antibiotics have often been prioritised, the sanitation and hygiene aspects of trachoma prevention have not been addressed.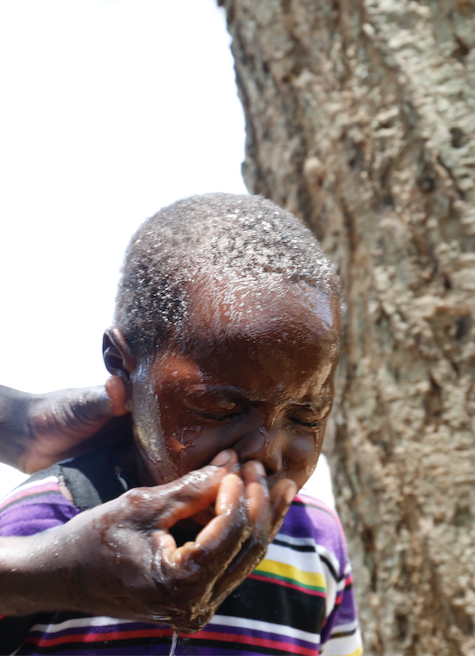 This week's announcement by the UK government – that it will invest £360 million in fighting neglected tropical diseases (NTDs) such as trachoma – is welcome news, and will go some way in tackling some of the world's worst infectious diseases. To truly consign many of these diseases to the history books, some of that money must be directed towards ensuring communities have access to water and sanitation and there must be efforts to improve hygiene behaviour in endemic communities. On Wednesday the Director of the World Health Organization's department for control of NTDs, Dr Dirk Engels, said that meeting global targets for water and sanitation 'will be key' to making further gains in the eradication of NTDs. There are currently 2.4 billion people globally that lack basic sanitation facilities and 663 million with no choice but to drink water from polluted or dirty sources. World leaders have made a promise to bring those numbers to zero by 2030.
In the area in which Itai lives WaterAid is now working to support communities to improve their access to water, sanitation and hygiene. Beyond reducing the incidence of trachoma, this will have many other benefits, including a reduction in diarrhoeal disease and malnutrition rates. In addition, the welfare and opportunities of women and girls are likely to improve as they no longer have to spend time collecting water.
For Itai unfortunately it's too late to try and save her sight. The doctor decided as she was already blind in one eye it was too dangerous to carry out the operation, for fear she may lose sight in both eyes. But for Itai's children and grandchildren, and for the millions of others suffering from neglected tropical diseases, the time for action is now.
These diseases have been 'neglected' for too long; let us ensure that water and sanitation are not neglected in the fight to eradicate them.
This article is part HuffPost's Project Zero campaign, a yearlong series on neglected tropical diseases and efforts to eliminate them. This series is supported, in part, by funding from the Bill & Melinda Gates Foundation. All content is editorially independent, with no influence or input from the foundation. If you'd like to contribute a post to the series, send an email to ProjectZero@huffingtonpost.com. And follow the conversation on social media by using the hashtag #ProjectZero.
REAL LIFE. REAL NEWS. REAL VOICES.
Help us tell more of the stories that matter from voices that too often remain unheard.