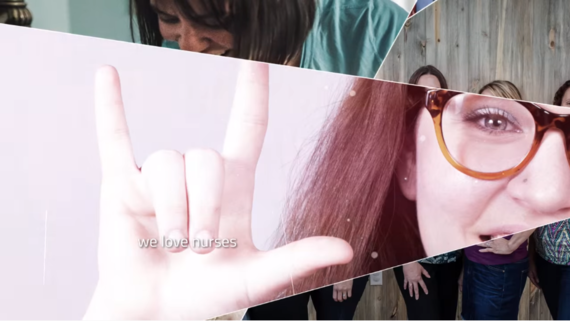 Over the past decade, hundreds of studies have documented the social, physical, and psychological benefits of gratitude to all parties involved. Studies also show the rate of turnover for new nurses is 30% for the first year and up to 57% by the second year, as reported by American Nurse Today.
Nurses are burned out and need our appreciation!
In honor of National Nurses Week, we made this short video love-letter to nurses featuring the photos of care staff at partnering organizations:
Last year for National Nurses Week, DohJe was featured on Aol's homepage in the "Make A Difference" campaign. People across the country shared amazing notes of gratitude, which were delivered to nurses and other staff across the country. Some of the messages were a simple, "Thanks!", yet others were heartfelt stories of amazing people helping one another through the most difficult of situations or joyous occasions.

Words cannot express my thanks to you for the care you gave to my wife. You were genuinely concerned about her care and comfort after surgery, even to the point of staying well past the end of your shift to make sure the care Julia needed was offered. You then took to time to find me in the waiting room to make sure I knew what the plan was for the next hour. Although you made sure Julia was not "allowed" to mow the lawn, etc., your humor made a difficult time bearable. You are a credit to your profession and a great role model for your peers and any nursing students to see a 'true professional.'

Thank you, Edie, for the expert care and special attention to me as you readied me for surgery. The personalized blanket was awesome & made everything easier! You are an outstanding nurse & it shows in the attitude with which you practice your profession.
Stories like these are everywhere; feelings of fear being calmed by empathetic people. We don't always know their names or have the wherewithal to thank them at that perfect time, or even soon thereafter. We know that nurses and other healthcare heroes go into medicine to help us, that it's their job, but this extraordinary care, this connection that they facilitate, is pure magic.
I wanted to thank an amazing nurse, Elspeth, who helped me deliver my son at UCSF Benioff Children's Hospital, but it was tough to track her down after I went home. Luckily I finally got a hold of her 8 months later. It turns out she is not only an amazing nurse, but also a creative problem solver and perfect first advisor for what is now the best way to thank a healthcare hero online at DohJe.com (but I'm biased of course!)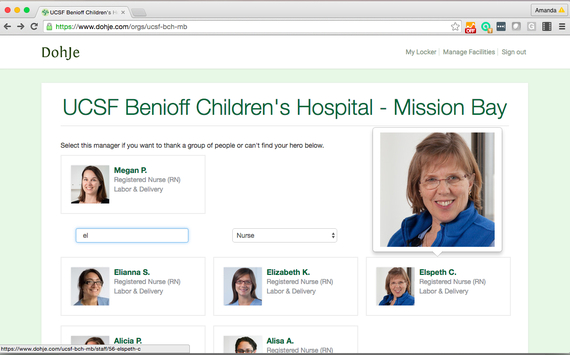 One of our partners, Delta County Memorial Hospital, are participating in a Harvard Business School research study using DohJe as the intervention measuring the effect of gratitude in the healthcare workplace.
DohJe is one of the best, most underestimated tools that we have. Receiving a DohJe makes my day, and a small amount of gratitude goes a long way. - Michelle V., RN, Delta County Memorial Hospital
Everyone is starting to realize that gratitude makes a huge difference in morale, but soon we will have objective measures for how it affects the bottom line.
DohJe's most recent partnership with Hilltop Community Resources, will allow family members of residents in assisted living and home care to directly thank the staff who care for their loved ones many miles away. Read more about that partnership here. The idea for DohJe began with the birth of my child, but I realized end-of-life caregivers could really use gratitude as well after watching my grandmother spend her last years in assisted living with Dementia. I am in awe of what those caregivers do every day. And I hope I can make it just a little easier to say "Thank you!"
REAL LIFE. REAL NEWS. REAL VOICES.
Help us tell more of the stories that matter from voices that too often remain unheard.