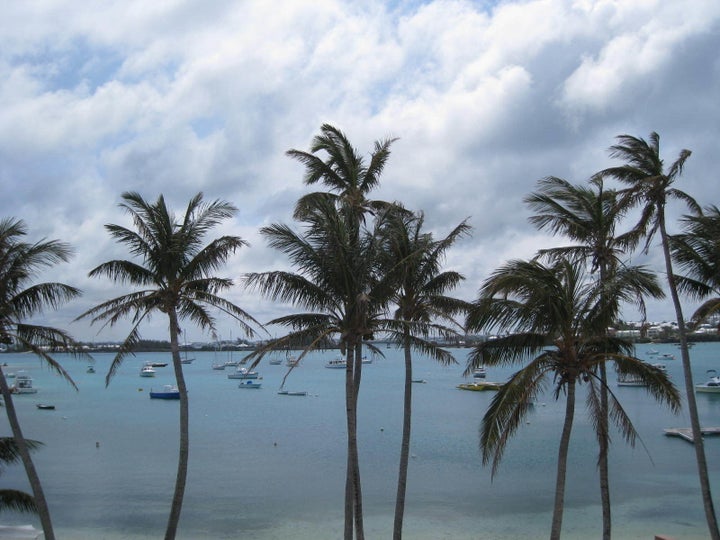 After sampling Bermuda's hotel restaurants, I could see that it was time for a serious change. Sure, the food was fine, but I was itching for some real Bermudian fare. What constitutes authentic Bermudian food, I thought, and where do I find it?
"Sister, I am going to hook you up!" chirped my taxi driver Ray, a man about town if ever there was one. He downshifted from tour guide into off-duty mode and guided me toward places few tourists track down.
My original plan was to take the local bus east from Hamilton to St. David's island and Gombey's, an open-air surfside bar recommended by many-a-local whom I consulted. A no-frills shack on Clearwater Beach, it takes its name from the island's traditional masked dancers. It may look like what you'd expect in the Caribbean, but it is worth remembering that the Caribbean this isn't.
I'd hoped to tuck into some of Bermuda's deep red fish chowder, spiced with pepper oil and local black rum. Nope. The place was closed when I arrived. Fortunately, Ray swooped in and promised something way better. We headed to the end of the island.
After sitting down at the Black Horse Saloon in St. David's, we'd barely ordered before Ray had us on the phone with his pal George, who hailed from this area.
St. David's is the place to go for a bit of old-school Bermuda, Ray told me. Historically, this part of Bermuda was isolated, which helped it build a sort of subculture -- a village within a village, as George put it. Geographically, it was for a long time only accessed by boat. Socially, it was home to a population that was racially mixed thanks to visiting foreign servicemen pairing off with native girls. Unlike the rest of the island, St. David's is very informal, George added. Locals like to keep old traditions alive, like living off the land.
That tradition is evident in the offerings at the Black Horse, where we dined on conch fritters, conch and mussel stews, peas and rice, and coleslaw. That's a mighty contrast from restaurants in Hamilton or at the resorts, which seem to serve only American, Italian or continental cuisine.
Once upon a time, salt cod was the Bermudian breakfast of champions. Made with dried fish, it's boiled with potatoes and topped with a sauce of tomatoes and onions (or sometimes butter or cream) and accompanied by banana, avocado and boiled eggs. Nowadays, the meal has become relegated to Sundays, and is almost impossible to find any other day.
"I called restaurants all across this island, and nobody was serving salt cod!" Ray fumed on a Monday. "It's like our national dish and it's shameful you can't find it." Not content with defeat, he was going to make sure I got a taste of that cod, even if he had to make it himself -- which he did. And, apparently, that's not out of the ordinary.
"Bermudians love to host," Ray told me over breakfast. "We always had strange people over for dinner," he added, recalling his mother's penchant for bringing home company.
It's evident that that attitude of hospitality permeates the island. In just a matter of two days, I'd been promised open doors by locals because I'd "better come back to visit," and a personal escort around the island if I needed it. It's also not uncommon for Bermudians to offer rides to strangers, or to actually stop and help lost tourists.
That's how I found myself at the Pompano Palace, Ray's hilltop abode, eating one of the best meals of my trip. "Our industry is just Bermudians being friendly," he says.
Bermudians will take care of you.
The area on the back side of Hamilton, heading into Pembroke, is unlikely to be featured on the front of any guidebooks. Less manicured than Front Street, the city's main waterfront drag, it's where you can find Bermuda's working class population. Locals may consider this the "bad" part of town, and sure there's a chance you'll be offered drugs (well, pot anyway), though, frankly, I've felt less safe in suburban Virginia.
Don't let the reputation scare you away from some classic Bermudian eats, namely the fish sandwich. I wanted one from Art Mel's Spicy Dicy, widely regarded as the best fish sandwich on the island. Of course, it was closed that day.
Ray detoured me to the Fish Hut, whose interior was more like someone's home kitchen than a restaurant. From behind a no-frills counter came, at lightning pace, one of the best sandwiches in memory. It's criminally simple -- mounds of crispy fried white fish between two slices of sandwich bread slathered with tartar sauce. But the way the heat from the fish slightly steams and softens the bread, gently warming and releasing the tartar sauce tang, renders the whole greater than the sum of its parts.
The best part? Not a fanny pack in sight.
There's still a list of joints I'm determined to go back and chip away at. In the neighborhood with Fish Hut are the Jamaican-influenced and locally popular Fish-N-Tings and the original outpost of the Jamaican Grill. Overlooking the water on Front Street is the Smokin' Barrell food truck, dishing out Bermudian fare with a BBQ flair -- including the codfish breakfast all day Sunday.
It was closed when I tried to go. Of course.
The hunt for the elusive Bermudian cuisine led me to places many visitors are unlikely to seek out, but rewarded me with my best meals on the island. Those fish sandwiches and conch fritters were a real taste of an island that's more than its pink sand beaches and resorts. It's a place with centuries of history and one of unparalleled hospitality, yet its soul runs deeper than cruise ports and a booming reinsurance industry. But, to appreciate its full effect, you have to follow the food.