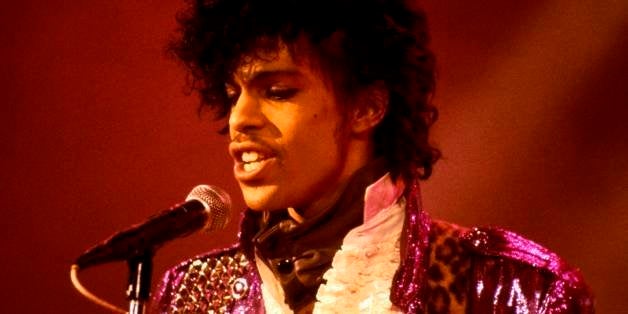 1984. I was stage left, first balcony, towards the front. It was only the second concert I'd ever attended. The arena, the Rosemont Horizon in the suburbs of Chicago, was sold out. Eighteen thousand five hundred people screaming as Apollonia 6 took the stage wearing only fancified underwear. This wasn't just the opening act, it was our chance to walk into the world from the movie we'd been obsessing over, Purple Rain. Then the drums were moved centerstage and the wildly sexy and talented Sheila E riveted us. Her hands flashed impossibly fast as she drummed, kicking the cymbals for emphasis, all while singing and dancing too. I still remember as the lights fell and she did a full drum solo with her glow in the dark drumsticks; here was a woman with more talent than I'd seen dozens of other stars put together. Amazing. But as wild as this was, we were still just getting ready for the main event.
The lights fell, we shuffled and muttered, bursts of screams would break out in sections of the arena. Then the one guitar note, wailing and calling us to rapt attention. As it faded away I think every single person in that arena held their breath. Then the smoke, the soft spot, and the riveting call to a very different kind of church:

Dearly beloved
We are gathered here today
To get through this thing called life.
Absolute pandemonium broke out.
Like probably millions of other teens that year, I had the poster from Prince and the Revolution's Purple Rain album up in my bedroom at home. I spent long hours staring at the unabashed masculinity of the front man, dressed in heels and frills and singing about being neither man nor woman. Here was a man who threw gender norms to the wind. And at his side Wendy and Lisa were let's just say it, snuggling together, one with her arm around the other protectively. Provocatively. Prince, with Wendy & Lisa at his side was one of three pop acts of the time that were tipping the seemingly rigid gender stereotypes on their head. Of course the other two were the Eurythmics with Annie Lennox in her orange crew cut and the unabashedly queeny Boy George and Culture Club.
Famous people didn't seem to talk about being queer then, it was still a time when we were reading the secret signals. I'd gotten the single earring in my right ear to show people I was gay. I wore a labrys to do the same. The word transgender didn't even exist yet, so I found a home in the lesbian community. Rumors had it we were supposed to wear green on Thursdays but I'm not sure I even knew enough other queers to see if that was true. Well face it, it was hard to find queers anywhere. I had the advantage that my mother was a lesbian, so through her I was able to get down to the bars in Chicago where people gathered. I got my fake ID this year and my first car, giving me the chance to make the hour drive to get to those bars by myself. Each one was a tightly shuttered hole with darkened windows or no windows at all. At some you had to wait at the door to be buzzed in. It was clear to anyone, we had to hide.
Electric word life
It means forever and that's a mighty long time
But I'm here to tell you
There's something else
The after world
I'd already been thinking of another world. The next day I had to get up early and get back to Park Forest North hospital, where I was in full time day treatment for... well at the time the diagnoses they gave me were a hodgepodge: five different types of schizophrenia, manic depression, oh and one extra special diagnosis they literally pulled out of mothballs for me... homosexual. Whatever they tried to call it, the upshot was I had tried to kill myself several times.
If you don't like the world you're living in
Take a look around you
At least you got friends
Actually, I didn't have friends. None of my high school or college friends weathered the depression and suicide attempts. I was a severely isolated 18-year-old. But that night it was like I had eighteen thousand friends surrounding me. The music lifted me and the people carried me to a place where I felt like people like me were loved.
We all screamed even louder. Yes Prince... let's go crazy! I danced harder and harder. I reveled in the thousands of genderqueers around me, boys in blouses and girls with all types of costumes on. Let's throw gender to the wind and become fantastical, sexy, larger than life characters. The future will hold a place for us.
REAL LIFE. REAL NEWS. REAL VOICES.
Help us tell more of the stories that matter from voices that too often remain unheard.