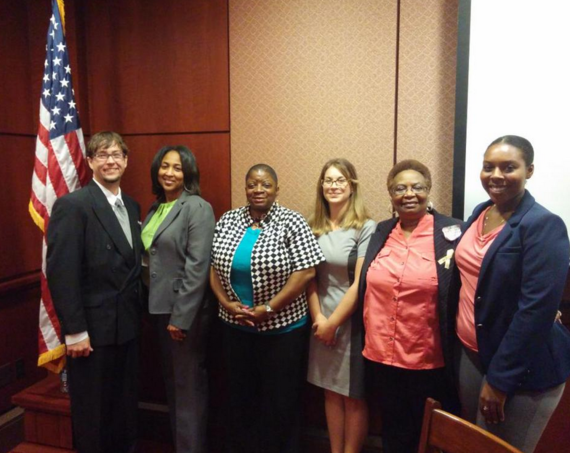 She was six years old when she left home on her bike with a suitcase she packed with clothes and another filled with toys.
To grandma's house she went.
But this was no picnic. And the big, bad wolf? He was a father fueled by alcohol.
Her three older brothers stayed behind.
But not for long. They too eventually made their way to the safe haven of their grandparent's house.
That's when the child welfare system intervened and these kids became self-described clock fighters. They were desperate to make progress re-modeling their grandparent's house so it would pass state standards.
That would mean they could stay together as a family with relatives who loved them unconditionally.
At a recent briefing hosted by the Senate Caucus on Foster Youth, JJ recounted his sister's journey and his family's saga. He shared some of the painful details of their experience with courage and a contagious smile.
He wanted to inform and motivate Senate staff to support policies that favor family over fraction.
JJ talked about the many court dates, and the endless efforts to comply with foster care requirements that eventually led to his grandparents filing for bankruptcy.
Still the family remained intact. Today, over a decade later, JJ has a Master's degree in communications and is taking time out of the workplace to care for the grandmother who cared for him.
At the same briefing, Dolores Bryant, a social worker and family caregiver said, "The families are brave enough to step up and fill a need. They deserve our support."
And indeed they do. Children raised in kinship care, or what are commonly referred to as grandfamilies, fare better than those placed in the care of non-relatives. They are more likely to report feeling loved, achieve stability, stay connected to their brothers and sisters and understand their roots and culture.
They are also more likely to have a couch to crash on when they're too old to be in the foster care system. After all, young people may age out of a system, but they never age out of a family.
Today, about 400,000 children are in foster care. Around one-quarter of these live in foster homes headed by a relative.
The vast majority of the nearly 2.5 million children currently being raised by grandparents or other relatives without a parent present are outside the system.
That means relatives are raising 23 children outside of the system for every one child they are raising in the system and they do so with little to no support.
The current child welfare financing structure gives little room for the flexibility needed to best support relative caregiver families both inside and outside the system. In fact, our federal financing structure and on the ground practices are better -- yes better -- at supporting children in non-related foster care than the care of relatives.
The current structure also relies too heavily on congregate care or group homes rather than investing those dollars to support relative caregivers to nurture and care for children in families.
We need to listen to kids like Ta'Kijah who said at the briefing she told social workers she wanted to live with her grandparents, but no one listened. It wasn't until she was in the 7th grade she was finally able to find stability, live with her grandparents and finish out the last four years of school in the same school. She now works on Capitol Hill and advocates for permanency policies for kids who are experiencing the temporary, transient placements she experienced as a child.
As the day drew to a close, JJ talked about his grandfather who passed away a couple of years ago.
When he was dying he gave JJ the ultimate gift.
His grandfather said, "If I had it all to do again, I wouldn't have done it any other way. I am so proud of you."
JJ's grandparents stepped up. Now it's time for policy makers to show they too believe families are where children belong.
Calling all HuffPost superfans!
Sign up for membership to become a founding member and help shape HuffPost's next chapter