Two days after Christmas, my wife, Lauren, and I did something we never do: We packed up the car during the holidays and hit the road. We were on our way from our home in Rumson, New Jersey to my parents' house in Charlottesville, Virginia. The trip was to not only celebrate Christmas, but also my parents' 40th wedding anniversary, my brother's engagement to a delightful British woman and my daughter Annette's first birthday. It was a gathering our family had been eagerly anticipating for months.
We knew that what's usually about a five-and-a-half hour drive would take longer with two small children snuggly fastened in the backseat needing multiple pit stops. As we pulled away, our 2 1/2 year old, George, proudly held his new Christmas treasure, Buzz Lightyear from Toy Story, the clear winner in the gift department. And Annette cheerfully squeaked and called George's name in her way -- "Geoooo, Geoooo...!"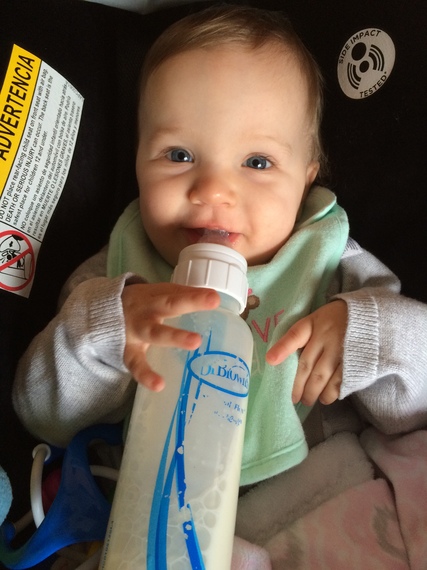 Maybe I should have had an inkling of how the day would play out when one minute from home, while Lauren ran into a store to get bagels, George asked, "Daddy, is this Virginia?" He wasn't being impatient, just curious. Always curious, that George. His incessant funny chatter, questions and singing are infectious.
As we hit the New Jersey Turnpike, he began his usual running commentary that includes identifying every kind of truck, "Blue tractor-trailer truck," "Green car carrier," and, "No daddy, that's not an oil truck, that's a red tanker truck!"
Lauren pointed out a truck that had a picture of a chicken on the side of it. His response, "And waffles too?" What?! I'm pretty sure he has no knowledge of Southern cooking. After about two hours, we made a quick stop to change diapers, make a bottle, guzzle caffeine and most importantly, get two Burger King crowns.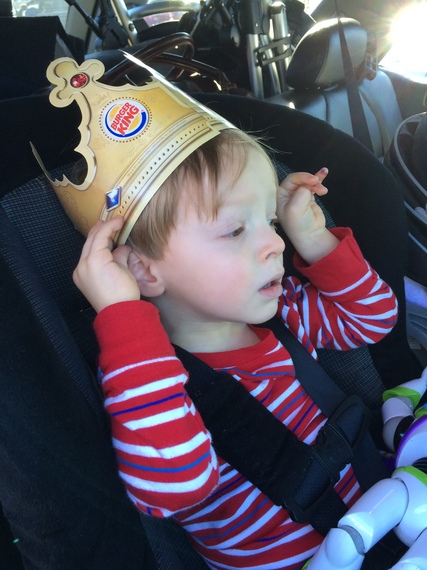 Soon, with Prince George and Princess Annette back on their thrones, we pulled into the beginning of mind-numbing traffic. We eeked along the Turnpike, Lauren looking at endless miles of dark red lines on Google traffic, when a voice piped up from the backseat, "Hey guys, can I please have some music?"
It was just what we needed.
Thankfully, Aunt Stephanie had just made George a playlist of his favorite Disney and Pixar songs, with a few standards from our childhood sprinkled in with hopes the kids will enjoy them too.
Hearing George say "Supercalifragilisticexpialidocious" was priceless.
As we crawled over the Delaware Memorial Bridge, he belted tunes from The Lion King, Planes and Toy Story, while Lauren sang lead on The Jungle Book and The Tiki, Tiki, Tiki Room. Watching George in the rearview mirror pump his fist while yelling "Thunder" during AC/DC's Thunderstruck (it's in the movie, Planes: Fire & Rescue) left us bursting with laughter.
The traffic, on the other hand, had us bursting into tears. Soon it became clear that we had two choices: sit in grinding traffic or hit the back roads and go around it. With my trusty co-pilot beside me, we ducked off I-95.
One of Lauren's little-known abilities (and there are many) is the knack to navigate around traffic anywhere in the world. Italy, France, England, you name it. Maryland, no problem. We even got to see what we have now dubbed, "The Used Tire Capital of the World." Is there a market for that many used tires?! Of course, George got in a classic one-liner after seeing a giant inflatable gorilla on the side of the road, "Oh, I'm going to bite his toes so that I'm not scared of him."
Nearly five hours after leaving home and not even yet to Baltimore, we sought refuge in my tried and true kid-friendly pit stop -- Panera. Grilled cheese, organic strawberry squeeze yogurt and big colorful straws lead George and I to Panera after the carwash many a Saturday morning. Annette plopped into a highchair and all four of us tucked into lunch. George smiled and chatted away between bites. Annette laughed as she ate a jar of whatever.
When the couple next to us got up to leave, they turned to us and said, "You have a beautiful family." It was one of those moments.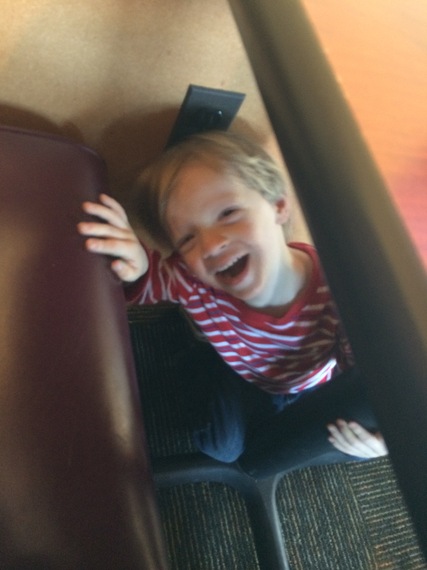 Legs stretched, diapers changed, potty training attempt decently successful and energy (somewhat) burned off, we got back in the car. With traffic still at a standstill on I-95 (a combination of holiday travel and accidents) we worked our way around Baltimore and DC and made it to Northern Virginia.
Finally, after seven hours, I got to tell George "THIS is Virginia!" But we still had two hours to go.
By now, we figured the kids were teetering on the edge of meltdown. We were all anticipating the dinner waiting for us at grandma and grandpa's. As the Disney tunes started over for the umpteenth time, we headed into the homestretch. When we finally pulled up to my parents' house, more than nine hours after leaving, George had slept about an hour. Annette maybe three. But both were still going strong.
George popped out of the car and, with Buzz Lightyear in hand, charged through the front door to show them how Buzz's laser works. Always the showman, he ran giggly laps through their house while Annette tried to keep up. My family took such delight in watching them. And I took such delight in watching it all. My father, George, playing with his grandson who was named in his honor. My mother, nuzzling her granddaughter, while counting down the days until she can retire and my parents can move closer to us.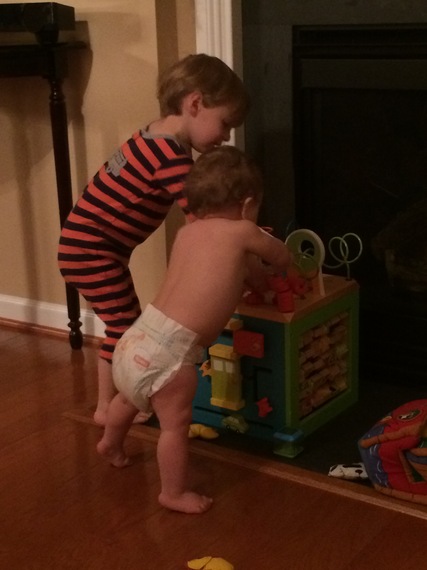 After George proudly (and loudly) showed cousin Josie how he can devour a plate of mac and cheese eating with his big boy spoon, we cleaned up the kids and put them into pajamas. With a full house, we'd decided to rent two rooms at a nearby hotel to make it easier on everyone. We said our goodnights and were on our way. Nearly 12 hours after leaving our house, we pulled up to the hotel and unloaded the car. Of course, George insisted on helping push the luggage cart through the front doors.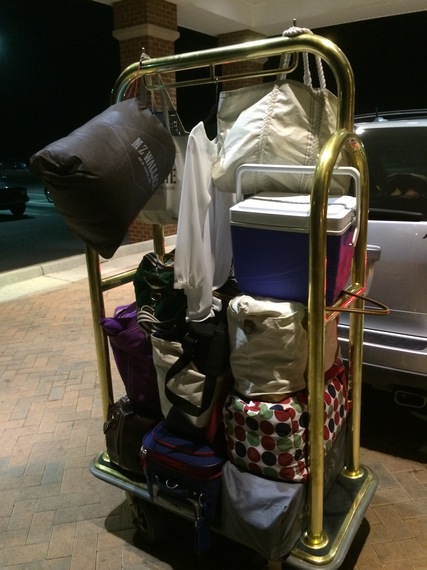 Then he discovered that if he jumped on the floor, the doors would open automatically, like in Toy Story 2. I may have never seen him so excited. So at 10 o'clock at night, dressed in pajamas with the feet cut off and put on backwards so he won't take them off, wearing slippers that look like bear feet with claws, holding a talking Buzz Lightyear, George stood there and jumped up and down, and up and down, and up and down and roared with laughter.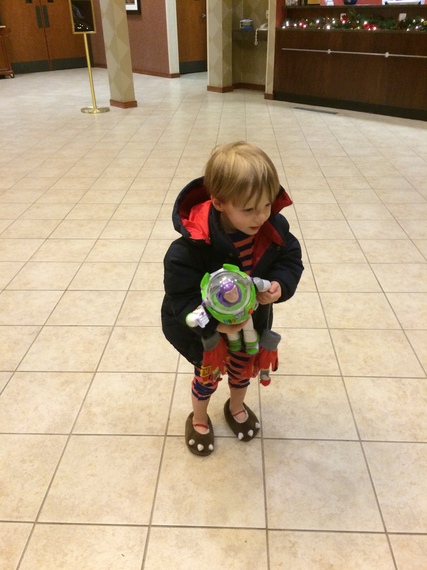 When he was finally finished, he walked over to the manager, looked up and in his little curious voice, asked, "What's your name? My name is George Carras!" When we called him, he turned around and with an, "Um, okay!" followed us down the hall to the room, pushing the cart and reading off the numbers of the rooms, "3-1-2, 3-1-0".
While Lauren set up the adjoining rooms, I played with the kids as George explored and excitedly told me about sleeping in his big (king) bed and how he was going to tuck Buzz in next to him. But as things go with kids, a minute later he was in tears after running into the corner of a chair and banging his mouth. As I made room on my lap for both him and Annette, I had one of those amazing parenting "firsts." When I comforted him, she reached out and rubbed his head, calling "Geoooo, Geoooo." She was comforting him too. It was truly moving.
Mouth bump long forgotten and eyes dried, George said goodnight to the girls and I went to tuck him in. Eyelids droopy and speech slurred from exhaustion, he and Buzz snuggled into bed and we read a book. And just like he does every other night, he asked for one more, but this night he only managed, "Daddy, can we read one...?" ZZZZZ. Out. I laid there for a couple minutes listening to him breathe, the night light letting me make out his peaceful face. I wanted to wake him up right away because I love being with him, but of course I didn't.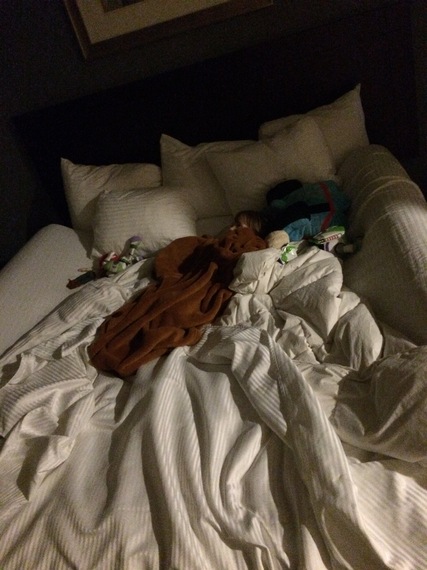 I tip-toed back into the other room where Lauren had fed Annette and put her to bed in the crib in the corner. We got into bed and in the darkness munched on a bagel and whispered to each other as our two children slept soundly a few feet away.
We marveled at our day. Sure, it had taken forever and we'd sat through more traffic than ever making that trip, but we had basically given our children every opportunity to fail and they had done just the opposite.
They were pleasant and fun and agreeable and listened and followed directions and said please and thank you and ate well and wildly exceeded our expectations.
It was the most gratifying single day of our parenting lives.
It was a day that we will never forget, because, yes, while it was an adventure, it was an adventure we experienced together as a family, on Annette's first birthday nonetheless.
Well, tough love wasn't needed on our way to grandma and grandpa's house. Instead, maybe that tough love is taking hold and we're starting to see the fruits of our (exhausting) labor.
Or perhaps maybe just for one day we had the parenting gods looking down on us and throwing us a freebie when we needed it most.
Support HuffPost
A No-B.S. Guide To Life
Related
Popular in the Community