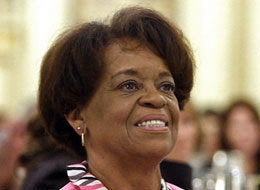 The Obama transition team ended weeks of speculation this afternoon, confirming that 71-year-old Marian Robinson, Michelle Obama's mother, will leave her Chicago home and move into the White House with the new First Family, at least temporarily. In what sounds more like a sitcom pitch than political reality, the new commander-in-chief will live under the same roof as his mother-in-law. (Obama, however, seems more likely to battle an obstructionist senator than his children's grandmother. As he told 60 Minutes in a post-election interview, "I don't tell my mother-in-law what to do ... I'm not stupid. That's why I got elected president, man.")
Robinson may have already altered American history by deciding to retire from her job as an executive secretary at a Chicago bank so that she could stay with her granddaughters Malia, 10, and Sasha, 7, in their Hyde Park neighborhood home while the girls' parents hit the campaign trail. Barack and Michelle Obama have both said, apparently in all seriousness, that had Robinson not been available or willing to watch the girls, the former junior senator from Illinois might never have launched his campaign. Had she resisted her daughter's request, we might be preparing to inaugurate President-elect Hillary Clinton next week. And had she resisted Michelle's pleas to leave her neighborhood for what Harry Truman called "the finest prison in the world," we might be getting to know the country's First Nanny. But as any parent who has ever relied on a grandparent knows, neither decision was ever in doubt.
"Mrs. Robinson will be coming with the family to help the girls get acclimated," Deputy Communications Director for Michelle Obama Semonti Mustaphi told Grandparents.com this afternoon. "She will determine in the coming months whether or not she wants to stay in D.C. permanently."
Does anyone doubt what that decision will be?
A First Family like your own?
Here at Grandparents.com, we're celebrating Robinson's arrival in D.C., where this intensely private woman will become a very public symbol of the critical role millions of grandparents play in their grandchildren's lives, as primary caregivers, full-time nannies, or occasional sitters. It couldn't come at a more opportune time, as the cratering economy has forced more couples to look to their parents for support, whether it be in the form of a loan, a place to live, or extra child-care. American families have always come together in tough economic times, and the current recession is no exception.
If Robinson's example further drills home the value of grandparents in a culture that too often ignores the older generation, she'll have provided yeoman service to her nation. (Joe Biden's mother, Catherine, appears likely to continue to live with the Vice President-elect and his wife, Jill, at the Naval Observatory, but Biden's children are grown.)
In countless ways, life for Robinson and the Obamas in Washington will be unique, surrounded by Secret Service agents, traveling on Air Force One, and being fed by White House chefs. But in significant ways, they'll be like many of the rest of us. At least 4 million U.S. families have three or more generations living under one roof, according to a new U.S. Census Bureau report. In the 2000 census, federal demographers found almost 5.8 million "coresident" grandparents, or "grandparents living in the same household with their grandchildren under the age of 18." Of those, 2.4 million were the heads of their households, primarily responsible for their grandchildren's needs.
Other grandparents share living space with grandchildren for a variety of reasons. Some move in with their adult children and grandchildren because they need assistance and care. Others have children move in with them -- my own sister and niece moved in with my parents for a time when she was going through a divorce. And I know single parents, and families with two working parents, whose parents move in with them to help out with child care. In other families, it's expected that the generations will live together -- it's just the right thing to do.
A best-case scenario for kids
When generations move in together, there are benefits beyond cost saving. Children get extra-special attention from loving adults. In multigenerational homes, grandparents tend to be central characters in their grandchildren's life stories, not part of the supporting cast. Kids get a daily dose of family history and culture. For the grandparents, quality of life is often better than living alone, as the energy of all the life stages is around them, and they can be more than passive observers.
There is also, of course, ample opportunity for conflict. In a rare interview with The Boston Globe last spring, Robinson admitted to resisting her daughter's parenting rules, as so many other grandparents have. When she sat for the girls in their home, she said, she maintained Michelle's 8:30 bedtime rule and limited to the girls to organic snacks. When the girls had sleepovers in Robinson's home, however, all bets were off -- she broke out the candy and stayed up with the girls playing games and watching movies "until the wee hours."
Good for her. In a new city, in a new school, facing scrutiny as preteens that dwarfs that of the most famous celebrities, perhaps what the Obama girls need most of all from Robinson is an oasis from all the pressures of life in Washington. Some M&Ms, a couple of games of Sorry! and a late-night screening of Wall-E sound like just the thing. Luckily for them, Robinson will be there to provide it.
Welcome to Washington, First Grandma.