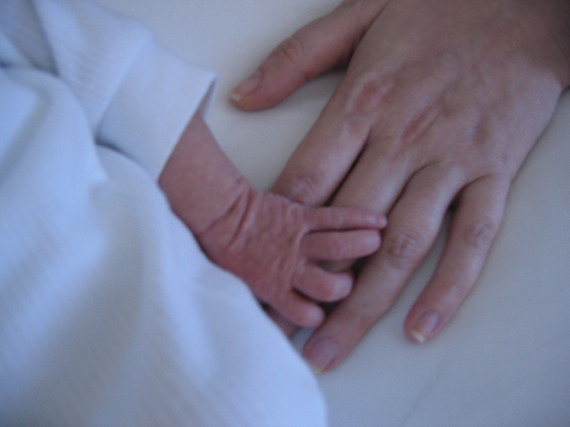 Today I wrote a mothers day card to each of my kids.
I told them how I felt when those two tiny heartbeats showed up on the ultrasound screen.

I told them how my heart melted when I first held them in my arms, how I cried when I saw them wrapped in bubble wrap in the humidicrib.
I told them how proud I am of them; not just of their many achievements, but for their caring nature, the kindness they show others and their immense courage.
I told them how the constant chatter in the car in the morning makes my head spin, and how I miss them as soon as they have been dropped at school.
I told them how even when Im angry with them, its nothing compared to how big my love is for them.
I told them how much I love their eyes, their skin, their smile, the feel of their hands in mine as we cross the road.
I told them that the way they show their love for and to each other makes me love them even more.
I told them that being their mother is the most important thing in the world to me.
I didn't tell them how mothering them makes me more intensely fearful than anything else. I fear for their physical safety. I fear for their emotional wellbeing. I fear Im going to stuff them up.
I fear that I wont ask the right questions of them and that Ill miss something vitally important that they're trying to tell me amongst the chatter. I fear that losing their Dad so young will leave this gaping hole in their lives that no amount of (m)other-love can ever fill. I fear that with all the distractions and craziness of every day life that their childhood will disappear too quickly, and Ill wake up the morning of their graduation from school and wonder where the years went.
I know that the invisible string which binds us will become a little frayed during the teenage years. I know Ill have to learn to let go. I can already feel the bonds loosening as they explore their own identities, make their own friends and have experiences which I will never fully know about no matter how many questions I ask. I fear that I will try and hold on too tightly, and they will bristle at my grip.
So today, whilst they are still mostly mine, I wrote them each a love letter. They read it, seemed pleasantly surprised by some of the revelations, gave me a cuddle and then went off to play as children do. Perhaps the letter will be amongst the memories that will stick in their minds into their adulthood, or perhaps not. I know that the smile in their eyes as they read it will stay with me forever.
http://2lookup.weebly.com/life-after-widowhood-how-looking-up-turned-a-cynic-into-a-yogi