It was my third trip to Las Vegas to fight Trumpcare. The last two have been spent demonstrating outside Senator Dean Heller's office with incredible Indivisible activists in 106-degree heat. I pride myself on my stamina as I turn 70, but I've got to admit I felt like passing out yesterday until Sheila Humphries handed me a fresh bottle of water. But considering that my young friend Laura Packard was at chemo and couldn't come and demonstrate, I can't really complain.
The night before at Deb Shomsky's house, I joined the Indivisible Owls again as they met to draw their signs and to strategize. They are fantastic, but it bothers me that they are all women. What is wrong with my gender? Why were Sens. Susan Collins, Shelley Moore Capito and Lisa Murkowski the three who came out against the motion to Repeal without Replace? Which brings me to Senator Dean Heller.
My friend Bob Fisher, progressive talk show host in Las Vegas, knows Heller and describes him as a really good guy. Heller's Southern Regional Director Jack Finn came out yesterday and listened respectfully to the stories of several constituents and gave us a hand again when we reprised "Goodnight Trumpcare Goodnight." I even have on pretty good authority that Heller had a private screaming match with Mitch McConnell in which Heller shouted, "I'm a NO! Stop bothering me about the BCRA!"
But Heller has said nothing publicly of late. As several Nevadans pointed out to Jack, Heller failed to hold a Town Hall during recess. In a word, he has become spineless.
We all get that Heller's trying to avoid getting primaried from his right. But Nevada's a pretty blue state these days, and Heller can't stay in office without winning the malleable middle of the electorate. As Jon Ossoff recently found out in GA-06, squishiness isn't the way to anyone's heart. Doing the right thing and speaking out for one's values is the path to success in politics, and will get you respect even from those who may disagree with your policies.
For that reason, Gov. Brian Sandoval, R-NV, is a lot more popular in that blue state than Heller is. With his direct rejection of the BCRA & its destruction of Medicaid, Sandoval showed Heller the road. Sadly, for Heller, it's a road not taken.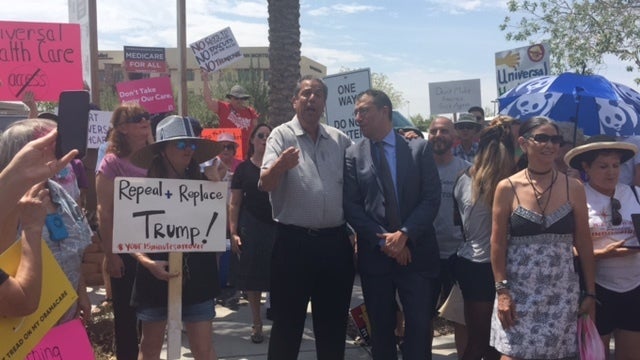 As President of Social Security Works PAC, I'm looking to endorse candidates who will protect and advance the quality of life of older Americans. Senator Heller's refusal to publicly take the right stand on a bill that would harm so many older Nevadans puts him way behind his opponent, Rep. Jacky Rosen, in the race for our support.
We're looking for people who will fight for American values. Like Andy Slavitt, former Acting Director of the Center for Medicare & Medicaid Services, who sweltered in a dark suit & tie yesterday to rally our troops. Andy showed up for Laura Packard, whose story is all over NV TV because she's got the courage to share her pain to help others. And Joe Merlino, who demonstrated yesterday shouting "Kill The Bill Before It Kills Us" with his voice permanently hoarse from his premature cancer of the larynx.
"Goodnight, Trumpcare, Goodnight." But so far not much thanks to Senator Heller.
REAL LIFE. REAL NEWS. REAL VOICES.
Help us tell more of the stories that matter from voices that too often remain unheard.
BEFORE YOU GO
This post was published on the now-closed HuffPost Contributor platform. Contributors control their own work and posted freely to our site. If you need to flag this entry as abusive,
send us an email
.