As the King of Siam once said: "Is a puzzlement!" Bloggers, filmmakers, and arts administrators are all faced with the challenge of capturing people's attention. Depending on their respective budgets and the nature of the project they are promoting, various approaches can be pursued.
An arts organization that has a substantial marketing budget and a long relationship with various vendors of advertising space (banner ads, bus placards, show cards, etc.) can project a unified image across many platforms in order to attract audiences to a new play or film. Meanwhile, its publicists can try to place puff pieces and interviews in local media in anticipation of an opening night or important premiere. A skilled use of social media (including blast emails) can often work wonders.
For an independent filmmaker, the ability to have one's work screened at major film festivals may be critical to finding a distributor. Without any kind of online bump from a trailer that goes viral, a film can go straight to DVD or on-line streaming with little media attention or public awareness.
If a film is being produced by a major studio like Disney, Pixar, or is picked up by a reliable distribution company, it can garner lots of media attention through celebrity buzz and advance screenings for critics.
With today's entertainment media drowning in tsunamis of superlatives, one encounters a fine line between praising a project's strong points and overselling it with a vengeance. Those who write press releases can lay on the hype pretty heavily. Bloggers and journalists can fall into a trap of routinely labeling everything they see as "awesome" or succumbing to the temptation to hail a particular project as "the event of the century" (since we're only in 2014, there are still 86 years to go before we reach 2100).
Will thorough media saturation get ticket buyers excited to the point of ejaculation? Or does the old truism that "less is more" work better? Two Bay area premieres recently brought the question of hype into surprising focus. One flew under the radar while the other was hyped as if the circus was coming to town! Though they were delivering very different experiences from different continents and cultures, both projects clocked in at 70 minutes in length. Therein lies a curious reference point.
In 2011, when the San Francisco International Film Festival screened a film by Amit Dutta entitled Nainsukh, there was little background material available for reviewers. Dutta's film was focused on the work of the 18th century Indian artist, Nainsukh of Guler, who specialized in painting miniatures. Instead of offering an academic lecture about the artist and his work, the filmmaker attempted to reenact many of the moments captured by Nainsukh in his art.
By doing so, Dutta let viewers imagine what was in Nainsukh's mind as he conceived each painting. As I wrote in my review:
"The one drawback to Nainsukh is that it takes about 30 minutes before viewers catch on to how the action in the film is aimed to reproduce some of the artist's miniature paintings. Once a viewer hooks into the symmetry in the film's structure, all that's required is to sit back and enjoy the film's visual splendor. Dutta's film has little dialogue. Instead, it is often accompanied by a cacophony of bird calls and mooing cows. And yet, the amplified sounds of nature only enrich the experience of seeing Nainsukh's art come to life. The film is so visually rich and acoustically stimulating that its beauty can often take the viewer's breath away."
Dutta returned to the 2014 San Francisco International Film Festival with The Seventh Walk, which concentrates on India's acclaimed contemporary landscape painter, Paramjit Singh. As with Nainsukh, the first half hour of the film is filled with a symphony of bird calls that could thrill any bird watcher or member of the Audubon Society. Dutta's camera wanders through a forest in the Kangra Valley in Northern India's province of Himachal Pradesh, occasionally focusing on a miniature house, a mountainous landscape, or a strangely levitating rock that has been picked from the bed of a local stream.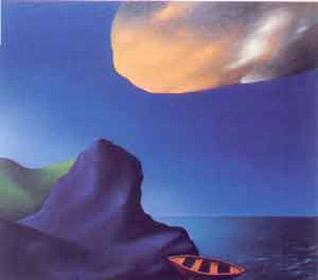 The Boat (a painting by Indian artist, Paramjit Singh)
The camera eventually finds its way inside Singh's home where it finds the artist at a work table. It also follows him as he wanders through the nearby woods to sit at the foot of a tree while listening to the sounds of nature and absorbing the patterns of tree leaves, moss, and lichens scattered all around him. At times, Dutta follows a young woman as she wanders down forest paths, eventually arriving at the artist's home.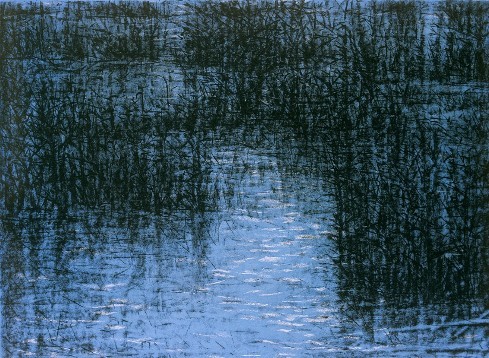 A landscape painting by Indian artist, Paramjit Singh
If you watch the following clip between the 19:30 and 53:50 marks, you'll be treated to a 40-minute session with Paramjit Singh as he narrates a wide-ranging slide show of his work that captures his early fascination with surrealism and moves on to a fascination with the colors to be found in nature. Some of his preliminary black-and white sketches (which were drawn in little more than an hour) offer astonishing previews of the color renderings that Singh subsequently produced.
With cinematography by Savita Singh and production design by Saugata Mandal, it would be a huge mistake to think of Dutta's film as merely a visual meditation on the art of nature and the nature of art. The musical score by Mohi Baha'ud-din Dagar and accompanying sound design by Mandar Kamalapurkar create an intensely seductive soundscape that is every bit as lush and rewarding as the visual treats aimed at a viewer's eyes. Here's the trailer.
Some people claim to have a sixth sense. For LGBT folk, this phenomenon is often described as gaydar. For some critics, it is a growing awareness of whether or not a performance will live up to its publicity.
Like many critics, I often check my watch during a show to see how things are progressing. It's not a good omen if a performance (or a film) has failed to "grab me" by the time 30 minutes have elapsed. If the entire event is only supposed to last 70 minutes and I'm not feeling any sense of involvement by the 30-minute mark, it's a sure sign that there's trouble in River City.
I can still remember a cold night at the Santa Fe Opera (perhaps the 1986 American premiere of Aulis Sallinen's execrable The King Goes Forth to France) when, 10 minutes into the performance, I turned to a friend and sighed "This one's going to be a pretentious piece of shit." It doesn't make a critic happy to arrive at such a conclusion so early in the evening. And I will admit that my 10-minute snap judgment that night in Santa Fe arrived much faster than it usually takes me to accept the fact that a performance has nowhere to go but up.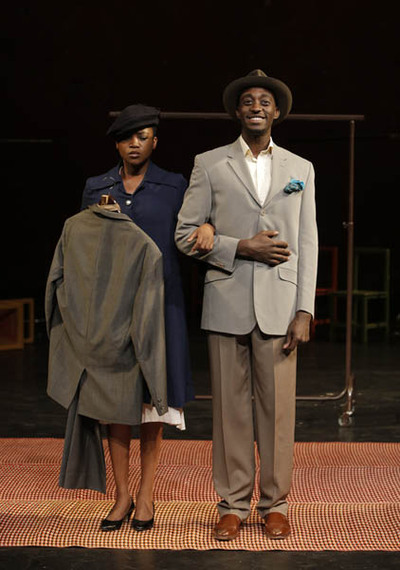 Nonhlanhla Kheswa (Matilda) and Ivanno Jeremiah
(Philemon) in The Suit
(Photo by Pascal Victor/ArtComArt)
First published in 1963, Can Themba's short story, The Suit, is the intimate tale of a failing marriage in South Africa's Sofiatown (a black ghetto five miles northwest of Johannesburg which was evacuated in 1954 so that the area could be razed and replaced with an urban renewal project aimed at housing whites in a society ruled by apartheid).
In 1994, The Suit was adapted for the stage by Mothobi Mutloatse and Barney Simon and received its premiere from Johannesburg's Market Theatre. In 1999, Peter Brook and Marie-Hélène Estienne presented their French adaptation in Paris (which they then toured internationally). In April 2012, they reworked the piece into an English version with music direction by Franck Krawczyk. Following its Paris engagement, The Suit was launched on another international tour and was recently hosted by the American Conservatory Theater in San Francisco.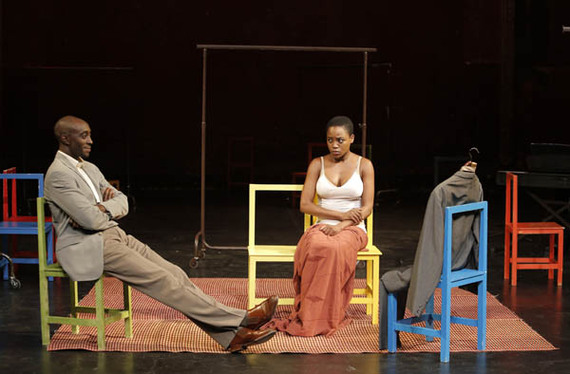 Ivanno Jeremiah (Philemon) and Nonhlanhla Kheswa (Matilda) in
The Suit (Photo by Pascal Victor/ArtComArt)
In Themba's story, Philemon (Ivanno Jeremiah) is a male secretary who is devoted to his job as well as to his beautiful wife, Matilda (Nonhlanhla Kheswa). Each morning he prepares her breakfast and serves it to her in bed before he leaves for work.
One day, after Philemon's friend, Maphikela (Jordan Barbour), informs him that Matilda has been having an affair with a young man, Philemon rushes home just in time to see the young man flee through the bedroom window clad only in his underwear. Philemon decides to punish his guilty wife by insisting that the young man's suit (which he was forced to leave behind) be treated as an honored guest in their home at all times -- or else he will kill her.
Later, after Matilda joins the local Anglican Mission's cultural club, the beauty of her singing voice draws attention. When she invites some of her new friends to come to her home, Philemon brings out the suit and proceeds to humiliate his wife in front of her guests.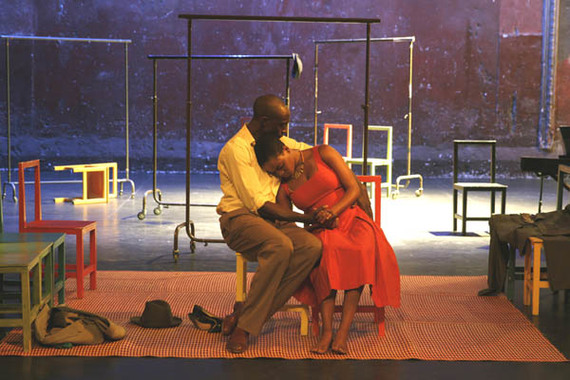 Ivanno Jeremiah (Philemon) and Nonhlanhla Kheswa (Matilda) in
The Suit (Photo by Pascal Victor/ArtComArt)
What surprised me about The Suit was that I found it far more interesting from a musical rather than a dramatic standpoint. Perhaps that was because one of the first musical numbers performed by Nonhlanhla Kheswa was "Feeling Good" (from the 1964 Anthony Newley-Leslie Bricusse musical The Roar of the Greasepaint -- The Smell of the Crowd). In an interview with Marie-Hélène Estienne, she explains that:
"In the first version we used taped [South African] music. It was an interesting emotional experiment. Then we saw that you could put this story with Schubert. his "Standchen" fits so well. Also, I'd been to Chile with Franck Krawczyk, where we listened to the music of Violeta Parra and Victor Jara, famous singers before Pinochet. Their music is so concerned with poverty and the struggle of people to survive, and we wanted to take The Suit to many poor countries, so we thought it could be really interesting to mix that with Schubert. So that's we did. It's Schubert and South African and Chilean music. When you suddenly open the story to Schubert's Death and the Maiden, you say something that you can't with words. The music is carrying it in a language that we hear with our hearts."
Despite a handsome skeletal set designed by Oria Puppo and a trio of gifted musicians (Arthur Astier on guitar, Mark Kavuma on trumpet, and Mark Christine doubling on piano and accordion), I was severely underwhelmed by The Suit. I had no criticism of the fine acting by Ivanno Jeremiah, Nonhlanhla Kheswa, and Jordan Barbour (who acted as narrator and took on numerous small roles). In fact, I was quite charmed by the sweet beauty of Kheswa's soprano which, thankfully, was not distorted by any amplification.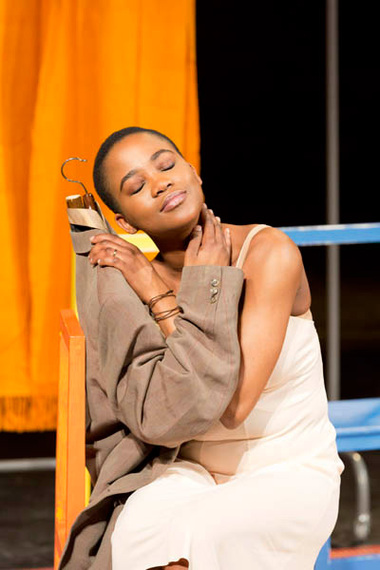 Nonhlanhla Kheswa as Matilda in The Suit
(Photo by Pascal Victor/ArtComArt)
However, there was no escaping the sad realization that The Suit is a very fragile drama that had been so severely hyped that it could barely live up to its publicity.
REAL LIFE. REAL NEWS. REAL VOICES.
Help us tell more of the stories that matter from voices that too often remain unheard.