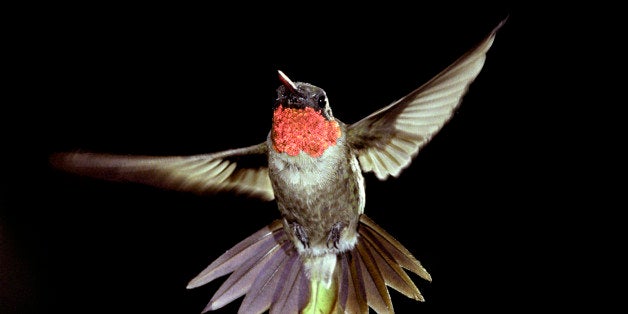 Every community has a unique ecological and cultural story to tell. And part of that story is told through the birds that coexist with people in each community.
Over the past century, urbanization has fragmented and transformed ecologically productive land. We've introduced slabs of concrete, walls of glass, toxic pesticides and pollutants, new animal predators, and exotic ornamental plants and sterile lawns that offer little food to local birds and other wildlife. Such landscapes scarcely support functioning ecosystems that would provide healthy places for both people and wildlife. Birds are disappearing.
Audubon works with urban dwellers across the United States to transform their communities and create healthy urban ecosystems that benefit them and the wildlife that lives in cities as well. What is driving folks to create more bird-friendly communities is the realization that by making communities healthier for birds, we make them healthier for people too. This basic principle makes birds relevant for many people living in urban environments. And communities across the nation are taking notice.
Simple acts that create bird-friendly communities are making steady contributions toward the sustainability of our urban and suburban places.
For example, Audubon Chicago's Wild Indigo Nature Explorations program is involving residents on the South Side of Chicago to promote healthy bodies, healthy communities and a healthy planet as they actively participate in free outdoor field trips and activities in the natural beauty of the nearby Calumet Region. As this primarily African American community continues learn how to take an active role in preserving the prairies and forest that surround their neighborhood, community members young and old are prospering in many tangible ways -- while they help birds thrive as well.
Another manifestation of the way bird-friendly actions are transformative in urban settings is the transformation of the Jacob K. Javits Convention Center in New York City. The recently redesigned building features a massive green roof that has become a haven for wild birds and other animals. Specially patterned glass was also installed on the building to reduce (by 90 percent!) fatal bird strikes, caused when birds are fooled by the reflection of water, trees or open sky. The building's heating and cooling costs are down by 25 percent, as recently reported by CBS News.
The Javits Center also participates in another program that saves birds and saves energy.
Every year, millions of songbirds migrating at night die when they collide with brightly lit city buildings. Audubon's nationwide Lights Out program works with building owners and managers to turn off excess lighting during the months when migrating birds are flying overhead. Birds not only gain safer passage by this simple act, but people also benefit from the significant decrease in energy costs that are also gained.
The Javits Center joins state buildings and iconic structures such as New York City's Rockefeller Center and the Chrysler Building in the program, and Lights Out efforts are protecting birds in other cities including Baltimore, Washington, Chicago, Minneapolis and San Francisco.
In downtown Phoenix, Arizona, Burrowing Owls have benefited from efforts by folks in the city to build hundreds of artificial burrows. The work has been led by Nina Mason Pulliam Rio Salado Audubon Center and has engaged hundreds of volunteers, including high school clubs, corporate volunteer groups and individuals and families from the community. The results? More owls living in the city, expanded research, and inspired students and volunteers.
On Earth Day this year, 90 people from nine churches joined a vigil in Asheville, North Carolina to learn more about birds and creation care. Faith communities are often willing partners that are seeking simple ways to connect their members to nature. Actions like creating bird-friendly landscapes support their faith-based commitments to be good stewards of the earth. Creating bird-friendly communities helps faith-based communities prosper in action and deed.
And a final example: People experience the power of creating a bird-friendly community when they simply choose plants native to their area to landscape their yards or to plant in porch pots, neighborhood parks, school yards, houses of worship and other public spaces. Native plants use less water, require less fertilizer and pesticides, and provide more food for local birds and other wildlife. By planting this way, people are beautifying their environments and are also helping to restore vital habitat for birds as well.
We reestablish the ecological functions of our cities and towns and provide essential, safe habitat for birds by creating bird-friendly communities. The urban landscape can and must create a relevant balance for birds and people, because they are reliant on one another for the health and well-being of cities and the planet at large. The simple acts in creating bird-friendly communities, planting native plants, working with neighborhood faith-based centers, turning out lights, and more, inspire people with hopeful actions, especially in urban neighborhoods where there are so many other challenges. Where birds thrive and people prosper, there is hope!
Popular in the Community