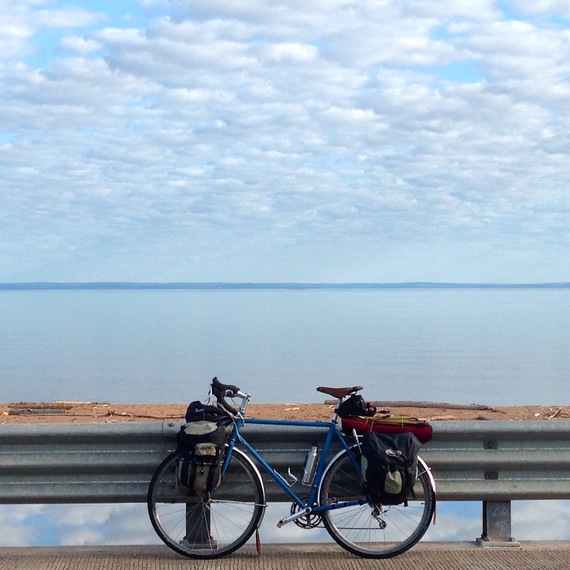 I like to write in journals. A lot. And so in my daydreams about this tour, I'd envisioned myself journaling a bunch -- jotting notes in town parks and gas station bathrooms, then reading and re-reading in the quiet of night, until I'd teased out enough narrative threads to write something like a story.
But, well, for five days, I've written nothing. Nothing. I mean, I can't imagine when I would have. Every day has been incredibly full, and whenever I have found a fleeting moment of off-the-bike alone time, I've been too tired to do much more than eat a Nutty Bar, drool on my shirt, and pass out.
For the record, I'm not complaining about any of this. If anything, I'm bragging.
Anyway, today I'm going to do what I haven't had time to do: I'm going to journal. I'm going to recount these whirlwind days -- in present-tense, in rapid-fire, in run-on. And hopefully, by the end, I'll have stumbled my way into something like a story.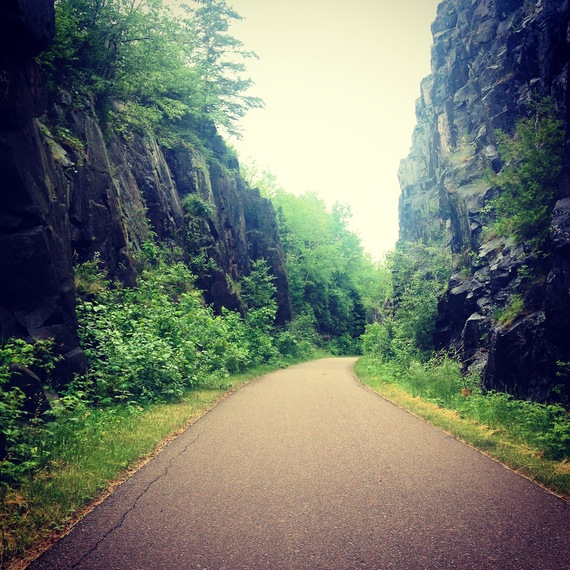 July 11 -- Duluth to Jay Cooke, 27 miles: By the time I've had breakfast with my favorite Duluthians, and packed my bags, and banged out a blogpost at the Amazing Grace Café, it's four o' clock. I've got a lot of ground to cover if I'm gonna make St. Paul in time to catch the World Cup final with some old friends -- and I most certainly am -- so I set off, power through potholed, car-choked West Duluth, then escape onto the Munger Trail, a bike/ped path snaking through dynamited rock and lush forest. It's calm and quiet on the trail, and the light is soft and dusky, and just as I'm telling myself I'll ride all night, the trees part and I find myself on a bridge over churning, copper water. This place is staggeringly, plan-changingly pretty. My gut pangs. I'd been hoping to ride way farther, but I really can't imagine finding a nicer campsite than this one. So, I change my mind. I pull off the trail, set up my tent on cliff-top bed of pine duff, and watch the full moon rise.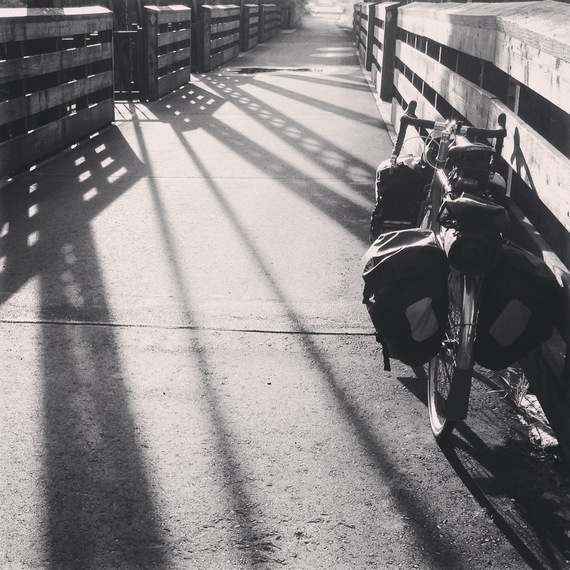 July 12 -- Jay Cooke to Pine City, 67 miles: Thanks to the moon (or, maybe, the root beer I guzzled at sunset) I wake at midnight feeling wild and saucy. I rise and strip and dive in the river. It's invigorating. Really invigorating. I sleep four hours, maybe. And then I wake, groggy, and ride. Here, the Munger Trail is still awfully pretty, but it's also arrow-straight and sleep-inducing. I want to stop and nap, but I can't, because World Cup. So I do what I can to stay alert -- slam coffee, talk to myself in Spanish, belt out harmonies to a Gillian Welch song (this gets me a weird look from a guy standing in his yard). I cover some solid ground, but by the time I hit Pine City, I'm struggling. I walk into a spot called "Chubby's," hoping a beer will recharge me, and when the bartender asks, "small or tall," I say "tall," expecting an imperial pint. She hands me a stein so big I need two hands to lift it. So now I'm drunk. Great. I accept that I'm done riding, call a nearby Warm Showers host, and a half-hour later, we're drinking beers in his yard. Dan is a volunteer firefighter, a grade school custodian, a roughneck tenderheart. I like him immediately. He and his sweet, inquisitive wife feed me pizza and beer, and we sit around a fire talking about bike tours and generous strangers, and just before I crawl into my tent, Dan grabs my arm and says, "I love you." I am too bewildered to say it back. But now, in a way, I do.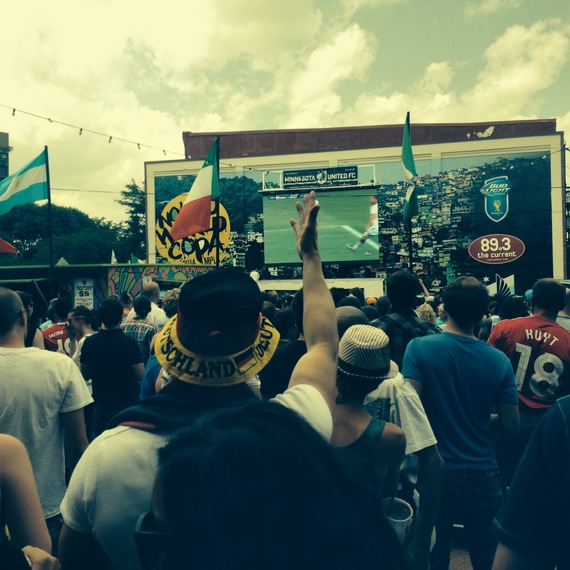 July 13 -- Pine City to St Paul, 72 miles: I drink two cups of weak coffee and take to the road. It is sunny and the wind is with me and I am a superhero. I ride seventy miles, taking just one half-hour break -- during which I inhale a sandwich, a bag of licorice, a soda and two Nutty Bars -- and all the while, I'm buoyed by visions of a comfy couch, a cold beer, a halftime nap. I arrive in St. Paul nineteen minutes before kickoff. I am sweat-soaked and red-faced and dizzy, but when my friends immediately ask if I'd like to catch the game at a bar across town, I say my new favorite word: "yes." I take a two-minute shower, throw on my least filthy clothes, and soon I'm in a sun-soaked patio, in a hundreds-deep crowd, mainlining Minnesotan IPA, watching the greatest game and thinking: "yes."
July 15 -- St Paul to Pizza Farm, 71 miles: After a two-nap day and a great reading at Magers & Quinn, I return to the road, feeling fantastic. Today, I get to ride the "Great River Road" all the way to a pizza farm (which, yes, is exactly what it sounds like). I leave the Cities in high spirits. But as I slog through suburbs and exurbs, my enthusiasm wanes. When at last I turn onto the Great River Road, I'm relieved, but I barely glimpse the Mississippi before I'm plunged into rollercoaster farmland. The sun gets hotter, the hills hillier. Every time I stop, gnats fill my ears and mosquitoes pierce my flesh. And so when the road returns to the river, and I find myself surrounded by bluffs and swampland and sun-sparkled water, I am giddy. I stop to take pictures, buy ice cream cones, chat with strangers. Then it hits me: I am gonna be late for pizza farm. This cannot happen. So I stow the camera and ride hard, and I arrive at what I believe to be the pizza farm -- only to be told by a smiling stranger that the farm is, well, it's up there, at the top of a towering bluff. My heart sinks. And yet. Pizza. I dig deep, gear down, ride four miles of one-billion-percent grade, and arrive just in time to order and inhale an entire pie. The proprietors are sweethearts, and they invite me to stay in an adorable bedroom tucked in the back of their barn, and I say my new favorite word. After chatting and laughing with the interns and farmhands, I crawl into bed and open my journal. And just before I fall asleep -- pen in hand, face on paper -- I think that maybe I've found that story I'm searching for. Maybe it's a story of saying "yes" -- to impulse, to invitation, to everything I can.