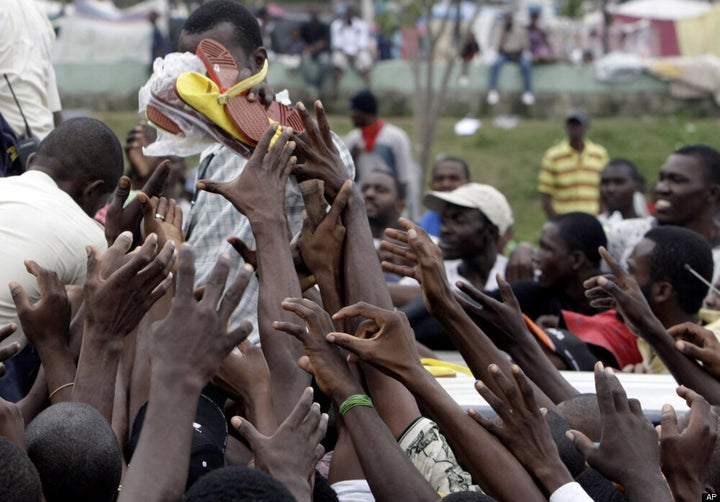 After a sub-par performance in Latin America during 2009, the Obama administration has truly risen to this occasion with its forceful response to the humanitarian crisis in Haiti. President Obama has ordered his agencies to put this disaster on the top of their agendas, and has already committed $100 million in U.S. assistance. But the President, wisely, has cautioned it will take some long days before the full measure of U.S. relief can arrive in Haiti and show results.
These efforts will move faster because of an agreement with Cuba's government made public today that the United States can operate relief flights destined for Haiti over Cuban airspace.
No one should be surprised by Cuba's decision; they have a decades' long commitment to international cooperation in the face of national disasters, and our government has previously received cooperation from Havana on over-flights for weather detection and fighting hurricanes, on matters relating to security, and during disasters in Venezuela and Pakistan.
But the President should think about this: If Cuba is willing to cooperate with the United States in the air, shouldn't we cooperate with Cuba on the ground on initiatives that reflect our countries' shared interests in helping the people of Haiti? Doing so would quickly multiply the force of our efforts.
Let's not forget, Cuba is already there.
Haiti and Cuba signed a medical cooperation agreement in 1998. Present in Haiti before the earthquake struck were 344 members of the Cuban medical brigade who have been providing primary care, obstetrical services, and operations to restore the sight of Haitians with various eye diseases. Earlier this week, Cuba sent 30 more physicians along with food, medicine, plasma, and other items.
According to Spanish press reports, this contingent is already providing emergency medical care across Haiti for patients that Cuban doctors had already been treating for many years. Immediately following the earthquake, these doctors opened up two make-shift clinics in their residences because local hospitals were destroyed. Cuban doctors then moved to reopen the "Social Security" hospital and started operating on the injured. A day ago, the Cubans reopened the national hospital and started to treat people.
Their work could form the foundation for broad Cuban-U.S. cooperation.
First, as U.S. AID and military teams roll into Haiti, the U.S. government should make it clear that our personnel should cooperate, coordinate, and work with the Cuban medical personnel in Haiti. They know Haiti, they've been providing health care in Haiti since 1998, and they have been running a highly effective medical response since the earthquake occurred.
Second, the U.S. can help expand the reach and impact of the Cuban medical brigades. When they experience supply shortages, we should offer the Cubans medicines and other necessary assistance to help with their effort. Gary Maybarduk, a veteran of relief efforts with experience in Haiti, has urged lending the Cuban brigades durable medical equipment and using U.S. helicopters to transport them to inaccessible locations.
Third, we've seen reports that injured Americans - and possibly, injured Haitians - are being airlifted to the medical facilities at Guantanamo Bay, Cuba. Our colleague at the New America Foundation, Col. Larry Wilkerson, has proposed that we open up Guantanamo to Cuban doctors.
Cuban doctors should be welcomed on to the base to assist in treatment and operations. Our armed forces - which have lengthy experience in cooperating with the Cuban military - could allow Cubans to come pick up (or they could transport) victims to Cuban hospitals for treatment. Our militaries carry out exercises to practice for fires and other big accidents near the base that require joint efforts to treat the victims - this would be effective and it would assure quicker attention for the wounded.
Fourth, global leaders are calling for a summit to coordinate global responses to the Haiti tragedy. That summit could take place in Cuba, which is ideally located. If it doesn't happen there, Cuba should be invited and encouraged to play a leadership role in the coordination of response efforts.
President Obama knows the Cubans can do more than open up airspace to American flights. When he attended the Summit of the Americas in Trinidad and Tobago last year, he made a public statement about the respect shown Cuban doctors by the heads of state he met at the Summit, and conceded that the U.S. had to engage in efforts like medical cooperation to reconnect our country to the people of the region.
The previous administration couldn't bring itself to do this. After Hurricane Katrina, Cuba's government offered to send 1,586 doctors and 25 tons of medical supplies to buttress what was obviously an insufficient response to the suffering of American citizens on our own Gulf Coast. Bush being Bush, his administration not only declined the offer but insulted the qualifications of Cuban doctors.
We need to be Samaritans and not silent or sarcastic about what Cuba has to offer. We have seen the better angels of Obama's nature, and we're hopeful that he would seriously consider cooperating with the Cuban government especially if it meant saving Haitian lives.
This tragedy is about Haiti, not Cuba or President Obama, and I recognize that. But we can help Haitians by enlisting with the Cubans in a joint effort to speed and magnify aid our efforts. Doing so would set a new example for U.S. diplomacy that will return long-standing benefits to our nation and our relationships across the Western Hemisphere. And possibly even set a new tone for the U.S.-Cuba relationship. We need it.
Popular in the Community