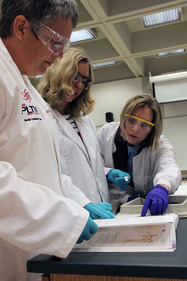 Educators, parents and policymakers often talk about the importance of building students' passion for, and confidence in, math and science. A strong foundation and interest in these subjects creates more opportunities for students to pursue a wide variety of career paths, especially as the economy continues to advance and evolve.
To successfully build students' passion and confidence in math and science, we must first ensure that we help our teachers build confidence and passion in teaching these subjects.
Take, for example, Michael Martin, a longtime teacher of engineering classes at Martin Luther King High School in Riverside, Calif. Martin was honored on Jan. 26 as California's Project Lead The Way (PLTW) engineering teacher of the year, and his story illustrates the importance of investing time and resources in teacher enrichment.
Martin was a science teacher with a master's degree in geology prior to taking part in PLTW's engineering teacher training in 2000. He said he didn't think he "had any engineering blood" in him, but at the urging of his school's principal enrolled anyway in the training at the Rochester Institute of Technology in Rochester, N.Y.
"I was totally hooked. I came back changed," Martin said of the transformative effect the training had on his career trajectory. "This was something that was robust and rigorous, and I felt like could do something well with it."
Still, even with that transfusion of "engineering blood," Martin initially faced the challenge of gaining confidence in the classroom.
"The kids have to see that confidence," he said. That show of confidence is mutually self-reinforcing.
Now, nearly 16 years later, Martin is trained to teach Introduction to Engineering Design, Principles of Engineering, Computer Integrated Manufacturing, Digital Electronics, and Engineering Design and Development. That's a long way from teaching about igneous, metamorphic and sedimentary rocks of Martin's geology days.
While a reluctant Martin had to be cajoled into career redirection, Rob Naylor jumped at the chance.
After teaching seventh grade science for 11 years, Naylor said he was in "the largest rut of [his] teaching career," having lost his passion and energy for the profession. He was spinning his wheels, but the wheels started turning when the opportunity arose to train for teaching PLTW's Human Body Systems and Medical Interventions classes.
He immediately accepted the opportunity, and now three years later, Naylor teaches HBS and MI at the Conrad Schools of Science in Wilmington, Del.
"Taking the reins of this pathway rejuvenated my teaching career," he said. "I once again felt that I made a difference, but more importantly, I left school every day having learned something new."
A new endeavor helped Naylor again find the relevancy of his career, but he says his greatest success has come in seeing his students find the relevancy of their coursework in their lives, in the form of their health and well-being.
Naylor has stayed in touch with friends he made in training, and they share success stories and discuss best practices. The networking has proven helpful, he said, in learning how to teach more effectively. "Don't panic about your comfort level in the curriculum," he said. "There is a learning curve, and you will certainly gain confidence quickly."
So will the students. "I hope that all my students can take ownership of their learning," said Naylor, adding that he cares most about them "being able to think for themselves."
Martin expects that all his students will develop problem-solving skills and understand the value of teamwork. He also wants them to have fun in his classes.
Student success is highly dependent upon teacher effectiveness. Teachers must nurture student curiosity, elevate expectations for all students, and in many cases, give students hope where there wasn't hope before. But, before that can happen, teachers must believe in themselves.
That is why we must continue focusing on recruiting our best and brightest to the teaching profession, retaining our nation's outstanding teachers in the classroom, and ensuring that all teachers are provided the highest quality training programs and support systems.
Martin and Naylor are great examples of what can happen for students when we focus on teachers.
Vince M. Bertram is president and CEO of Project Lead The Way and the author of the New York Times best-selling "One Nation Under Taught: Solving America's Science, Technology, Engineering and Math Crisis."
Calling all HuffPost superfans!
Sign up for membership to become a founding member and help shape HuffPost's next chapter