The town of Palm Beach is located on a tiny sliver of sand about four blocks wide and 16 miles long. When Henry Flagler, a founder of Standard Oil, first saw this island of palms, the trees originally sprouted from 20,000 coconuts sprung from the cargo hold after the Providencia shipwrecked in 1878, he decided it would be a fine winter (and shady) playground for his wealthy friends. For its small size, Palm Beach likely is one of the best known communities in America. It attracts an extraordinary seasonal society of the super-rich and famous, who support with enthusiasm and generosity their local art institution, the Norton Museum of Art, which was designed by Marion Sims Wyeth and founded by the Chicago industrialist Ralph Norton in 1941.
Although protected around the clock by a diligent police force, the island is totally exposed to any occasional hurricane threat that persuades residents to flee westward over one of the three bridges connecting the town to the mainland. With the Gulf Stream flowing directly into the midtown beach and the warm waters of the Atlantic Ocean mixed in for good measure, there is a perpetual awareness that under the right circumstances a mighty storm could start brewing and spin its way directly toward the Gold Coast.
To Jane, Love Andy: Warhol's First Superstar, the current exhibition at the Norton Museum of Art, portrays a whirlwind of creative activity, and surely is one of the most unique and informative shows on display right now in America. If attendance is any measure it definitely will be a record breaking show. Organized by Cheryl Brutvan, Curator of Contemporary Art and Director of Curatorial Affairs for the Norton, To Jane, Love Andy brilliantly ties together the life of Jane Holzer, a beautiful, small town gal from a wealthy family who takes off from Palm Beach for Manhattan to pursue excitement in America's most stimulating city, and the fortuitous meeting with Andy Warhol that led to their lifelong friendship. At the time, New York was the epicenter of the new, freewheeling mood of a changing youth culture that dramatically affected everything from music and fashion to literature and contemporary art. It also was a historic time for a new breed of artists, which was distancing itself from abstract expressionism to explore a narrative style as yet unlabeled.
In 1949, a young, ambitious, working-class artist named Andrew Warhola left Pittsburgh for the Big Apple with $50 in his pocket, determined to become in a short while the most successful illustrator in New York City.
But for who was now the self-renamed and branded Andy Warhol, finding a viable scheme to develop into a full-fledged, legitimate, respected artist with all the fame and glamour (and potential fortune) attached to that prestigious place in society was a constant priority. His amazing skill as an illustrator and a penchant for invention would propel him to celebrity and destiny.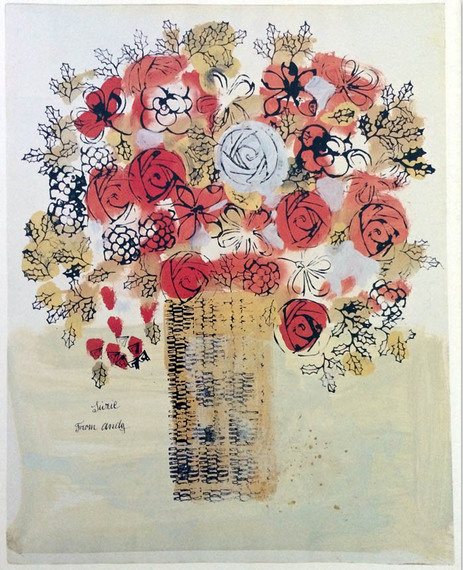 Warhol invented a new style of drawing, which was an instant hit with art directors. (Private collection; work not included in To Jane, Love Andy exhibition at the Norton Museum of Art)
Holzer, already well-known by age 24 as a Vogue model, helped open the polished gates to Upper Eastside respectability and the accompanying potential art collectors. She recalls that Warhol was always "thinking or figuring things out," especially inside The Factory, an aluminum foil-wrapped creative environment downtown, where the artist invented production line paintings and sculpture out of virtually any imagery that interested him. But Warhol knew instinctively the importance of combining his ground-breaking art and the valuable promotion that accompanied it with the endless connections New York society had to offer. Stockbrokers, socialites, entertainers, movie stars, photographers, other artists, and in particular, bonafide members of high society ultimately would be the key to opening a doorway to recognition and controversy, and ultimately turn a shy, skinny, eccentric, white-wigged man about town into the most recognizable face in Manhattan. To this day, the auction house value of his works continues to regularly outdistance that of most other contemporary artists. For Warhol the voyeur, natural born genius and mischief maker, rubbing shoulders with the famous and influential, such as Jane, accelerated his ascension to the top of the art world.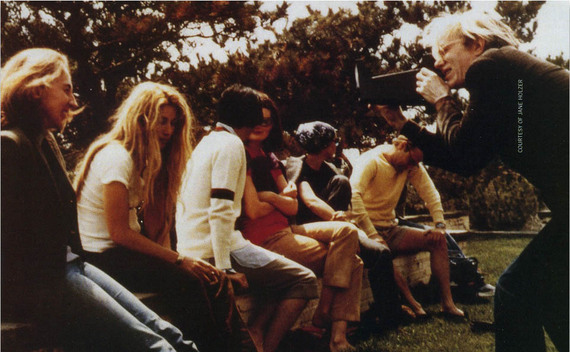 Andy Warhol taking a Polaroid of Jane (second from left) at her Southampton oceanfront mansion. (Photo courtesy of Jane Holzer)
This unusual knack for self-promotion combined with a sharp business mind also was the original impetus behind creating Interview, which trolled for willing stars who were hustled later on to purchase the original published portrait after it was showcased on the magazine's cover.
After a long period of dormancy and complacency in the art world during the 1950s, something brand new and controversial was in the air. Even staid fashion was going wild. In 1964, author Tom Wolfe profiled Jane in his essay "The Girl of the Year," where he described her as "a gorgeous queen bee of a new era," a reaction to the crazed attention surrounding her.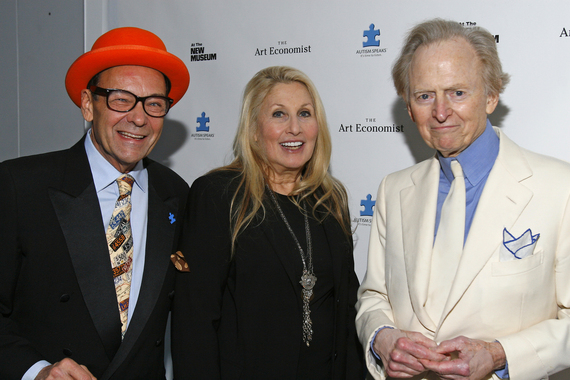 Reunion of Baby Jane with Tom Wolfe at the New Museum, Manhattan (also in photo: Bruce Helander). Photo by Michael Price.
All over town, a new energy was pushing novel creativity in all directions. The winds of change were mixing things up. For many observers, Pop Art was a misunderstood subject to be ridiculed by many as a commercial joke. As the cultural temperature continued to rise during the day and into the nights at cool clubs like Studio 54, just the right circumstances for a perfect aesthetic storm were forming with sizzling excitement. So it was inevitable that Holzer and Warhol would meet in the heart of the city in 1964, although by complete accident, in front of Bloomingdale's. The starstruck artist, realizing his serendipitous good fortune, made his move instantly, inviting the stunning fashion icon on the spot to play the lead in one of his movies. A close friendship developed, which continued until Warhol's untimely death in 1987.
The brilliance of the Norton exhibition is how carefully a delightful time capsule of photographs, magazine covers, letters, and even former outfits of Holzer (now in the collection of The Met), has been meticulously mended and blended together to produce a flowing history lesson of jaw-dropping significance. These elements document an important ongoing relationship, coinciding with Holzer's own independent climb to become Warhol's first superstar. All the memorabilia withstanding, the stunning display of iconic objects, from his innocuous flowers, paper prints and an exceptional, iconic, powerful electric chair image to silkscreened portraits, painted boxes of canned goods and Brillo pads to rare films and screen tests featuring "Baby Jane," along with seldom seen material loaned from the Warhol Museum, illustrate the amazing intersection of their electrifying lives. Perhaps most importantly, these fragments of the past remind one of the development and extraordinarily lasting influences of Warhol's inventiveness and game-changing ideas. The parade of artifacts--many not seen in decades--is often so revealing and surprisingly personal, including a segment of young Jane singing on a TV show, that one can walk away feeling you have received a clandestine inside introduction and a rare visual perspective on Warhol's first and most glamorous megastar--you can even try out for your own screen test. From a gentle, warm ocean block breeze that Baby Jane enjoyed as a child to a northern current that created a cool front placing Holzer in the eye of a swirling, thunderous, creative tempest that changed contemporary art forever, we are now the beneficiaries of a close encounter between those who played the principal roles. This is a once in a lifetime opportunity to go back in time and share the allure and stimulation of a remarkable era with Andy through the eyes of Baby Jane Holzer.
To Jane, Love Andy: Warhol's First Superstar continues through May 25. For more information visit www.norton.org
PHOTO GALLERY
To Jane, Love Andy: Warhol%u2019s First Superstar