I'm not going to try to get to Labrador on mainland Canada's far North Atlantic coast by land and sea. That would involve getting a 13-hour bus journey all the way back to western Newfoundland and then getting a ferry. So this segment will be by air.
It's 6.15 a.m., fog has obliterated St. John's from the human eye and it's total pandemonium at the airport. Several planes are not there because they didn't arrive last night. But that's not the problem with Yours Truly's flight to Happy Valley-Goose Bay, Labrador.
For starters there's chaos with a capital CH at the check-in lines. The baggage drop-off line for those who have already checked in on the internet or at the machines is stalled. The delightfully über-obese lady in front of me has already been waiting in the same 'damn spot' - get that Lady Macbeth - for more than half an hour, not because she's too fat to move but because the line is not moving at all.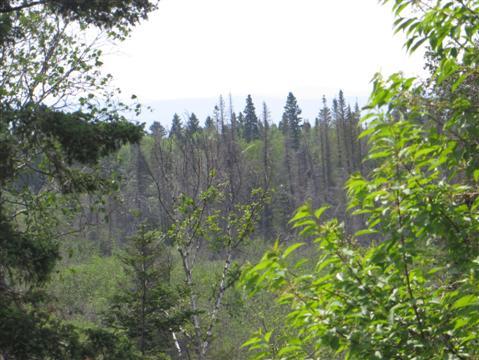 Forest view near Goose Bay
A harried official is flapping around like a headless chicken shouting out departing flight destinations to rush their wishful passengers to the front. At last a lady turns up for the drop-off line, but takes about four decades over each passenger because most have not put the tags on their bags. OK, you may not be able to do this on the internet but there are the battery of machines just behind you.
Yours Truly decides to mutiny. I storm over and ask her why the drop-off line is taking longer than the regular check-in line. I tell her she should make those without tags go back to the machines to get them so that us poor provident sods who have them can get the f... through to security and the restaurant.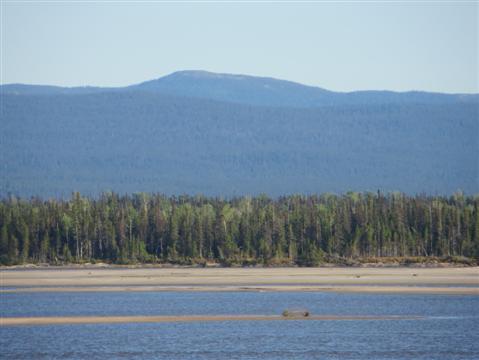 She smiles sweetly, imparting some incomprehensible nonsense about her computer being unable to register the tag immediately after the machine coughs it out, so if the passengers were to go over there and get a tag she wouldn't be able to electronically check said bags.
'That's ridiculous,' quoths I, 'give it Viagra.' But she just smiles. I storm back, my mutiny crushed. In all it takes me an hour just to drop off my already ticketed bag.
Air Canada Jazz Express's little 48-seat CRJ regional jet is at gate 3 ready for the 7.55 a.m. take-off. It can do so with radar technology even in this fog, but there is now a mechanical hitch and departure is put back till 1100. However Air Canada does provide a $10 meal credit.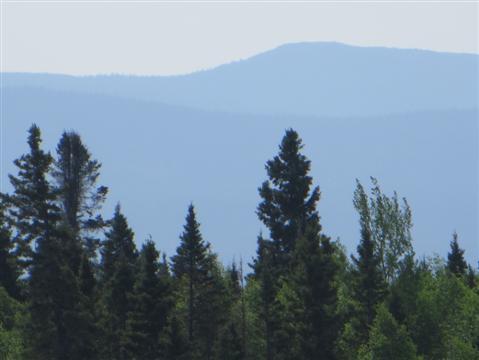 Mountain view near Goose Bay
I'll still be in Goose Bay by noon local and my wife Rivka is not due in from New York until 1845 for the much anticipated Labrador segment of the trip, an adventure I'm entertaining with some trepidation given the sainted lady's unbounded capacity to produce the unexpected, ranging from missed connections to the very definition of the unexpected itself - a surprise so untoward that I can't even envisage it beforehand.
Imagine my surprise, then, when at 1030 I look out at our gate and see the little CRJ being backed slowly into the mists. A few minutes later, the intercom crackles on: due to a little technical hitch the flight's departure has now been put off until 1400.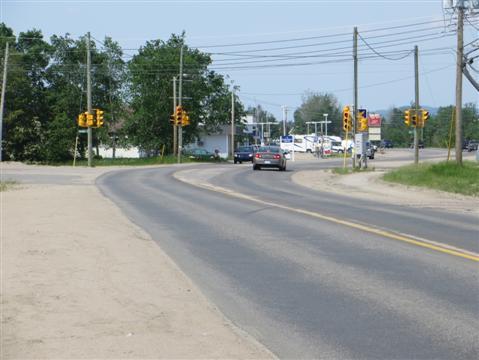 Happy Valley street scene
The gate lady grudgingly grants me another $10 meal credit - that just about gets you a sandwich. The lounge is getting more and more crowded when there's another announcement: the Goose Bay flight will now depart from gate 6, where there's even less seating available, and at 1430.
Time for another mutiny. 'Why, may I be so bold to ask, is the frigging plane not ready,' quoths I. 'If you can't fix it, bring on another one.'
'Ah,' retorts the gate guy, 'they're fixing it now. They had to fly in a part from Halifax and that flight was delayed by fog there.'
'Well you call yourself Air Canada Jazz or whatever but you're certainly not very jazzy today, are you.' He just frowns. The joys of flying, or how I learned to hate Air Canada.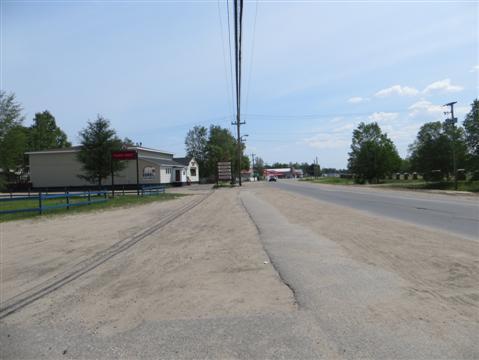 Another street scene
At last we board. Now we have to wait hours until they find Mr. and Mrs. Gill. At last they find them. They come running out to the plane. Oops, it's Mr. and Mr. Gill, and they're both wearing identical shirts and trousers.
It's gone 1500 when we finally take to the friendly skies. As usual I feel for my life-vest under the seat, ready for the inevitable crash. There's no life vest. The sign on the back of the seat in front says: use the bottom cushion for flotation. A later internet check notes that in August 2008, Jazz removed all life jackets in order to lower fuel costs. What if my arms get tired? Do I just sink?
Looking down as we come in to land at Happy Valley-Goose Bay, self-described as the 'Heart of Labrador,' I can't help but feel that this is indeed the Amazon of the Arctic, one of the world's last great wildernesses.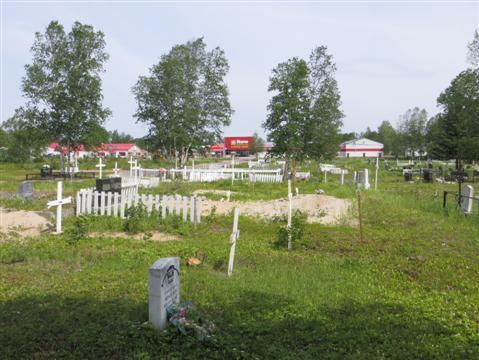 Town cemetery
The trees, of course, are much shorter and much less varied, mainly deep green pines and various deciduous varieties, and there's no overarching tree canopy as in the Amazon, but the rivers and lakes that sparkle through the many hues of emerald and jade, the arboreal wall, and the peak hugging mists of dusk recall nothing so much as the tropical cousin down south across the Equator.
Happy Valley-Goose Bay is one of Labrador's largest towns, if you can call it that, with some 8,000 inhabitants of European settler origin, indigenous Inuit and Innu, and mixed. There's no down town, in fact there's no town, let alone a down.

It's a collection of motley buildings strung out here and there like an over-extended exurbia among the trees or along the banks of Lake Melville, the vast mountain-girt salt water extension of Hamilton Inlet where the Churchill River meets sea water.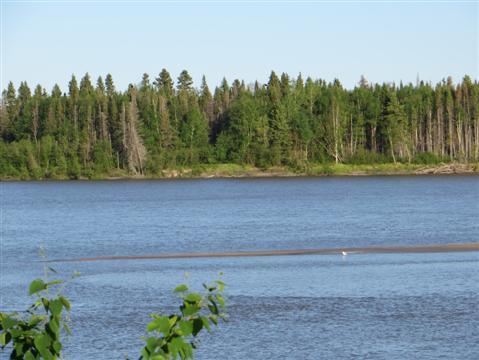 River bank view
The town got the latter half of its double-barrelled name when the site was chosen in 1941 by the Royal Canadian Air Force for a major WWII base on a large sandy plateau where the Goose River flows into the Churchill.
Happy Valley came tippling along gradually. First, when the settlers rolled in, they were told they could not found their bourg in their first choice, Otter Creek, because it was too close to the base, from which they were required to be at least five miles. So they drove down the stakes of Hamilton River Settlement in Refugee Cove.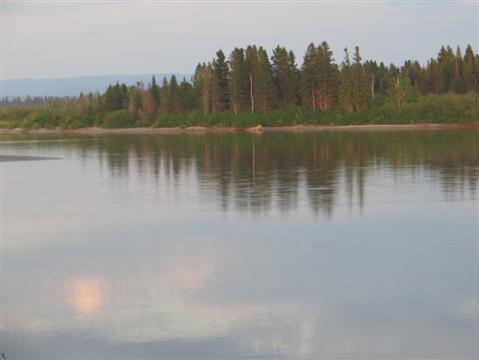 Island in river
For some reason I cannot elucidate this name was changed to Happy Valley in 1955, the rechristening doubtless oiled along, one can only assume, by the early and often tippling of aforesaid Valley people, turning Happy Hour into Happy Century, and the place into a very happy valley.
There's still an air base here that served as an alternative landing site for U.S. space shuttle. Several planes on the green in front of the airport building attest to its former glory. Today it's used to test planes, especially hi-tech low-flying jets, much to the annoyance of the indigenous Innu who say it interferes with their way of life, let alone their sleep.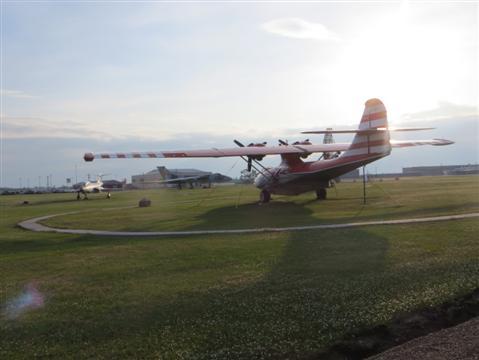 Plane on show outside airport
But it's the low-tech even lower flying jets that Yours Truly is on the look out for - mosquitoes and the even nastier stinging black flies that swarm here in uncountable multitudes.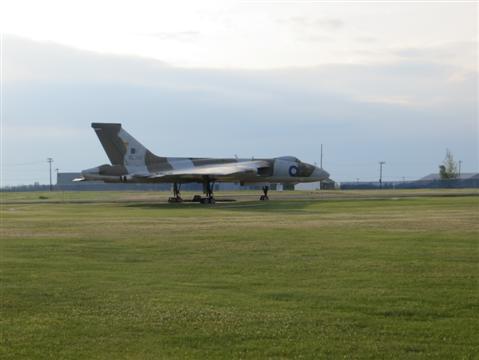 Another plane
Meanwhile a little look-see around 'town,' a glance or two across the Churchill to a wooded island and river's wooded banks, and I'm just about to take a taxi back to the airport to meet and greet Rivka, when I open my e-mail for a little check and...
Now I really do hate Air Canada.
______________
By the same author: Bussing The Amazon: On The Road With The Accidental Journalist, available with free excerpts on Kindle and in print version on Amazon.