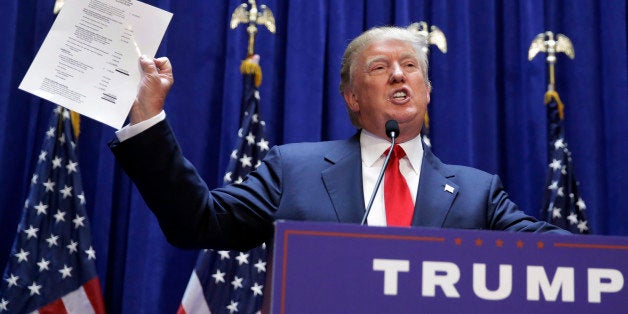 Maybe the title of Donald Trump's next book should be "How To Lose Friends and Deport People." Trump made headlines with his recent presidential announcement, and many of them were for remarks that were insulting to Latinos and immigrants. "The U.S. has become a dumping ground for everyone else's problems," he said. "When Mexico sends its people, they're bringing those problems. They're bringing drugs, they're bringing crime. They're rapists and some, I assume, are good people, but I speak to border guards and they're telling us what we're getting."
That was two weeks ago, and the furor over Trump's comments shows no signs of going away. Latino groups have rightfully reacted with anger to his bigotry. Trump has damaged his own brand, and created a headache for the Republican Party. He is quickly becoming an example of how not to deal with a political and public relations disaster.
Trump has no one to blame but himself for the ongoing controversy. If he had shown a basic level of respect for Latinos, then he would not be facing growing outrage in the Hispanic community. Univision cancelled its contract to air the Trump-owned Miss USA and Miss Universe pageants. The two Latino co-hosts of the upcoming Miss USA broadcast both quit in protest, as did the scheduled musical guest. Now a coalition of the nation's leading Hispanic advocacy groups is lobbying NBC to cut ties with Trump. But The Donald has so far refused to say the two words that could alter his recent barrage of bad press: I'm sorry.
What Trump doesn't realize is that this is a fight he cannot win. He has already lost, because his incendiary words will surely prove bad for business. According to his website, in addition to the high-end residential properties for which he is well-known, Trump lends his name to hotels, casinos, books, spring water, men's wear, eye wear, a modeling agency, and golf courses. He can legitimately be called a mogul. Yet he is demonstrating bad business acumen by not fully apologizing for his remarks and moving on. Instead, he is railing against Univision (he has vowed to sue the network) and sparring with Telemundo anchor Jose Diaz-Balart on TV. It is as though Trump is unaware of the huge spending power of Hispanic consumers - Nielsen estimates it at $1.2 trillion -- or he simply doesn't care.
Fact is, the American public is generally forgiving of all kinds of behavior. In 2012, Mitt Romney damaged his presidential hopes with his "47 percent" comments. Hillary Clinton once made an insensitive joke about Indian Americans. Then they both did the right thing, and apologized for their words. Making a public apology is almost a rite of passage for celebrities and politicians nowadays, for everyone from Paula Deen to Joe Biden to Reese Witherspoon. If a true test of character is how we handle our own failings, Trump is failing miserably. By refusing to disown his comments, Trump is harming himself, his family, and his supporters.
It's too easy to dismiss Trump as an ego-inflated sideshow to the 2016 race. But consider that he is currently polling in second place behind Jeb Bush among New Hampshire Republicans. Or that a national Fox News poll about the 2016 race also puts him in second place. As the GOP struggles to win over Latino voters, an arrogant xenophobe like Trump is the last thing the party needs; no wonder he has been called the "Republicans' worst nightmare." While no one expects him to mount a credible challenge for the GOP nomination - one analysis ranked him as the "most hated candidate" - the luxury developer has the potential to turn the GOP primaries into a low-rent spectacle. Trump's fellow 2016 rivals have already been criticized because none of them has had the courage to denounce his hate speech.
Sure, Trump has every right to take a stand against illegal immigration, and to be against immigration reform. That doesn't make his racist rant acceptable. In fact, he does the anti-immigration movement a disservice by devolving into such bigotry. And in a week marked by a historic win for marriage equality at the Supreme Court and a moving show of grace by President Obama at a South Carolina funeral, Trump's continued refusal to apologize for his comments seems extraordinarily tone deaf and ill-advised.
"The Donald" ought to apologize to Latinos and other Americans for his divisive remarks. If not, Trump will become increasingly synonymous with bad judgment, bad politics, and bad business.
Calling all HuffPost superfans!
Sign up for membership to become a founding member and help shape HuffPost's next chapter