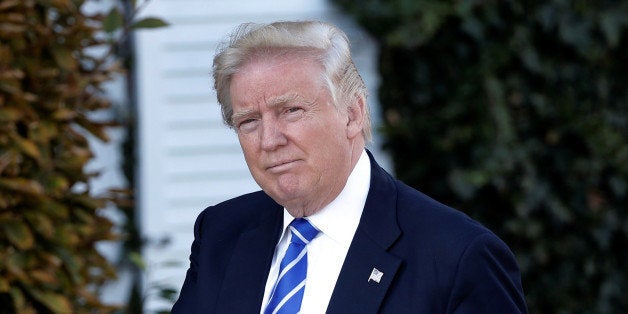 "Our infrastructure is crumbling:" It is an expression we hear often in Washington--but what we do not hear as often are concrete plans to address our nation's failing infrastructure.
Both of this year's presidential candidates agreed that we need to make substantial investments in rebuilding and expanding our infrastructure. In his acceptance speech, President-Elect Trump said: "We're going to rebuild our infrastructure, which will become, by the way, second to none. And we will put millions of our people to work as we rebuild it."
On this point, I agree with our president-elect. It is clear that there is dire need to repair the bridges we drive on, the water systems we use, and the rails we ride. This is an issue that affects the health and safety of every American. The cost of improving our nation's infrastructure is staggering, and it increases every year. The question is no longer whether to act, but how to approach the problem -- and how to pay for it.
President-Elect Trump is already pushing a $1 trillion dollar proposal -- but unfortunately, his plan lacks clarity. We must make long-term, pro-growth investments now -- not when infrastructure breaks down and rises to the top of our national attention. We need to disrupt this cycle, and this new administration has an opportunity to do so in a bipartisan manner.
While we do not know much about the specifics of President-Elect Trump's infrastructure proposal, without public funding, his plan will not get us where we need to go. In fact, from the looks of it, his proposal could empower the very corporate interests he promised to oppose on the campaign trail.
As with many things in his campaign and transition, it is difficult to know what President-Elect Trump really wants to pursue when it comes to infrastructure. On his official website, President-Elect Trump provides no concrete details as to how he will achieve deficit-neutral infrastructure investments.
However, his advisors have advocated for privatization, and for a one-time holiday on corporate revenues repatriated from overseas to pay for his infrastructure plan. Rather than rewarding multinational corporations for moving overseas with a corporate tax give-away, we should close tax loopholes and end overseas tax dodging.
This is the wrong path forward for infrastructure -- we cannot succeed without public investment. According to a report from the Congressional Budget Office, in the last 25 years, there have been 36 privately financed road projects; of the 14 that have been completed, three declared bankruptcy and one needed a public buyout. This is not a track record that inspires confidence. Privatization will let down the millions of Americans who depend on our infrastructure each and every day.
As someone who has been fighting for increased infrastructure investment for decades, I know how complex this problem can be -- and why public funding is so critical.
If we are serious about growing good paying jobs that cannot be outsourced or exported, we need to pursue clear, comprehensive infrastructure policy that faces the reality of the problem. We could do that by establishing a National Infrastructure Bank.
The National Infrastructure Development Bank, modeled after the European Investment Bank and other development banks around the world, would leverage private dollars from institutional investors, such as pension funds, to supplement current funding. It would provide loans and loan guarantees to projects, and issue Public Benefit Bonds with proceeds to fund projects. Many organizations -- from labor unions to the U.S. Chamber of Commerce -- have endorsed some form of an infrastructure bank.
If we continue to ignore our crumbling infrastructure -- or go down the wrong path and depend on shaky private funding and tax credits -- it will not be long before we see another failure like a train derailment, or a complete breakdown of a water supply system like we saw in Flint, Michigan.
With a robust infrastructure proposal, President-Elect Trump has an opportunity to lead on an issue that touches each and every American. But if he ignores the necessity of public investment, this plan may be all talk and no action. The president-elect has the opportunity to forge a bipartisan approach that could bring both sides to the table -- that is an opportunity he should take.
DeLauro has introduced the National Infrastructure Development Act in every Congress since 1994. The legislation would create and fund a public bank to leverage private dollars from institutional investors, such as pension funds, to supplement current funding for meritorious infrastructure projects of national or regional significance.
Calling all HuffPost superfans!
Sign up for membership to become a founding member and help shape HuffPost's next chapter