A post on achieving the #SDGs by Katie Levey, PYXERA Global and Mark Horoszowski, MovingWorlds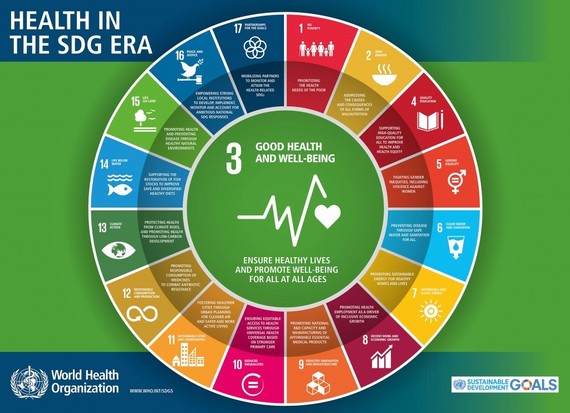 The United Nation's Sustainable Development Goal (SDG) number 3 is a big one: Ensure healthy lives and promote well-being for all at all ages. But in Ghana, real progress is already being made. Meet Daniel Mensah. Daniel is the Executive Director of HealthKeepers Network, a network of entrepreneurial women in rural Ghana who sell quality healthcare products within their neighborhoods in the country's hardest-to-reach areas—regions where basic health services are severely limited or unavailable. HealthKeepers now has a new, five-year strategic plan to guide its growth in the face of Ghana's changing donor environment—a result of its work with the Global Health Corporate Champions.
As unlikely as this collaboration is, it's exactly what the Sustainable Development Goals call for in Goal Number 17:
"Enhance the global partnership for sustainable development, complemented by multi-stakeholder partnerships that mobilize and share knowledge, expertise, technology and financial resources, to support the achievement of the sustainable development goals in all countries, in particular developing countries."
This kind of multi-stakeholder collaboration sets a new standard in sustainable global development. It showcases three golden rules that we should all adhere to if we hope to achieve dramatic progress on the SDGs by 2030:
Attract diverse skills and knowledge to intransigent social challenges.
Empower local stakeholders to develop their own solutions.
Create partnerships and models that enable the solutions to be sustainable.
Cross-sector collaborations are valuable, but they aren't always easy. At PYXERA Global and MovingWorlds, we have learned some lessons through our collective experiences of organizing and deploying cross-sector partnerships that empower local solutions. Here are 6 tips for building cross-sector collaborations that create real change:
1. Start with a Local Need
Local organizations are critical to identifying the community's true health needs and providing much needed services. Yet, they are often prevented from scaling their efforts to those who need it most due to limited access to specific business skills. Cross-sector collaborations that enhance the ability of a local organization to reach people in need are the most successful.
2. Identify a Local Implementer
Who are the local players already working on this issue? Often, the right implementers have been working in communities for years and have developed hard earned social capital.
Using the aforementioned work in Ghana as an example, PYXERA Global worked with USAID's Bureau for Global Health's Ghanaian mission to identify those players most successful in the health space. As a result, GHFP-II and PYXERA Global identified three organizations to work with the Global Health Corporate Champions: HealthKeepers Network, a USAID-funded program with a promising scalable model; the Christian Association of Health of Ghana, a social sector group that steps in where public entities cannot and delivers health services to over one-third of Ghana; and Ghana Coalition of NGOs in Health, an umbrella organization of over 400 health NGOs in the country. Working with and through local organizations and implementers is critical to creating a sustainable solution to local challenges.
3. Identify the Solvable Problem
Getting health services to communities with limited access to basic infrastructure like roads and internet is not a problem that can be solved in one month. The Global Health Corporate Champions, instead, focused on projects which could help build capacity in the health system, injecting key organizations with business expertise.
The participants worked closely with leaders to deliver new strategic business plans—training them on the skills to carry these out over the next five years.
"Together with the Global Health Corporate Champion participants we proactively created a sustainable business model. Our staff will use the thinking that emerged and the recommendations to serve the community in years to come. The participants zeroed in on a problem that could be solved in one month's time—developing plans to strengthen each organization's capacity to improve healthcare delivery to over one-third of the Ghanaian population."

-Daniel Mensah of HealthKeepers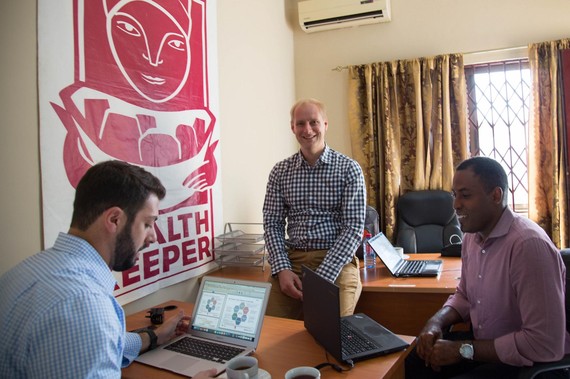 Caption: Tim Quagliarello, PIMCO, Tom Lyall, Dow, and Carl Hanna, PwC on assignment with HealthKeepers Network.
4. Bring in Different Kinds of Skills and Sectors
An individual working several decades in one industry or sector can bring fresh eyes when that expertise is applied to another sector. If we are to truly make progress on the SDGs, we need to apply diverse skills and experiences—as well as fresh approaches—to tackle the most difficult problems.
The Global Health Corporate Champions was designed to attract individuals outside the traditional health arena to address challenges that had already been identified by USAID, such as health systems strengthening.
"Bringing business operational skills into the field of global health is so important to diversity. Collaborations like these give private sector companies an approach to complement the efforts of USAID—they introduce new ways of thinking to help address some of the deepest health challenges facing the world today."

-Sharon Rudy, Director for GHFP-II
Individuals with business skills proved instrumental players—contributors such as Carl Hanna and Aubrey Annan, who work in PwC's Health Industries Advisory division, Thomas Fuhrken, who leads Road and Rail Operations at Dow, and Tim Quagliarello, who works with institutional investors at PIMCO.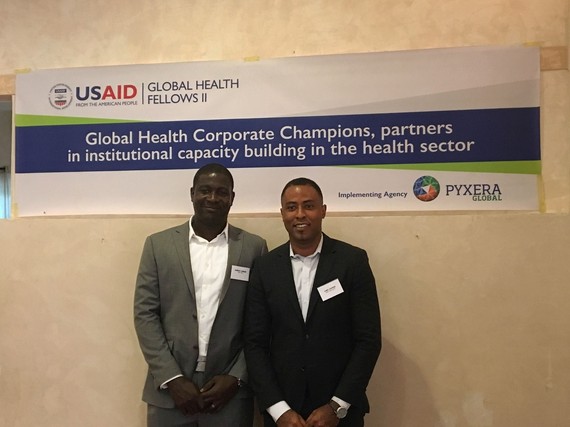 Caption: Global Health Corporate Champions, Carl Hanna and Aubrey Annan from PwC's Health Industries Advisory division.
5. Define the Incentives for Each Stakeholder
Why was this collaboration a success? There was a clear understanding at the beginning of the project of both what each organization brought to the table and the benefits each would receive. USAID's Global Health Fellows Program II attracted new thinking and expertise to address pressing global health challenges.
Dow, PIMCO, and PwC provided their staff to serve the health needs facing Ghanaian NGOs and gained employees with a better understanding of the pervasive health needs and the shared value opportunities that exist in emerging markets.
"Our goal is to help improve the capabilities and capacities of health organizations in the region, and to develop leaders who will continue to make an impact even after we are gone."

- Kelly Barnes, US Health Industries Leader at PwC.
The local host organizations put their own resources into the project by making their staff available for a full month to work on the project. They gained accelerated knowledge, training, and skills that otherwise takes years to acquire. As HealthKeepers pointed out in a tweet, "Strategic plan 2017-2022 for @healthkeepersgh ready for action!
6. Embrace Change
Whenever you interact with others, you are changed in the process. By learning from diverse groups, all stakeholders leave more innovative. This is the long-term power of cross-sector collaboration across diverse stakeholders: building empathy and learning faster, together. Programs like this are proven to benefit all the stakeholders: government bodies, the organization in the field, the volunteers, and the sponsoring companies—but only if they all prepare and embrace it.
These types of impactful, cross-sector collaborations weren't always possible. It's taken decades of infrastructure developments, technology advancements, political openness, and increasingly globalized businesses and individuals to combine in new ways—and it's important that we act fast to demonstrate the values of these increasingly open and cross-sector collaborations. As powerful as the forces are that allow for them to occur, other economic and personal forces are also pulling them apart and making them harder to build. For every person seeking to extend their hand across borders, there are others pulling back in fear. This makes it all the more important for people to courageously and deliberately seek opportunities to engage, collaborate, and serve.
So if you're trying to create change, at home or abroad, remember these rules:
Start with a Local Need
Identify a Local Implementer
Identify the Solvable Problem
Bring in Different Kinds of Skills and Sectors
Define the Incentives for Each Stakeholder
Embrace Change
Do you have other stories and tips of high impact partnerships? Let us know in the comments below!
Katie Levey is Director of Media Relations at PYXERA Global. She designs communications strategies to help corporations and nonprofits show how the power of business can affect positive social change and encourage more organizations to embrace a shared value approach.
Related
Popular in the Community