This is it: your big day, your first day of kindergarten. You will officially be spending more time at school than you spend at home. Maybe you are feeling scared or nervous about this change, but I want you to know that you are going to *rock* kindergarten. I have felt pretty certain of that since you were a baby. At less than a year old, I saw your spirit emerging during those countless physical and occupational therapy sessions to help you with low tone.
I remember when Marge, your physical therapist, said that you probably wouldn't walk until you were 2, maybe even 3 years old. A dark cloud fell over me that day, and I felt devastated by her prediction. I struggled to put my fear aside, and we did your exercises faithfully each day. You walked at 13 months. Tears of joy ran down my face while I felt a twinge of satisfaction by proving Marge wrong in her estimation. Today, not only are you walking, but you are running, dancing, and swimming.
I also remember when the occupational therapist said that you would always have a hard time writing and using scissors because you would not have any stamina. She underestimated that your love of writing and creating would win over the battle of low tone. I think that she would be surprised to find out that writing is one of your favorite activities, right along with making collages by cutting up old photos.
You have worked hard to overcome your challenges, but not in a loud, demonstrative way. That has never been your style. You quietly persevere during difficult times and pay no attention to the negativity of cynics.
In kindergarten, you will be spending the majority of your hours away from the safe, nurturing environment of home. My time for watching from afar as you learn to maneuver through new situations has come to an end. This is the first part of your journey that you will complete primarily on your own.
Marie, hold tight to your fierce determination that has delivered you from your early struggles. You will be surrounded by so many different influences that it can be easy to lose sight of who you are.
Hold tight to your fearlessness if the mean girls try to steal your spark. Some people have a hard time believing that they are special, so they try to bring others down with them. Just keep your distance. You are special and deserve to surround yourself with friends who are kind.
Hold tight to your tenacity when people might not see your strengths. You know what you are capable of and do not need permission to sparkle. Just do your best, yet know that your best looks different every day. When you are having a bad day and feeling less than your best, remember to be kind to yourself.
Although it's difficult for me to believe that you will be a kindergartener, I am so excited to see all the wonderful things you will experience this year. And for all the less than wonderful things that may occur during your first year of elementary school, remember that I am always here for you. Always. Even when you think something may be your fault and you think I would be mad at you, I'm here for you. This may be the end of the baby/toddler/stay-home-with-me days, but it's just the beginning of your journey.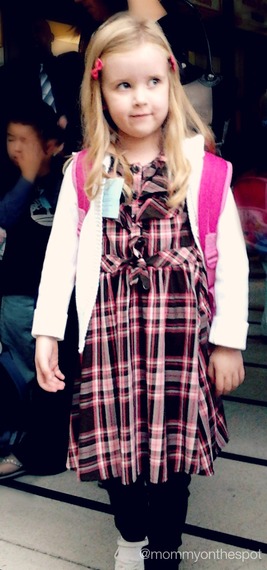 _________________________________________________
*A version of this post appeared previously on Mommy on the Spot.
Erin Janda Rawlings is a mom, a wife, and creator of the blog Mommy on the Spot. She is also a freelance writer and an adjunct professor at Walsh College where she teaches the course Social Media Strategy for Business. Erin also works for Hay There Social Media.