A large box sat on the corner of a table, surrounded by other bridal shower gifts wrapped in white and silver paper, tied with satin and tulle bows.
Wearing an ivory dress, a smile and poorly curled hair (my thin hair and I are constantly battling), I stood behind the table with my fiancé Adam by my side. Family and friends smiled back at us, all in attendance to send Adam and I off with Necessary and Useful Items to begin our married life. They put so much work into giving us this gift of a beautiful shower. It was almost overwhelming.
I looked at my mom and fiancé to catch my bearings anchored through eye contact and grabbed the large box on the table. The box had my mom's signature gift wrapping style written all over it, with its gold and white paper and matching bows curled to perfection. She learned the art of gift-wrapping from her mom, a skill I have yet to master. Gift bags are my friend.
"May this be your first family heirloom," Mom inscribed in the gold card, her handwriting loopy and cursive and recognizable. This same handwriting wrote me encouraging notes in elementary school or the "You deserve better; it will be okay; I love you" letter she wrote me after my first high school heartbreak.
Carefully tearing the wrapping paper, I opened the gift and immediately felt my heartstrings tug on my tear ducts. Inside a white shadow box lined with copies of our wedding and shower invitations was an ivory purse, sparkling with beads and heavy with memories.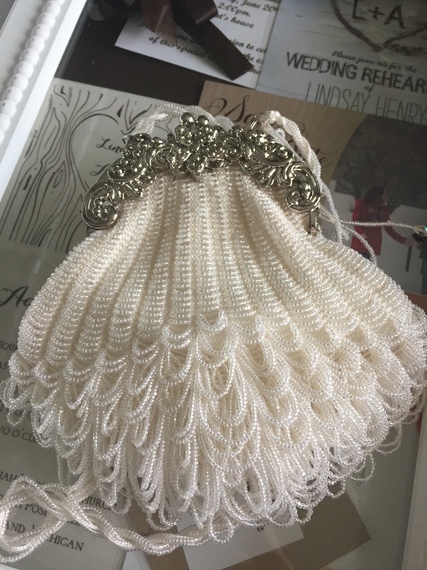 I looked at my mom. Her eyes--the same brown eyes she gave me--watered. Mine did, too.
"My mom started knitting Victorian purses after I left for college," I explained, staring at the purse in my hands. Knitting purses became a hobby my Mom poured her energy into once I left the house, my high school extracurriculars no longer filling up her schedule. "She made this purse for me to use for the wedding."
People oohed and ahhed, which led to clapping as my mom blushed and shyly grinned. "Mom," I whispered, locking eyes with her. "I love you," I mouthed.
"I love you, too," she mouthed back.
I tried not to unfold like the wrapping paper as waves of emotions and memories hit me, instead grabbing another gift so I didn't overwhelm people by becoming a blubbering mess.

Instead, I saved my tears for now, sitting alone, less than four weeks away from getting married. I stare at the purse tucked away for safekeeping, staying clean and shiny for its special, one night only use. Like Cinderella's glass slipper, but better. Better because my mom made this, not some fairy godmother who popped out of the sky for one night, but the opposite: a woman who has been there for me every day for my entire life.
I picture my mom's hands knitting, lining up the tiny beads, her small frame hunched over our kitchen table in between long hours of working as a nurse and cleaning the house and doing laundry and cooking meals and being a mom, wife, sister, friend.
"This purse will always be the Purse My Mom Made for my Wedding Day," I think, running my hands over the ivory beads that match my wedding dress, the silver clasp.
But it's more than just a purse to use on a special day. This purse is a culmination of so many days. Many good days and bad days and hard days and memorable days that have led me to this moment in my life, to this man I will marry, with these family members and friends surrounding us with love. So many days that have created this life, and it all started with my mother giving me life and then teaching me about life so I can design and live my own life.
Not everyone gets to have their mother with them for their wedding day or the festivities leading up to the day. This thought is not lost on me. So I sit and try to soak this moment as much as I can, knowing this purse will serve as a tangible memory for the inevitable day when I will no longer have my mom by my side.
And as I look at this purse and feel the love and time and memories weaved into the fabric and beads, the purse becomes a symbol to me. An extension of my mother, the woman who gave me her same brown eyes and soft voice, a voice that I can copy to sound exactly like her if I just go one octave higher.
My mother, the woman who taught me that beauty is on the inside and a soft-spoken voice can also be strong. The woman who sewed sequined dance costumes for me and French braided my hair and took care of other people's sick babies in the hospital so she could take care of her own.
My favorite TJ Maxx shopping partner. The person I argue with most, if I'm being honest, due to our similarities and stubbornness. She's been an enemy (shout out to my teenage years) and an ally, strong enough to fill both of those roles throughout the years, as motherhood often calls for.
The woman who listened to me cry about mean girls and worry about boys and fret about school. The woman who taught me about the importance of a good deal and good friends and a good marriage.
The woman who taught me to be me.
In less than a month, I get to walk down the aisle with my dad by my side. But before I do, my mother will walk down the aisle first, paving the path and making sure all is well, just as she's done my entire life. And when as I walk into our wedding reception, one of my hands will hold my new husband's hand, but my other hand will carry the purse.
Calling all HuffPost superfans!
Sign up for membership to become a founding member and help shape HuffPost's next chapter