Today you turn 3 and, like I do every year, I am writing you a letter. This year, however, the letter is very different.
When you were born, I promised to always be there for you and love you. On your first birthday, I promised the same thing. On your second birthday, I realized that you were growing up and may need some space, but still promised to always be there for you and love you. For your third birthday, I thought about promising the same thing, but I have a feeling you already know I will always be there for you and love you because of how many times a day you demand to do things on your own and your constant requests for me to go away. So today, on your 3rd birthday, I will make a promise I don't really want to make. I promise to back off.
For the past three years, I have taken a picture of you every day and posted it on my blog. I wrote about you every move and milestone. It was obsessive, but it helped me recover from postpartum depression and see you for who you really are instead of wishing you were some imaginary cookie-cutter baby. It served it's purpose, but during your third year of life, it has become a burdensome crutch. You are busy at school and on playdates. The dilemmas you experience now are yours and not mine to share on the Internet. Most importantly, you don't want your picture taken every day.
I thought about ceasing my documentation much earlier, but felt a strong urge to continue. What if I didn't get that one perfect picture of you doing that once-in-a-lifetime thing? Would you grow up and wonder why there are tons of pictures of your first three years and less of the rest of your life? Would you think it was because I stopped caring?
I decided to stop taking pictures and blogging about you for a couple of weeks and see what happened. I found that I was more in the moment as a mom and we had more fun. It's easier to jump in mud puddles when you aren't carrying a camera; we talk more when a camera lens isn't separating us, and it's nice to have some mother/daughter secrets.
From time to time, nagging thoughts still enter my mind, telling me that I am making a mistake. Now that I'm not recording your every move, you will never know how much I love you, I fear. Luckily, you are now old enough to tell me when you want your picture taken. You even smile and pose for the camera when you are in the mood.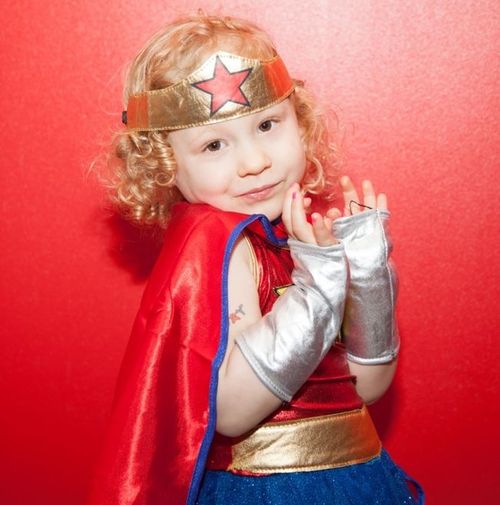 Over the weekend, we held a superhero birthday party for you. You helped us plan every detail and said you wanted your picture taken to show your friends and family who couldn't make the party how tough you are. I hired a photographer so I could be with you fully at the party. I felt completely naked without my devices, but had a blast watching you fly through the air and jump in the jumpy castle. After the party, I got out my camera to take pictures of you opening your gifts. I wanted to capture every detail. You told me to put it away and reluctantly, I did.
Later that night when you were fast asleep, I realized that now I am the only one who knows what your face looked like when you opened those presents. Your daddy is the only one who knows how big your smile was when you first saw him dressed as The Hulk. Now that I am not recording everything, our family has tons of snapshots that will live in our memories forever that only we know about and what's more special than that? Thank you for forcing me to see this.
P.S. Please be patient with me as I kick my camera addiction!
Photo courtesy of Marisa Erin Photography