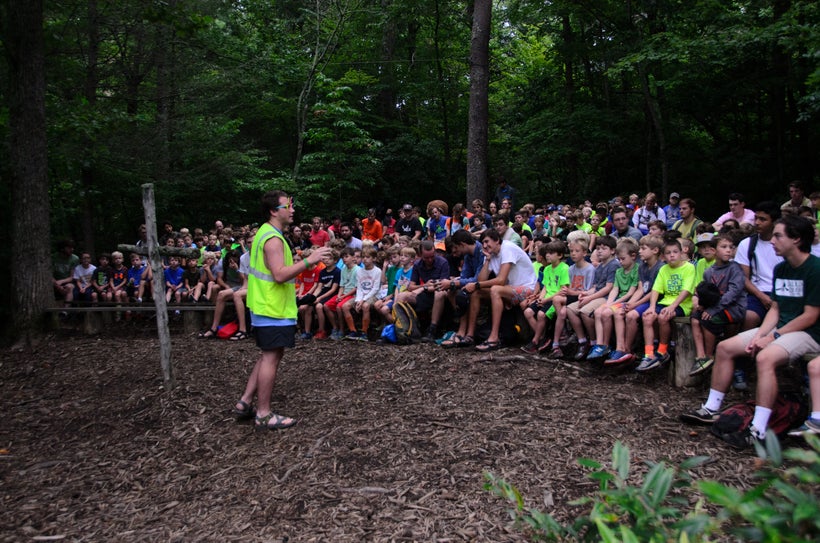 The lessons counselors aim to teach their campers throughout the summer don't stop when the air turns cool. I have hopes, dreams, and aspirations for the 64 dudes who've been in my cabins over the past two years that seem to heighten in my mind as I see their parents post back-to-school announcements and pictures. My biggest goal is that all we discussed in those cabins - often as a collective group around a single candle - builds on the teachings of their parents and other adults in their lives to ultimately culminate in better human beings, people who wake up every day with purpose, regardless of age or size.
On the last night of the summer, my co-counselor Drew and I talked to the boys about the treatment of others. I had guys in my cabin this summer from the age of 9 to 14, and I told every one of them that how we treat others is more important than most other things in life. The last night of camp was no different, as Drew and I listened to the boys' examples of how to be kind to other people at school and elsewhere. Holding doors, making people laugh, and sitting with someone at lunch who's alone were some of their suggestions, and I thought to myself, what if all children went to school with these expectations of themselves?
I want my campers to be kind, thoughtful, inclusive, humble, and selfless. I want them to know that they can accomplish anything. I want them to live every day to the fullest and to never forget to be thankful for what and who they have. I need them to know that I don't stop thinking about them at the end of the summer; I'm thinking about and will be praying for them as they head back to school and throughout the school year.
I want them to remember all that their parents are teaching them, lessons we always hope to compliment during their time at camp. I want them to love their neighbors as themselves, and to lead with their hearts.
I want them to never fear showing their emotions. I want them to cry when they're sad, to openly display emotional empathy for others, to throw judgement to the wind and never, ever hide their emotions from other people. If we teach boys that part of growing into a man means demonstrating constant emotional stoicism, are we not hurting them in the long run?
Treat others with love and respect and have unending confidence in yourselves: these are my greatest wishes for my campers as they head back to school. Amidst the excitement that always surrounds the beginning of a new school year and as I also head back to school myself, I will think of this message for my campers, of these hopes and dreams for them as they return to their classmates. As they walk the halls of their schools, eat lunch in their respective cafeterias, and enter their new classrooms, perhaps our summer conversations in the mountains of North Carolina regarding kindness, confidence, and love will cross their minds, if only for a brief moment at a time.
Calling all HuffPost superfans!
Sign up for membership to become a founding member and help shape HuffPost's next chapter
This post was published on the now-closed HuffPost Contributor platform. Contributors control their own work and posted freely to our site. If you need to flag this entry as abusive,
send us an email
.