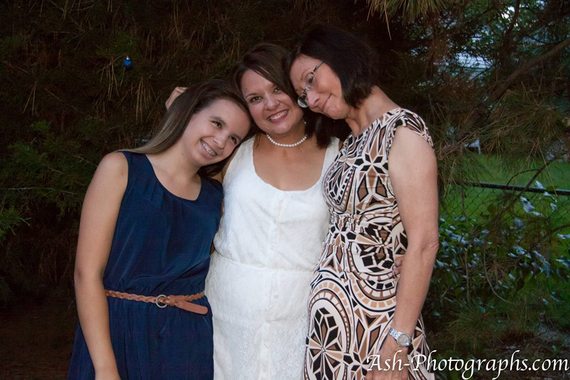 It was the most difficult thing I've ever done, leaving her all those years ago. I can only think that it must feel a little like dying, and the only thing that gave me the strength to do so was you.
If it had been anyone else waiting to take her home, I may not have gone through with it, but from the time I met you, you have been understanding, kind and without judgment. You showed me a love that I hadn't seen from many in my life at that time; I knew that if you had this kind of love for someone like me, she would have something even better and more powerful--and would never lack for it.
Over the years, you have gone above and beyond what you were asked in our original agreement. You have sent letters and poems that have left me in tears--not of sadness, but of gratitude. The gifts that you've sent have been so thoughtful, and through the pictures I witnessed such a strong and loving family that I was left speechless. With every correspondence I grew more joyful and less sorrowful. It is because of you that I was able to leave the dark place I was in after leaving her and find delight as I watched her grow in your love.
You've done an amazing job raising our daughter, my dear friend. She is beautiful, mature, intelligent, and--most importantly--kind. She explores her world with a confidence that can only come from the knowledge that you are there for her, and security in the love you share. While I am proud of her, I am equally proud of you. I have never in my life seen a better mother, and I hope every day that I can be even half the parent you are as I raise her sister.
I want to thank you for everything you have done. You took my baby and led her so gently into this incredible life she has, and the wondrous future she has before her. You never took her from me in the way that I couldn't still think of her as mine--as ours. I never felt that I was shut out from your lives and you have always been welcoming toward me. You allowed me to be a part of her life (of your life as well), and you've had a certitude and poise that most mothers simply do not possess in our situation. I have such immense gratitude toward you, and I want you to know how important you are to me in so many ways. You aren't just my daughter's mother--you are my family and my friend; you are my hero and my example; you are my inspiration as I nurture my own child now.
You have enabled us to give our daughter a gift most young women don't have as they take their first adult steps into this world--the powerful and unconditional love of two mothers. I can't imagine a more well-equipped child as they begin their journey.
I love you very much. Thank you for being such a wonderful mother.