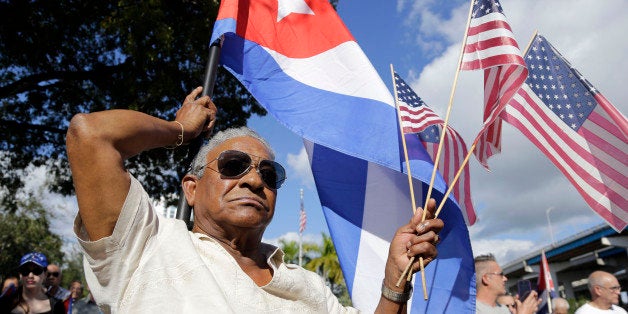 This is not for the 500,000 or so Cuban Americans who are already traveling to Cuba every year. Those of you who have made the trip have your reasons, and they are not the rum and cigars and old cars and beaches that drive everyone else's fascination with the island.
You are maintaining family ties and providing financial support, for relatives who would otherwise join the rest of the island in malnourishment and poverty -- an honorable enough cause.
Or you were curious, or consumed by nostalgia and longing for the land of your youth, and wanted to see it just once before you die.
Or you are selling U.S. goods -- flat-screen TVs, laptops, designer baby clothes -- on the black market, a not exactly honorable but undeniable sign of the Cuban entrepreneurial spirit.
This is also not for Cuban Americans who were born here after 1980, grandchildren of the original diasporics, for many of whom Cuba is just another sunny Caribbean island, albeit the one that their "people" came from long ago. Or for Cubans who have emigrated to the U.S since 1980 for reasons much more concrete than ideological opposition to a political regime -- for simple survival. Sympathetic though you may be for either the U.S. exile community or the Cuban regime -- or neither -- this is not your struggle. This is not your existential crisis.
No, this is for my fellow second-generation Cuban Americans, boomer children of the 1950s to 1960s exiles, who were either born in America or arrived as small children. I am talking to you, because I know how hard it has been for many of you to resist the temptation to go (back) -- the siren call of the island "home" you've never seen or don't really remember.
Giving in to that temptation is about to get a lot easier. Ongoing negotiations between the U.S. and the Cuban government may finally rescind travel restrictions that would open the floodgates to all Americans, including you and me. We can already browse airbnb.com for accommodations on the island and Cheapair.com for flights (which are not cheap). Soon you will be able to find less expensive transportation on a ferry from Key West or Miami -- at least four ferry companies recently received approval from the U.S. Treasury and Commerce departments for Cuba-bound trips, the first granted since the embargo.
Unsurprisingly, younger Cuban-Americans are a leading demographic in favor of U.S.-Cuba travel, while those 65 and older remain largely against it. That leaves second-generation Cuban Americans either acting as a transitional group or twisting in the wind, depending on your perspective. Certainly it is easy to feel that, given these numbers and much other data, continuing to oppose normalization is a dead-ender's position, one out of touch with political reality.
And it probably is. But another set of numbers that have not circulated much in the media, that have been (if you will excuse the morbid pun) drowned out in the hoopla about traveling to Cuba, are the rising numbers of Cubans still coming to the U.S., legally and not. Consider these figures:
Another 2,500 Cubans have been picked up and repatriated by the U.S. Coast Guard since Oct. 1, a number on pace to top 2014's 3,677 intercepted would-be migrants.
None of these figures count the unfortunates who did not live to encounter either beach or Coast Guard. That number is unknown, but scholars estimate that at least one of every four blazers doesn't survive. Based on the illegal arrivals we do know about, an estimate of 16,000 people have died somewhere in the waters between Florida and Cuba. If you count only the 2,500 Cubans picked up by the Coast Guard since Oct. 1, that would give us the grisly total of about 800 deaths.
800 in the last seven months. Over a hundred people a month. Drowned, or dead from dehydration, or eaten by sharks.
Over two dozen per week. Three more every day.
I will grant that those numbers pale alongside the hundreds of thousands who go to Cuba every year, not to mention the throngs of Cuban and non-Cuban Americans soon to descend on the island. They become an afterthought alongside the millions of dollars waiting to change hands -- the imperatives of wealth and greed trumping once again the lives upon which they will trample. None of those who climb into rickety rafts to defy fate and the Florida Straits have any faith at all that those Yankee dollars will improve their lives one iota.
It is one thing to make one's deal with the devil, to go to Cuba for the sake of supporting family. Doing so may perhaps keep your uncle or nephew or niece from risking death in the waters that divide us.
But traveling to Cuba for any other reason, for business or pleasure, for Cuban Americans of my generation -- even those who, like me, pulled the lever twice for Obama -- just feels like a sellout.
This is a difficult thing to explain to millennial Cuban Americans, the third generation that only abstractly knows the hardships their grandparents suffered during their first years in exile, and feels no particular bond to Cuba -- and in many cases, does not even speak Spanish.
But for those like me who were born in the U.S. shortly after their parents' arrival from the island, or came from Cuba as infants or toddlers, who have held out this long, the idea of going now must surely give pause.
Let me assure you that your decision, or mine, will not stop history's juggernaut. By and by the gates will open, and the Americanos will go, with their fanny packs and their white sneakers and their Che T-shirts, no matter what we do. Let me also assure you that their doing so will not stanch the flow of Cubans yearning for a better life, will not stop them from risking their lives in Styrofoam-and-inner-tube rafts to make that dream happen.
No, for us, the sons and daughters of that original Cuban diaspora, going to Cuba today to ride in a '38 Buick, or drink "authentic" mojitos, or watch baseball, or score jineteras, while insisting that our tourism is "helping the Cuban people," would be disingenuous at best, and at worst just plain cruel. You don't have to take it from me. Just ask any of the more than 10,000 Cubans who have already emigrated to the U.S. this year.
Ask them, because you can't ask the thousands more turned back by the Coast Guard. Or the hundreds more whose bones line the bottom of the Florida Straits.
REAL LIFE. REAL NEWS. REAL VOICES.
Help us tell more of the stories that matter from voices that too often remain unheard.