Last Father's Day, the dog, the fetus and I gave you a fancy schmancy vacuum cleaner (clearly strategic on our part). As pumped as you were to spend some quality time with your Dyson, you were even more excited to think how you'd spend the next Father's Day as a real, live D-A-D -- maybe even get a tacky coffee mug hinting at such! -- but I bet you didn't realize all the other things you'd become. Roles that aren't quite as glamorous. Not always as celebrated. But oh-so-freaking appreciated by your bigger-than-last year family.
Thank you, Daddy Dearest, for being our:
Gardener. The kid looks just like a shrunken version of you -- so yeah, I guess you had something to do with the whole seed-sowing thing (ahem). But man, did you help me grow the sucker, too. You quite literally sweated into the soup I demanded we eat daily for most of the summer and, if you judged the half-freezer full of lime popsicles, you had a good poker face. You did refuse one midnight soft serve run, but you made an excellent point about the place I wanted it from being the site of a recent shooting. Of a police officer, I think. From the roof or something? I forgive you.
And when our tiny human was ready to meet the world, you had a solo candlelight dinner, shoveling approximately six million calories worth of lasagna down your throat for strength as I paced around the house "vocalizing" through my "pressure waves." You drove fast to the hospital, but slow over the bumps. You kept all paperwork out of my peaceful bubble. You stayed in my corner, offering a slug of Gatorade after each contraction. And 45 minutes later -- yes, we cut it a little close -- you became our...
Protector. When we decided not to find out the sex of the little critter, you only stated your ever-so-slight preference one time -- for a boy, you said, because you couldn't bear the thought of having to take a sweet little girl into a disgusting men's restroom. And this is the last time I'll tease you (this week) of your less-than-convincing announcement when the baby was born--"Is it a... is it... a girl?" (The lights were low, I know, and the cord was between her legs.)
You jumped crazy-hard into having a daughter -- like you were always destined to be her dad, you said, just waiting for her to arrive. You sat in the vinyl hospital chair, staring at your little burrito, and announced you'd be extending your time off from work. And while I put a vague out-of-office reply on my work email, you proudly told the world you were totally, completely, unreachably on extended paternity leave to care for and love on your girls. Proud looks good on you.
Merry maid. I'll admit, long before pregnancy, to shouldering less than 50 percent of the cleaning -- usually blaming it on the fact that I am not blessed in the height department (but Honey, you do it so much better because you can reach stuff!). But that dropped to zilch by Baby Time. I'd sit down to feed the boss lady, and by the time we finished, you and your Dyson had sucked up half the town... and scrubbed the bathrooms with a toothbrush... and picked the crumbs out of the toaster with a pair of tweezers.
And then there were the fluids. The gushing rivers of baby juice coming from all angles, all the time. You rolled up your sleeves and caught and wiped and mopped. You changed diapers, and re-changed them halfway through. Changed baby's clothes and your clothes. And when she developed a knack for crafting a blowout every time I snuck out of the house -- or even just the room -- you took a deep breath, deleted the "HELP ME OMG SOS" text you were about to send and dealt with it. Even during what we will refer to only as Poopacalypse 2015, when I emerged from the shower to find you and all articles of clothing including your socks covered in a certain substance, holding out our darling daughter wrapped in half a roll of paper towels. Thank you, my love, for not making me deal with that and re-shower.
Personal chef. In what I can only explain as a gift from our generous little girl to her mama, Girlfriend often likes to eat right before we do -- which means I've sat out the meal-prepping game a lot. You ignored our stash of freezer meals and cranked out fresh, healthy, homemade breakfasts, lunches, dinners and late-night snacks, delivered to the couch, bed and nursery floor. I feed the baby and you feed me... and you... and the dog. We love you, and your breakfast burritos.
Biggest fan. You're a genius professional, and I wasn't sure how much attention you'd want to draw at work to your new, additional role as baby-daddy. But you've wallpapered your office with family photos and hideous baby art and whatever trinket we give you, beaming. Picking a background picture for your phone is an agonizing decision -- the current shot of Baby Girl and me required you to rearrange your app icons so as not to obscure any portion of our faces. And while she, of course, is the absolute bushel of apples of your eye now and forever, you make sure I feel like more than just the vessel. Like at least the skipper, but probably the captain. It does not go unnoticed.

Happy first true Father's Day, Husband. In case I forget where I hid the card I grabbed for you in the midst of the third Target tornado of the week, thank you for your rad dad-ness. And if the two-day homemade dark chocolate cheesecake doesn't make it past the crust phase (read: the chocolate graham bears accidentally fall into my mouth at 5:00 a.m. instead of getting crushed up), you're the best life and parenting and adventure partner I could dream of. And because there's a good chance our surprise trip to the new guitar exhibit at the museum will be thwarted by teething, or nap time, or a blowout, we love you a whole heap.
Dad, as your new tacky mug says, yoda best.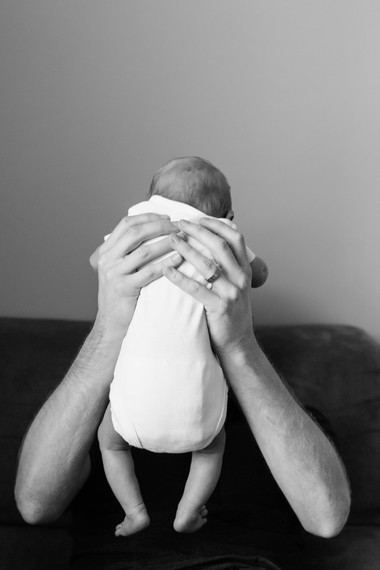 (Photo by Melissa Hayes Photography)