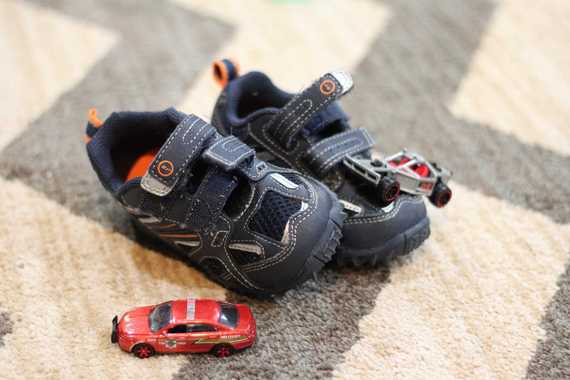 This is an exciting day for you! We bought you your first pair of shoes. Your chubby little feet haven't taken that first step on your own yet, but you are almost there.
This day is the first of many for you as far as getting shoes is concerned. For me, this will probably be the last time I get a child of my own their first pair of shoes. It is very bittersweet for Mommy. You are my baby, my littlest one. Most likely, you are our last. (I am not saying that we are done, but I don't see another one in the cards for our family in the near future. We will see what God has in store for us.) My heartstrings were tugged slightly today when I realized I would most likely never have a tiny one's feet that need to be measured for the first time again.
You were cranky in the shoe store as you and I perused the shelves for that just-right pair. I held you to comfort you and you laid your head on my shoulder. Did you sense my sadness?
Your first year went by too quickly. I tried to be in the moment and soak up all of the tiny moments. I held your tiny hand so many times those first few months. I kissed your teeny tiny feet. I smelled the top of your head so I could memorize that baby smell. I stayed up holding you at night just to look at you. Where did the time go?
I hope these shoes take you down a road of happiness, of health, and of success. Most of all, I want them to take you down the path where nothing but love surrounds you. You have a smile that melts my heart. Your smile is the brightness in my days. Keep that smile. Never lose it. Your smile will take you places.
When you were born we made a deal that you would stay that little forever. Mommy knows that is impossible. But it was a thought. Please let the lessons Mommy and Daddy teach you guide you through life's ups and downs. Just like these shoes will take you up and down on new adventures, our life lessons will help you through life's challenges.
You are an amazing little boy with such a bright future and so much to offer the world. The sky is the limit.
Wear these shoes with love and pride. There is nothing in this world that can stop you. And if anyone tells you otherwise, tell them that your Mommy said you can. ;)
Stand tall when you wear these shoes. Let these shoes take you down paths of wonderful things. And when your chubby feet have outgrown your first pair, don't worry. We will find another that will take you on even more adventures.
Mommy will then take your first pair of shoes and store them in a box of memories right next to your big brother's first pair of shoes. One day we will look at them and ooh and ahh over their tininess. As for Mommy? When I look at those shoes in the future, they will evoke feelings of joy and pride at how far you have come. However, there will be a little sadness. Sadness of what was. Of your big eyes looking up at me for reassurance. Of how you would crawl over to me and lay your head in my lap. Of how you would fall asleep on my shoulder when you were having a rough night. And of that first time these shoes slipped onto your tiny, chubby feet.
I love you more than you will ever know, my littlest one.