I want to take this Mother's Day to write a post about my appreciation for my sister.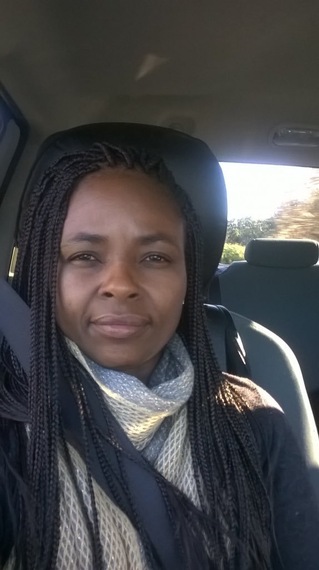 This is my eldest sister, Latoya. She's probably going to be so mad that I posted this picture. She hates seeing pictures of herself, even though she's one of the most beautiful women I've ever seen. She's 42 and still looks better than everyone at my school. But while my sister is beautiful on the outside, it's her inner beauty that really touches me.
I have a brother who is two years younger than me, and ever since my brother and I were little, we went back and forth between living with my sister and living with our mom. Our mother was a great woman, but living with her wasn't always the most stable situation, so my sister cared for me and my brother, as well as our other sister (who's older than me, but younger than Toy) a lot of the time. Me, my younger brother, my older sister, Toy, Toy's husband, and their son all lived together in a tiny two-bedroom apartment in Richmond. We were struggling back then, but I never knew it, because Toy worked so hard to make sure we had everything we needed. We always had food, clothes, and school supplies. At the time, I didn't think about how hard that must have been on my sister. She was so young and already providing for a whole family. Our mother died when I was 7, so Toy and her husband became the legal guardians of me, my other sister, and my younger brother. No one else in the family wanted to take us. If it hadn't been for the love of my sister, we would have been sent to foster homes, and who knows where from there. By that time, my sister had had another child. My niece Dylan was born shortly before my mother passed away. The family had grown, and tragedy had hit, but still my sister provided for us.
Soon after that, we moved to a house in Vacaville. We went from a tiny two-bedroom apartment to a nice two-story house. My brother, nephew, and I were so excited to live in a house with stairs. We eventually got a dog and, later on, a cat (which turned into many cats). We were living the dream, and it was all thanks to my sister.
Since then, we've had multiple tragedies within our family, but my sister has always been strong. She's the one we all depend on. She's the glue that holds our immediate family together as well as our extended family. In my poem "Dear Black Women" one of the lines talks about how black women carry the strength of the universe within them. That was inspired by my sister, because she is truly the strongest force that I know. When I encounter hardships and think I can't keep going, I think of my sister and all that she's been through, and how she's still standing. I don't how to put into words how much she inspires me to be a better woman.
Along with providing security and strength, one of the most important things that my sister has given to us is the understanding of the important of education and knowledge. Ever since I was little, my sister made it clear that the most important thing is an education. Knowledge is power, and I understood that from a young age. Because of my sister, I have always been motivated to do my best in school, and I always have. Now I go to one of the best schools, I would say, in the nation. I realize now that everyone isn't taught to value education in the same way we were, and therefore some people let school fall by the waist-side, along with opportunity. I feel blessed to have grown up valuing education. Aside from emphasizing the importance of school, my sister greatly emphasized the importance of knowledge. She taught us that you need to know yourself, know your people, know your history, know your future, know your worth.
My sister put a hold on her lifelong dream of becoming a lawyer so that she could raise me and my siblings. And for that, I am forever grateful. My sister raised us right. Without her, I would be nothing.
Toy, one day I'm going to buy you a big house in the south with a 5-acre backyard, and a front porch with a rocking chair that you can relax in while you drink your iced tea. One day I'm going to build a law library in your name. One day I'm going to give you everything you deserve and more, but for now, this post is all I can afford. I love you more than anything, and I appreciate all you've done. Happy Mother's Day.
REAL LIFE. REAL NEWS. REAL VOICES.
Help us tell more of the stories that matter from voices that too often remain unheard.