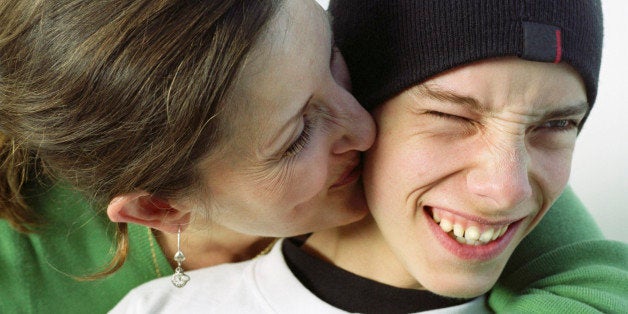 Wasn't I just writing about your 16th birthday?
Somehow, a whole year full of ups and downs and ins and outs and every-which-ways has passed, and I now find myself writing, again, as you turn 17.
Seventeen, more than any age, looks like a precipice. You have obtained that driving license; you've visited colleges; you've taken the ACT, the SAT, and you worked hard to bring up an already stellar GPA; you've traveled abroad; you are in the midst of your first "serious" relationship; and you're about to be a high school senior. All of these experiences, and more, have led you to this cliff's edge.
But don't be alarmed! This cliff is offering you a unique perspective on where you've been and the infinite ways to go from here! On this path you've seen the best and the worst of people. Now you know what to look for. On this path, you have seen beauty unparalleled, and ugliness you hope never to see again. Now you know what to look for. This path has been smooth and bumpy along the way (for both of us); and you've learned the smoothest path isn't always the wisest; but sometimes it's ok to "coast" and put down your burdens for a while, too.
You've seen first-hand what integrity really means, and I see you striving to live up to that idea. I've seen you rage against injustice, and I pray it won't harden you. Watching your sense of humor develop has been a trip and a half, and I hope it serves you well in all your years ahead (it's a super-power we share). Your passion for learning inspires me every single day, and I'm so excited to see you spread those wings you've been testing...
Yes, jump. Get a running start and leap off this cliff, spread those wings, and see where and how far they take you.
This time, unlike others, you'll be doing it by yourself.
I'll be watching from the cliff, always. Sometimes holding my breath, other times cheering wildly. I'll desperately want to jump to follow you when I see an ill wind coming your way, but I won't. I will be here, when you need me to be. I will be here to throw you a rope if you need one. And my home will always be yours, even when you have a place of your own. Anywhere my heart is, you are already there.
There are so many people in this world who love you -- some you've never even met. And there are even more who will grow to love you from this point on. These are people I may never meet, but I hope you'll tell me about them. And I hope you cherish them. Cherish the hell out of the people who cherish you, ok? Keep your heart open, but guard it. Because that, my child, is your greatest asset, your greatest gift. It is what will keep you aloft. Your very great big heart.
I have been so incredibly lucky to give you part of my heart, and be given a piece of yours in return -- that is what has kept me on the wing all these years together.
Fly, be free to continue your journey to be anything and everything. In the meantime, remember: I love you most. You are my greatest treasure. Always and forever.