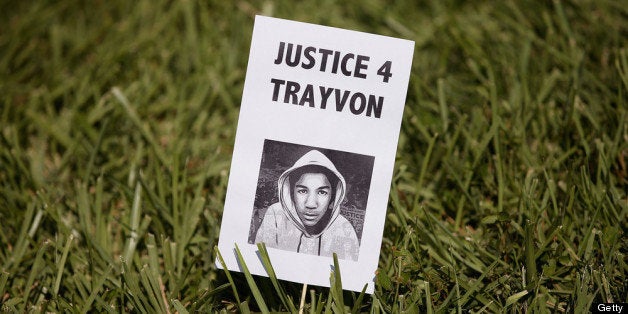 Last night, I witnessed history. I'm still having a hard time grasping the magnitude of what this day will represent in the history of the Black experience in this country. By the time you are born, Trayvon Martin's story will be etched in our collective memory. His name will be synonymous with Emmett Till. Trayvon Martin's murder will serve as an example of how little value is placed on the lives of young, Black boys in this place you will eventually call home. Tonight, my sons, a bounty has been placed on your head. Your price: Worthless.
Over the last 17 months, I've listened to Trayvon's peers, his fellow young people in Miami, express their feelings of rage, fear, and hopelessness reacting to this trauma. These children witnessed one of their own killed for no reason. These children have watched their identities being scrutinized, constantly criticized for the way they dress, the way they speak, the way they articulate being young and Black and urban. Trayvon could have easily been one of my students. They've asked, "Ms. Walker, what can we do to change the world? It has always been this way, why should I believe that it will ever be any different?" Staring back at their faces, knowing that they are at their wits end and out of answers, I've imagined you, years from now, asking me the same thing. I'm trying my best to craft an answer that is both actionable and honest, but I can't think of anything good enough to say that will erase those nagging questions, because I continue to grapple with them myself... and it still brings me to tears.
I should not weep for children who are not born yet, but I am afraid I cannot protect you. It's 2013, but I know I will have to teach you to divert your eyes. I know I will have to teach you how to take the natural bass out of your voices. I know I will have to teach you how to temper your passion... to box up your genuine outrage. I'd hoped by the time you came around Audre Lorde's quote, "We were never meant to survive" would not frame your existence. Unfortunately, after tonight, someone will still have to school you.
I am confident of your beautiful spirits. If you have even an ounce of me in you, you'll naturally be inclined to be vocal. I just don't want it to cost you your life. Even as a Black woman, it has been tricky for me to find that balance between maintaining my authenticity of self and "social respectability." I'm still trying to rationalize and reconcile how I will tell you that you have the capabilities to be absolutely anything you want to be, while simultaneously schooling you about what it means to exist as an outsider, bound within the walls of a country that despises your presence.

MY BEAUTIFUL, BLACK BOYS!!! I love you already more than you'll ever know, and you're not even here yet. At the same time, I'm terrified to bring you into this world. I don't want to believe that you are better off where you are. Tonight, as generations before me have done, I will continue to hold on to hope. I will continue to believe that we can and will survive this blatant assault to our identity. I will close my eyes and pray that we shall overcome, but I want to equip you with those invaluable tools that you will need if you are ever pulled over driving home from school; or watched closely while shopping in a store; or followed home after taking a trip to the local gas station for a mid-game snack: a bag of Skittles and an Arizona Iced Tea.
Rest in Peace Trayvon Benjamin Martin.