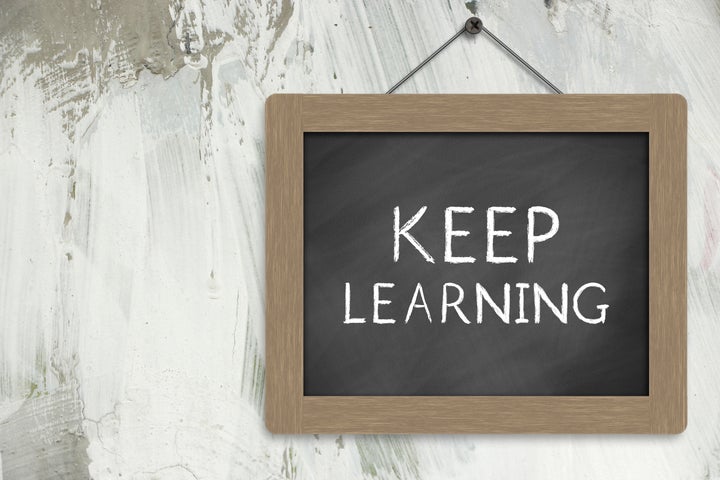 Dear Public School Students,
You may have heard from your parents, or the news, or friends at school, that things are a bit tense right now in the land of grown-ups.
Let's just say priorities have definitely "shifted" in the last few weeks; even more so in the last few days. Our country has a new direction. And now it seems, education has a new direction. At the moment, some matters are up in the air: like what we'll actually be teaching you next year, and whether or not we will have enough funding for pencils and paper, or if we'll be swapping out our science books for scripture.
This is all very disconcerting to the adults around you; including your teachers. We are worried about a system that leaves some of you behind, excludes others, and devalues us—and our chosen profession. But the good news is, you don't need to worry One. Tiny. Bit.
We'll be watching carefully as our policymakers navigate the road ahead. We'll keep an eye on them and advocate for your best interests at every turn: calling, writing, protesting. But while we are doing that, we will also keep an eye on you.
Whether you are our future doctors, artists, writers, innovators, cure-finders, civil rights advocates, lawyers, judges, politicians, innovators, philosophers, Peace Corps volunteers, scientists, park rangers, or teachers.
Whether you come to us with bellies full of home-cooked meals, or hungry and in need of "emergency snacks" we keep in our desks just for you.
Whether you get yourself dressed and walk to school alone, ride a bus with friends, or arrive from the backseats of warm cars full of goodbye kisses.
Whether you walk through our doors ready and rested after a good night's sleep, or distracted and tired with a head full of worry.
We will be there to greet you.
Whether you raise your hand confidently and live out loud, or quietly listen and choose your words carefully.
Whether you wear shiny new shoes or worn-down sneakers that allow the puddles to dampen your socks. (Which we will lovingly hang on our heaters to dry while you read, write, build, research, and grow a year older right under our noses.)
Whether you wear barrettes that need to be re-clasped, shoes that need tying, or lunch containers that need opening. We are at the ready.
Whether you have unique learning styles, or thrive best when we allow you to stand at a tall table, or sit in a quiet spot, or when we place a reassuring hand on your shoulder.
Whether you are a girl who will grow up to love a boy, or a girl, or both, or neither.
Or a boy who is being raised by a mom and dad, or two dads, or moms, or aunties, or grandparents, or any mix of these.
Whether your God can be found at a church, or a temple, or a mosque, or just the quiet moments in your day…or nowhere at all.
This community is for you; our doors are open.
We will continue to do what we have always done.
We will continue to greet you each day with kindness and respect.
We will continue to meet you at your level and celebrate your successes.
We will continue to challenge you to grow and achieve your personal best.
We will continue to fill our library shelves with meaningful books that reflect you in them.
We will continue to notice when you are reading the last few pages of a book, and discretely slide the next "just right story" onto the corner of your desk as we pass by you during quiet reading.
We will continue to come together daily and build our classroom on pillars of acceptance, encouragement, friendship, and fairness toward each other.
We will continue to provide a consistent and safe space; where you can be yourselves, share your ideas, and discover your strengths.
Whether you are brown, black, white, beige, or any other beautifully diverse color that makes our classroom unique, wonderful, and representative of the world we live in; we will remain steadfast in our goal to make learning meaningful for each of you—our students.
While the world around us shifts and sways with uncertainty, our role in your day is unchanged. Our devotion to each of you is constant.
You may sense the unrest in the air. You may overhear bits and pieces of adult conversations. You might start to worry, but don't. We are on the front lines fighting the good fight; so you don't have to.
Your job is to be a kid. Your job is to show up each day, open to possibilities.
There will be plenty of time for you to worry about grown-up stuff later. In fact, the way things are going, you will need every bit of strength and focus in reserves when you inherit the world we are leaving to you.
For now, you are our students, and you are young. Your heads should be filled with playdates, basketball games, art classes, Girl Scout cookies, science projects, baseball card collections, and dreams of all the What Will Bes that await you.
Tomorrow is business as usual; we will persist. There are books we have yet to read, theories we have yet to test, and stories we have yet to write.
In the morning, eat some breakfast, double tie your shoelaces (so we don't have to tie them again until at least recess), put on your backpack…and don't forget your library books.
Tonight, please try to go to bed on time. You will need your energy. You don't realize it yet, but you have an enormous job to do. Your job is to keep learning. You are the future, and that means everything to us.
Your Public School Teachers