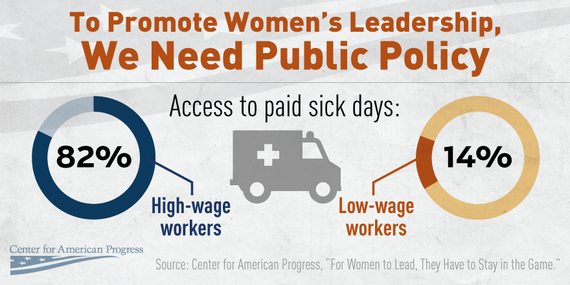 When we discuss the women's leadership gap -- the underrepresentation of women at highest levels of business and government -- we tend to think about how women, particularly highly educated, professional women, fall behind their highly educated, professional male counterparts.
But, what is much less-often discussed is the gulf between wealthy and poor working women's experiences at work. Leadership means different things in different industries and income levels, but there are certain workplace policies that help women keep working, balance their work and family nneeds, and rise through the ranks. These policies include paid sick days, paid parental leave, and paid vacation -- and they are opportunities often afforded to only the wealthiest working women.
Low-wage women, on the other hand, have far less opportunity to use these benefits: For women who make less than $320 per week, only 14 percent have access to paid sick days, just 10 percent can take paid parental leave, and 16 percent have access to paid vacation time.
These numbers show that while women at both ends of the wage spectrum face real barriers to their advancement, they also face different challenges. More well-off, professional women often find themselves in workplace cultures where devotion to their job and 24-7 availability is considered par for the course -- think, the issues presented by Lean In. For these women, who are working longer hours than generations that came before them, taking time off for family leave or other reasons comes with stigma and, sometimes, a ticket to the "mommy track" of less responsibilities and promotions.
There are fewer women at the top than at the bottom, however. Women make up 63 percent of the lowest wage workers; many of the lowest-paying jobs are dominated by women, especially women of color, whether it is in the food or service industries, retail, or other hourly-wage jobs. In these industries, employers focus on keeping down costs and this often means erratic or last-minute schedules, involuntary part-time work, and the real possibility of losing your job if you are sick or your child has an emergency. Sick days, parental leave, and paid vacation -- tools used to attract professional women to high-paying jobs -- are hard to come by.
These new statistics on the inequality in women's access to paid leave benefits show that despite having different experiences, improving women's leadership at all income levels comes down to two things: changes in work culture and work-family policy. Changing work culture, especially for high-earning women, means recognizing the value of caregiving and work-life balance. For women in hourly, low-wage work, it means changing cultures that see them as replaceable and also irresponsible when caregiving clashes with unpredictable schedules.
Policy, too, is necessary to make real change. Laws that allow all workers to earn paid sick days, simply put, make sense because they allow people to take care of themselves or their family without threatening their livelihood -- or their customers' and coworkers' health. But other policies could make a difference, too: these include improving access to high-quality childcare and early childhood education or passing legislation that requires employers to post shift schedules a week in advance or discourage them from keeping employees on-call and waiting for work, which makes it difficult to plan childcare or transportation. Studies show that these practices can be good for businesses' bottom line, as well.
Paid family leave is one policy that could make a big difference in women's lives at all income levels, and help to change workplace culture in the process. Paid family leave encompasses maternity and paternity leave, as well caring for sick or aging loved ones with long-term needs. By making these policies available to men and women, it reduces the stigma that associates caregiving with stereotypes about "less committed" working women and keeps men from taking time off for caregiving -- something many fathers wish they were able to do after the birth of a child, for example.
And these policies are popular: for example, 2014 was an unprecedented year of successes for paid sick days. Throughout the year, in 10 cities and 2 states, voters approved earned paid sick day policies, for a total number of 16 cities with such laws in addition California, Connecticut, and Massachusetts. There's still a long way to go, but momentum is building.

Popular in the Community