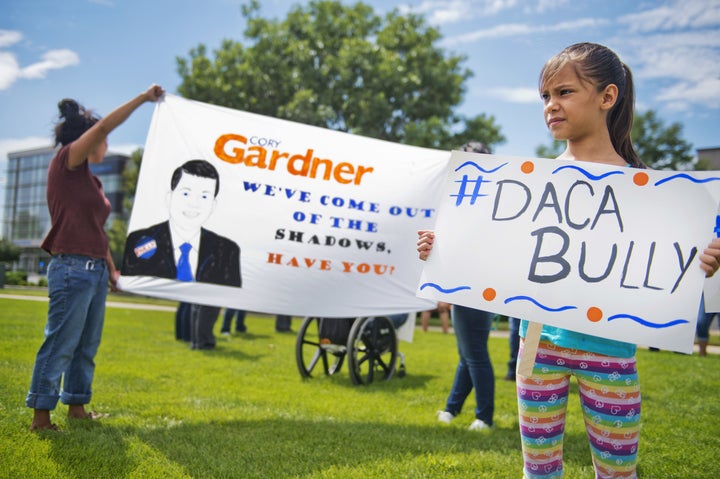 As the mayor of Denver and the president of Metropolitan State University of Denver, we have seen firsthand the extraordinary contributions immigrants make to our community.
Denver is home to immigrants from all over the world, who bring great value to a city that counts diversity among its greatest assets. Many of these immigrants have chosen MSU Denver to further their education and create a better future for themselves and their families. They have overwhelmingly and invaluably contributed to the vibrance of the university's campus, the economy of our city and in helping shape an inclusive and welcoming community. In Denver, we have always placed a high value on hard work, tenacity and the freedom to pursue the American dream – no matter where you come from.
The 800,000 Dreamers in the United States today – almost all of whom were brought here unknowingly as young children – live like every other American. They are students, teachers, workers and small business owners. They strive for the same opportunity to pursue their passions and give back to the only country many of them have ever known.
Every day, Denver and Colorado experience the positive economic contributions of Dreamers. According to a new study by the Center for American Progress, passing the Dream Act would add up to nearly $1.5 billion annually to Colorado's economy. Conversely, eliminating the DACA program would cost Colorado $856.9 million. The benefits of action to Denver and Colorado are clear. But the affects of inaction are even more troubling.
The Trump administration's decision in September to rescind the DACA program would not only needlessly harm our economy, but disrupt every other community in America, including our own ― shattering families, friendships and promising futures. 
In Denver, we have taken steps to protect the thousands of Dreamers living in our city who are now at risk of deportation because of these actions. MSU Denver has demonstrated its commitment to DACA students by offering workshops and additional support services, and even creating a scholarship for those impacted. Working in collaboration to support Dreamers, the city of Denver also recently issued an executive order to establish a legal defense fund.
At MSU Denver, this issue is personal to students, faculty and leadership. The campus is home to more Dreamers than any other higher education institution in Colorado, and each student is here to pursue their own version of the American dream. They are no different, no less motivated and no less deserving of a college education than anyone else on campus.
While we can do our part to support Dreamers on our campuses and in our city, only Congress has the power to grant them permanent safety and security.
To illustrate our collective support for Dreamers, the city of Denver and MSU Denver joined the Dream Coalition, a bipartisan group of mayors, university presidents, governors, military leaders and business executives who, like ourselves, believe that Dreamers belong here and should be allowed to stay, contributing to our country and way of life like the millions of immigrants before them.
Our message is simple: We urge Congress to pass the Dream Act now, so that Dreamers in Denver, in Colorado and across the United States no longer live in constant fear of deportation from the only country they have ever known as home. These young people did nothing wrong. They were brought here by no choice of their own, but have embraced our country and its values with all their hearts. It is unfair and undeserved that they need to worry about being torn from their families and their lives.
Countless young people are depending on Congress to do the right thing and protect our Dreamers. We must put aside political differences to do what is right for them, and for our country.  
Calling all HuffPost superfans!
Sign up for membership to become a founding member and help shape HuffPost's next chapter