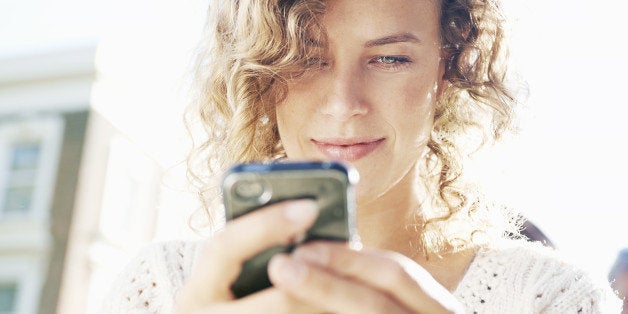 Not long ago, I wrote an article about The Reach, a term I use to describe the semi-involuntary movement we make toward our smart phones when they ping. You're having a conversation with someone in the 3D world. "Ping!" Your device announces an incoming email or text message. It might be Very Important! Without missing a beat, we reach for the phone, disconnecting from whoever we're with to engage with a more important someone.
In that essay, I shared my thoughts about some of the ways our children are impacted by the partial engagement created by this relationship we have with our electronic devices. The phone beeps, the iPad buzzes, or the computer chimes, and the conversation we are having with Sarah about Halloween or Geometry is put on hold in favor of whoever might be reaching out to us across virtual time and space. Not only do we disconnect, we often do so without even acknowledging the disruption. We simply hear the ping and something in us feels called -- urgently -- to respond, regardless of whatever we may be doing at the time.
I know we don't always do this. But if you are finding it increasingly difficult to remain genuinely present with your child when you hear your digital device beckons, you are not alone. Like Pavlov's dogs, we are gradually being trained to create a compelling association between a bell and a response. And our children are being affected in significant ways.
In my clinical practice, I hear from kids who claim their parents are not really listening when they try to talk about things that matter to them. As fourteen-year old *Sammy put it, "My parents say they want me to talk with them about my problems, but they're always busy with work or emails. If I do try to talk, they always get interrupted by something they say is really important." Ironically, Sammy's parents complain to me about how difficult it is for them to get their son to open up, or unplug from his video games.
I propose The Pause. Pausing for even two seconds allows us to break the pattern of reaching for the phone without deciding whether it is what we most want to do. One conscious breath allows us to let those feelings of excitement or curiosity pass, as feelings do. We can then choose whether to stop doing what we're doing to pick up the device, or carry on enjoying the present moment as it is.
We don't have to run with every emotion that temporarily takes up residence in our field, and we aren't required to react unconsciously when we hear the alert of our phone or device.
Try it out. The next time your device beeps with an incoming alert, simply notice the sound. Allow yourself to feel the brief flood of anticipation or interest without acting on it. Stay present with your child. Observe the struggle -- if there is one -- to postpone the relief of knowing who has reached out to you without doing anything about it. Send your child the message that she is more important. Teach her that when she opens up to you, it matters.
If you are expecting an urgent email or message, let your child know that you want to check your device for something important but want to finish your conversation as soon as you're done. "Mommy is going to see if that's Grandma calling. Please excuse me for a minute, honey. I want to hear the rest of your story. I'm sorry for interrupting our talk. I'll be back quick as a wink!" By acknowledging the disruption, rather than simply disappearing because something more interesting has happened, your child may be frustrated, but she will be reassured of her importance.
The digital world is here to stay, and has much to offer. But we are pioneers, exploring best practices for making use of our devices without allowing them to redefine our capacity for deep and close connection. One added benefit for implementing The Pause? By modeling a balanced relationship with your device, you will be helping your children learn to do the same.
Do you have a question for the Parent Coach? Send it to askparentcoach@gmail.com and you could be featured in an upcoming blog post.
Related