In July, I had just returned from working in Kenya on The Nobelity Project's education and conservation projects and received some heart-breaking news. Ringo the baby rhino had died.
As I reported on HuffPost in February, our friends and partners at Ol Pejeta Conservancy had found and rescued an orphaned baby white rhino. The Conservancy was facing substantial cost to raise this baby and release him into the wild, and I'd offered to reach out to Ringo Starr and ask if we could name the baby rhino in his honor. Ringo The Beatle has long been a supporter of rhino conservation issues, and we hoped a baby rhino sharing his name would help shine a light on the decimation of rhinos. Illegal poaching over the past 20 years has reduced global rhino populations by over 90%. Without global action, all rhino species may be wiped out.
Ringo Starr quickly gave his name to the baby, and also joined The Nobelity Project and many individual donors who joined us as sponsors of Baby Ringo's care. In the months following my HuffPost announcement, stories by BBC, CNN, The Dodo and many others began to turn Baby Ringo into the poster child for saving the rhinos.
Raising an orphaned baby rhino is no simple task. I spent time with baby Ringo in June and posted a Father's Day story on the budding father-son relationship between Ringo and 7,000-pound Sudan, the last remaining male Northern White Rhino in the world.
TO RINGO WITH LOVE - OUR NEW FILM ON THE CONTINUING WORK OF OL PEJETA CONSERVANCY
The weather was cold when I was with Ringo in June, and perhaps his Masai blanket, his bed of straw and even his caretakers sleeping with him were not the same as huddling with a mother rhino. The giant baby bottles of formula given to the infant rhinos can only be only an approximation of mother's milk. Some rescued babies survive; many do not. Knowing that did not lessen the emotional toll of the news of Baby Ringo's death.
So many people loved this little rhino. How could Ol Pejeta and The Nobelity Project respond to those who had reached out to assist in this effort?
For the past four years, I've been filming the integrated conservation work at Ol Pejeta. I'd documented the conservancy's efforts to save the Northern White Rhino species. The last three Northern Whites live there under heavy security, and an effort is underway (and currently seeking funding) to use in-vitro fertilization and a surrogate Southern White Rhino mother to save the species.
I had assisted and filmed the relocation to Meru National Park of two fence-breaking elephants who'd been invading neighboring communities. Darted from a helicopter and attended by a big team of rangers and veterinarians, the first elephant was lifted by crane onto a transport truck where Dr. Henrik Rasmussen of Savannah Trackers had drilled a hole into his trunk and embedded a tiny electronics package that would secretly track the tusk if the elephant was killed by poachers. "It's not enough to stop a poor poacher with a rusty rifle," Henrik told me as we drilled. "This could help us track the buyers and sellers, possibly all the way to a final buyer in Asia."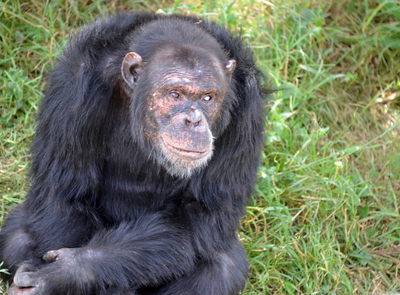 I'd come to know the rescued chimps at Ol Pejeta's Sweetwaters Chimpanzee Sanctuary, including Poco, who had spent years of his life in a tiny cage suspended from the roof of a petrol station in the Congo. After he was rescued from this imprisonment, Poco was brought to Ol Pejeta, and had been in his tiny cage so long, he was unable to walk on all fours. Though he has since learned normal chimp mobility, he often strolls around upright like a human as he shares this large sanctuary with 38 other rescued chimps.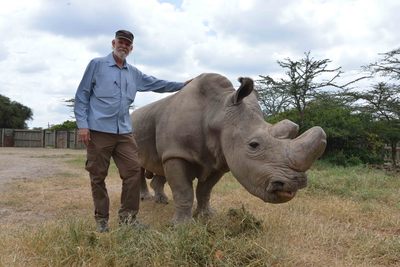 I'd learned that the last two female Northern White Rhinos tolerated my presence, and that the Southern White female who we hope will be a surrogate mother, is not so friendly to me. Trying constantly to do an end-around to get to me while I film, she still responds to verbal communications to stand down from head keeper Zachary Mutai who lives night and day with these rhinos. "I think like a rhino," Zachary told me once as I was filming. "I love use animals and they teach me about animal behavior."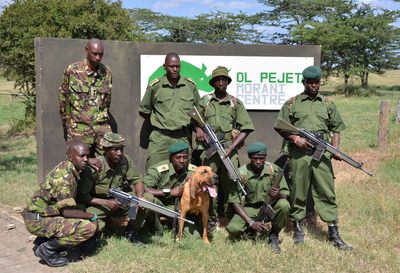 I met the 39 armed rangers who protect the rhinos and other wildlife in this 110,000-acre conservancy. Following a scent trail, I was unable to keep up with a beautiful bloodhound who'd previously tracked and located a poacher after a 30 kilometer pursuit. There are eight wonderful bloodhounds, brilliant explosive/gunpowder sniffer dogs and ferocious attack dogs at Ol Pejeta. Stopping poachers is serious business, and the jobs of African wildlife rangers - and their dogs - are some of the most dangerous on earth.
I'd also come to love the tourist side of Ol Pejeta, having enjoyed the hospitality at Sweetwaters tented lodge, at Ol Pejeta Bush Camp, Pelican House and other visitors accommodations. The more I go, the more I want to go back.
Ol Pejeta Conservancy is a nonprofit, with proceeds from tourism and integrated cattle operations generating funds for improving livelihoods in thirty surrounding communities. "If you asked me what is the most important thing we can do to combat poaching," Ol Pejeta CEO Richard Vigne told me, "it would be to have good relations with our neighbors."
These good relations provide critical intelligence about strangers coming to the area with offers to purchase a horn or a tusk. Though poachers sometimes succeed, the rhino population at Ol Pejeta is increasing. This is a model that works.
Inspired by Ol Pejeta's community partnerships, and funded by Treana Winery's the Turk Wine, The Nobelity Project partnered with Ol Pejeta this year to build a clean water system at remote Ereri Primary on the northern side of the Conservancy. After a celebration with the kids, we all had a clean water toast to their friends at Ol Pejeta.
So how could we respond to the death of Baby Ringo? By honoring his brief and wonderful life and highlighting the ongoing critical conservation work at Ol Pejeta. Our new 9-minute film (near the top of this post) show all this work sand more, and is dedicated to the memory of Ringo the Baby Rhino.
I have a deep love for the animals and the people of Ol Pejeta. If you take a few minutes to watch some of what I've witnessed first-hand, I think you'll share in some of that love.
Together, we can Save the Rhinos. Together, we can honor Baby Ringo by guaranteeing countless generations of baby rhinos to come.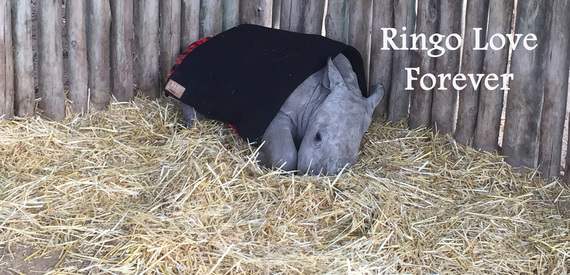 Calling all HuffPost superfans!
Sign up for membership to become a founding member and help shape HuffPost's next chapter