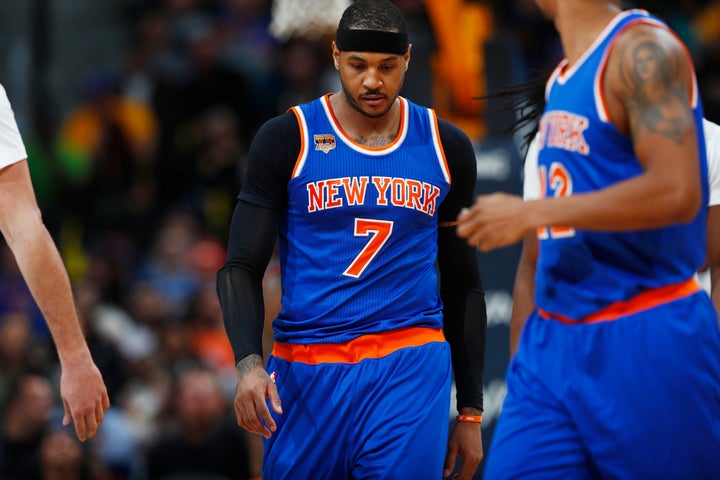 You aren't what you're not.
I really like and respect Carmelo Anthony as a human being and as a ballplayer. He's loyal to a fault and anxious to do the right thing. Melo has clearly proven he can play an integral role on a championship team. His successes in Syracuse, in Beijing, in London and in Rio provide clear evidence of that. Carmelo illustrated this past summer that he can rally fellow superstars (CP3, D-Wade and LeBron) to take a much-needed public stand on compelling community and nationwide issues. But become the de facto leader of the NY Knicks? I think we already know the answer to that.
Carmelo Kyam Anthony will end this season (with as many as five or six more seasons still on the horizon) among the top 25 all-time NBA scorers, surpassing the likes of Jerry West, Larry Bird, Gary Payton and David Robinson. So why, then, can't we simply give Melo his props for what he is… an incredible offensive talent who has earned nine NBA All-Star nods, a scoring championship and a place among the NBA's all-time elite players?
Why do we fixate on the fact that Carmelo can't "lead" the Knicks? Could it be because "the powers that be" can't really lead their organization to even a modicum of success? No one will ever confuse Knicks owner Jim Dolan with New England Patriots owner Bob Kraft. And anyone in the know realizes that Phil Jackson has as many championships as President of Basketball Operations as you or I do.
Very few great players are great leaders. A recent survey of coaches by the respected Janssen Sports Leadership Center referenced the fact that the majority estimated that their best player was rarely their best leader. As a matter of fact, in their eyes, that double-bonus occurs ―at best ― only 10 percent of the time. Even more interesting, very few great coaches were great players. In any sport. Phil Jackson certainly wasn't Willis Reed; he was a journeyman power forward with a credit card vertical leap.
Surprised? I'm not. I've played with incredibly talented players whose demeanor and personality didn't necessarily get their team to buy into what it takes to win championships. But a Shane Battier, he could lead me off a cliff and I'd go smiling.
So what exactly did Melo do to become persona non grata in the city and state he holds so dear? Plain and simple, he was too loyal and too naïve. The guy turns down enticing offers from winning teams; he passes over the LA Lakers and all La La Land could have meant to his and his wife's long-term future to help the Knicks win. Sound like a real villain to you? I don't think so. If you know Melo, you know he is all about earning a second championship in NY ― this time, in the NBA and not the NCAA. As for naïve, he bought the Kool-Aid that Phil Jackson was selling about doing all it takes to turn the Knicks into champions again. For Phil, apparently that doesn't include spending most of your time around the team OR attending NBA pre-draft camps.
There are a few important takeaways. Carmelo is a Hall of Fame player. Phil is a Hall of Fame Coach. And Jim Dolan is a guitar-playing wannabe who can afford the entire front row of seats at the Rock and Roll Hall of Fame. Let's face it. Thirty-two year-old Carmelo isn't waking up tomorrow as a natural leader. Seventy-one year-old Phil isn't committed to all that it takes in his new role. And sixty-one year-old Jim Dolan will still have a team growing more valuable every day despite his ineptness.
Carmelo deserves better than to be positioned by ownership, management and the media as the reason the Knicks are a failure. Trust me. He expects more out of himself and he should. But he really deserves much more from those who pay his salary. So do all Knick fans.
For me, I hope Carmelo has a NO-STAY clause in his contract. It's time to go to a team that's about Ws and not excuses.
Before You Go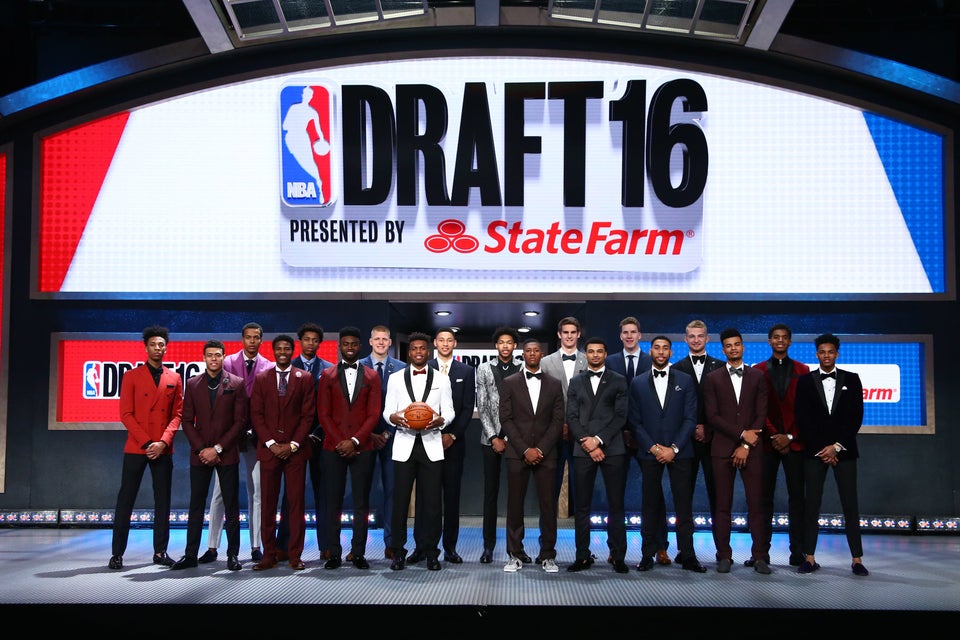 Great Pictures From 2016 NBA Draft
Popular in the Community