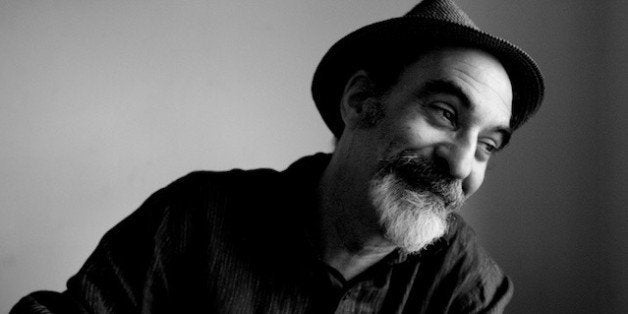 My son, Leo, found his way to the music room at his new school on the second day of sixth grade. It was because of an administrative oversight, really. His public New York City school, the Institute for Collaborative Education (known by all as "ICE"), starts each year with an all-school project and that year the kids had been asked to choose an elective for the week's focus. Music was not supposed to be an option for first-year students, but nobody told Leo, and that's the box he checked.
So, after a brief bout of terror in which he called me from the hallway to say he couldn't find the room, he walked in on a dozen or so older students playing free jazz -- and Roy Nathanson.
Roy is the music director at ICE, and at the time, was also its sole music teacher (the entire school, which runs from sixth through twelfth grade, has only about 475 students). Not sure what to do with this quiet sixth-grader, Roy told him to have a seat, and that first day, Leo just listened, equally intimidated and fascinated.
When he returned the next day, Roy asked him if he played an instrument and he muttered, "trumpet." In fact, he'd been playing instruments of one sort or another since he was 7. He'd started with violin, moved onto guitar, then, in fourth grade, was assigned trumpet in the elementary school band.
"No kidding," Roy said. Digging into a closet, he handed him a school trumpet. It was, as I've said, Leo's third day of middle school, and it was a fateful moment. He was to stay at ICE until last June, six years later, when he graduated and started packing his bags for the New England Conservatory of Music. Roy Nathanson was to turn out to be one of the most important people in his life.
This article is not about my son. It's about Roy.
Roy Nathanson is a hugely talented professional composer, musician and poet, with scads of CDs, a collection of poetry and myriad loyal fans to his name. Like most American jazz musicians today, he finds his biggest following in Europe, where he regularly tours. But although I'm a huge fan, myself, I don't want to tell you about Roy, the artist. I want to tell you about Roy, the teacher.
Roy turned 60 a couple years ago, but he has a boyish energy and enthusiasm that puts much younger people to shame. On stage, he throws his head back and does deep knee bends over his saxophone. In school, he is a hurricane of frenetic energy, always moving, and when he talks it becomes clear that his physical energy is the outward manifestation of a brain bursting with creativity. Roy thinks big. He has big ideas and seems to be blissfully free of the kind of internal cop so many of us have -- the one that hunts down every objection and obstacle in the way of a plan. I'm sure he must get tired; I'm sure he must get frustrated. But I've never seen him get either.
Roy's approach to art acknowledges almost no boundaries. A working musician and composer who had also dabbled in acting, when he learned he needed a master's degree to teach music in the public schools, he opted to get his degree in poetry writing. His expansive attitude toward the arts extends to his students, whose work and ideas he respects and encourages. He teaches not just music and band but songwriting, providing an avenue to include kids whose talents lie on the more literary or vocal end of the scale. He arranges for that band and that songwriting group to play in local music venues and competitions -- winning the latter again and again. He talks his friends in the music world, including such luminaries as Deborah Harry and John Zorn, into sharing the stage with his students for fundraising concerts -- when Leo was in 7th grade, he was playing back up to Harry's "Heart of Glass." He organizes arts and music nights at the school, encouraging kids to perform in whatever combinations they come up with.
During the six years my son was his student, Roy took his songwriting classes on three separate trips to Europe: to Paris, Northern England and Munich. These weren't your typical band trips. Roy organizes grand exchanges, through which teenagers in the host country and his students here write and trade their own songs in advance, then perform them, often in elegant, professional, settings. (In Northern England, they performed at the Gateshead International Jazz Festival, in the gorgeous Sage Gateshead.) The trips are an astounding opportunity --s ome of these kids have never even stepped onto an airplane -- and Roy organizes fundraising and works with the host countries to ensure every kid who wants to go gets to, no matter what their family resources.
Roy is generous with his time and utterly unselfish, sharing whatever opportunities he can. Throughout our son's career at ICE, Roy encouraged him, pushed him, enthused over him. In sixth grade, he gave us the name of the precise private teacher he thought Leo should study with and when I balked because it meant a long trip alone to Brooklyn after school, Roy said it was on his way home and he'd accompany him, if necessary. When Leo decided he'd prefer to stay at ICE through high school, rather than attend the gigantic local arts high school, Roy promised us he'd see to it our son made up for the musical education he was turning down. He told us which local student ensembles Leo should audition for, and sometimes even when and where the auditions were. He connected us with a top-notch but inexpensive jazz camp. He told us when it was finally time to replace that public-school trumpet, and where to go to do so. As Leo grew better and better, Roy invited him and other students to join him in professional gigs around New York City. And when the time came, Roy was right there weighing in on which college, which program, would be the best possible place for him.
I have great admiration for teachers, in general. This is in part because, as a mother of two, I know full well I wouldn't last half a day in front of a classroom. I am continually impressed with the dedication, creativity and energy many of my kids' teachers bring to their work. I am frankly amazed at the things my kids know. But if I had to choose the one teacher in my son's life most deserving of a lifetime achievement award, I'd put my money on Roy Nathanson.
Robin Hardman is a writer and work-life expert who creates compelling, easy-to-read benefits, HR and general-topic employee communications and works with companies to put together the best possible "great place to work" competition entries. She's also a proud New York City school parent. Learn more about her work, follow her award-winning blog, or contact her to discuss what she can do for you at www.robinhardman.com.