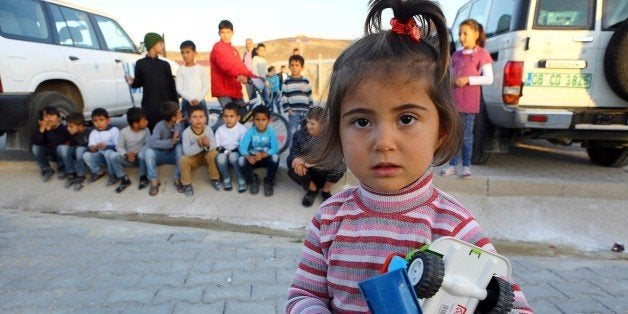 I was troubled by Republican presidential candidates who sought to ban all immigration from Syria--and by the Democratic candidates' arguments that any limitations on such immigration would violate our shared ideals as Americans. To leap frog this debate I suggested that the United States should invite 25,000 Syrian families to each send one of their children under the age of 10 to the United States. Here, they would stay in foster homes until the end of the war. Their parents could reclaim them at any time and would be asked to leave instructions about whether their children should be claimed by relatives or adopted if the parents perished in the war. I took it for granted that nobody could claim that young kids pose a security risk.
At first, I thought that there was only one precedent for this plan, albeit an important one. In 1938, while the Nazis were already shipping tens of thousands of Jews to death camps they allowed Jewish children to emigrate if others overseas would take them in. The actions taken by British citizens to shelter these Jewish children from 1938 to 1940 were informally known as the Kindertransport (Children's Transport). Great Britain took in thousands of children from Germany, Austria, and Czechoslovakia on the assumption that the children would leave the country once the war was finished.
I recently stumbled on another, similar case. I was originally told that there was an operation called "Bundles from Britain." It turned out that this was actually called "Bundles for Britain" and entailed Americans sending knitted scarves, sweaters, mittens, stockings, and more to the UK. However, it is true that during World War II, more than 3.5 million British children were sent away from Great Britain's major cities to stay in rural parts of the country or, in some cases, overseas in the United States, Canada, New Zealand, Australia, and South Africa. This was done to protect them from intensive bombing, which was more likely to target major metropolitan areas, and was called Operation Pied Piper.
There is a third operation about which I was unfamiliar until I began asking people to endorse a petition calling on Congress to allow Syrian children to come to the United States, known as Operation Peter Pan (or "Pedro Pan"). This program, in the early 1960s, involved Cuban parents sending their children to the United States in response to the establishment of Communism in Cuba. When these children arrived in the United States, the Catholic Welfare Bureau helped to locate them in foster homes.
Shortly after my petition to invite Syrian children to these shores was launched, a friend emailed me, troubled. She wrote that there was something wrong with the petition--it rejected her offer to donate money for the drive to save the children. I explained that eventually donations would be needed to defray the costs of caring for these children. For now, though, what is most needed is endorsements of the petition.
Lisbeth Schorr--a lifelong champion of progressive causes, and like me someone who escaped Nazi Germany as a child, put it best: "These Kinder-Transports could not have happened absent the British Parliament's enactment of legislation allowing at least twenty thousand child refugees from these three countries entry into England. Similar legislation was proposed and defeated in the [United States] Congress at the same time. We can't quite right that wrong today, but a Syrian Kinder-Transport to the [United States] would be a step in that direction."
Among the first to tweet about the petition was Arianna Huffington, who needs no introduction. A celebrated political scientists Norman Ornstein, followed suit, among others. However, I learned that even the ideas you consider worthy and apolitical have to struggle to rise above the noise level. I hope that many who read these lines and think about the many Syrian children who will spend this season in schools that are bombed, scavenging for food, will not only sign the petition but also ask others to join us in advancing a good cause. (Click here to sign).

Amitai Etzioni is a University Professor and Professor of International Relations at The George Washington University. You can follow him on Facebook, Twitter, or YouTube. To subscribe to his monthly newsletter, send an e-mail with the subject line "Subscribe" to icps@gwu.edu.

Popular in the Community