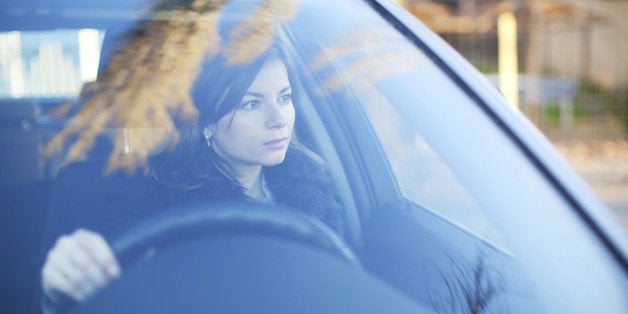 I see you storming out of Target, carrying your crying boy while another three kids, under the age of 7, scurry after you across the parking lot. I see you without a cart, without any bags. I see the red-hot anger in your face as you put your boy down on the shimmering summer pavement, a little too roughly, to dig around for your keys. I see you shove him towards the minivan and yell at him to Get. In. The. Car.
I see the fury in your eyes as I roll slowly past, looking for a parking spot. I see your rawness and it shocks me, not because I'm judging you, but because it's all too familiar, that look, that feeling. I've been there -- believe me.
When my oldest daughter was around 2, she started pitching a fit in her car seat on the way to the grocery store. She wanted out. She arched her back, red-faced and screaming, trying to escape the snug straps. I tried telling her we were almost there, and then she could get out. I tried to explain to her that we needed more milk, but she didn't let up. Her cries crashed through the car, swallowing me like a renegade wave. That's when I lost it. I screamed at her to stop screaming. I swerved to the side of the road, cramming the car onto the narrow shoulder. There was no plan, only anger and resentment and frustration. I stomped around to the backseat door, threw it open and unbuckled her, yelling the whole time. As she climbed out of her seat and into the way back, I wanted to grab her and shake her and who knows what else. Instead, I closed the door and went back to sit in the driver's seat. We were not going to the grocery store. I wasn't even sure how we were going to get home.
Ten years later, I still grapple with the emotional challenges of motherhood. I wake up willing my heart into a good place, promising myself I won't lose my temper when the big girls fight, that I won't yell at the 3-year-old when she refuses for the third time to close the kitchen drawer that holds the knives. My anger leaves a bitter taste in my mouth and guilt in my heart. I hate that feeling, and I bet you do too, but sometimes the world just bursts into flames and you can't do anything but stand there, burning.
I look right at you, willing you to see me seeing you. Willing you to look through my window at my face because maybe, just maybe, that look between us can break your anger. Sometimes that's all we need: to be seen, in our shiniest or plainest or sh*ttiest parenting moments. Then something shifts, whether from pride or gratitude or shame or sadness, and we reenter ourselves through other people's eyes. We reset.
As I pass, I keep watching you in my side mirror. Then, I see you take a step back from your boy, the one you are furious with, the one who made you abandon that shopping trip for school supplies or new shoes or toilet paper. I see you stalk to the back of the minivan, behind the kids piling in, and stand there, silently, fuming. You don't say a word or make a move. You hold yourself in check. It's one of the hardest things we moms do: keep it together, temper our tempers and our sadness and our lonely. We do this for ourselves and for our kids. We have to remember that our love is bigger and brighter and better than an abandoned cart sitting in aisle 12 of Target.
I find a parking spot a few cars down and turn off the engine. When I glance back, you've already pulled out. I don't know what happened in your car after the kids were all buckled in and the doors slid closed. Maybe you cried into your steering wheel or dealt out consequences or lectured the kids about their unacceptable behavior. I won't ever know. What I do know, though, is that I saw you wrestle with your anger there in the parking lot instead of unleashing it all over your kids. And that counts for something. It really does. I know. I've been there.
Lisa Sadikman is a writer living in Northern California with her husband, Labradoodle and three daughters. Her writing has been featured on Huffington Post Parents, Kveller and Scary Mommy. You can read more of work on her blog, Flingo and by following her on Twitter @LisaSadikman.
Like Us On Facebook |

Follow Us On Twitter |

Contact HuffPost Parents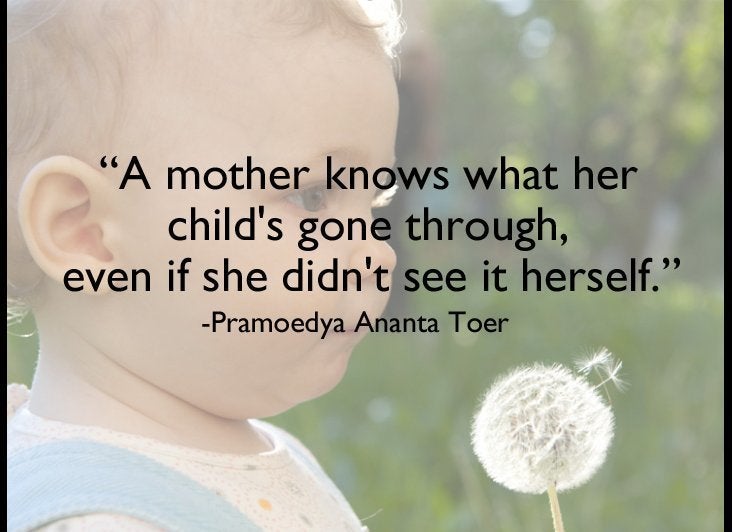 Quotes About Motherhood
Related