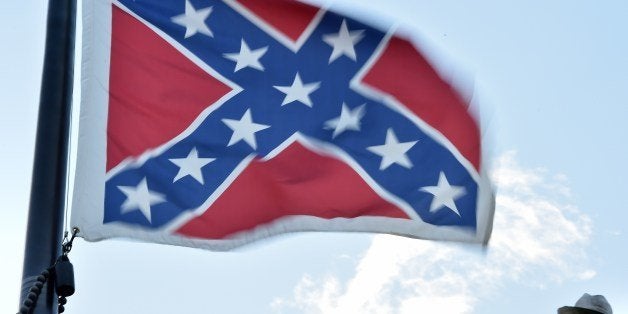 I saw your truck parked in front of the Rite-Aid, right by the Dunkin Donuts. Two large Confederate flags were attached to the back of it, waving in the wind. The American flag was, incongruously, in the center. And, I have to confess, I don't get it.
Part of me wanted to ask obvious questions: You know you are in New Hampshire, right? And, you know New Hampshire was not a part of the Confederacy?
I ask this because I'm not so sure you do. Here we are in a northern town, a place that gave her sons up to the Union Army and lost them on the battlefields of the Civil War. A place where locals organized early against slavery and led the charge against it across the country. A place where 150 years ago that flag would have been seen as a symbol of treason.
I grew up in the South where I saw plenty of Confederate flags. My college campus had a small Confederate cemetery on it and every Confederate Memorial Day (do you know when that is, by the way?) they'd be decorated with those flags. And I lived in a state where that Confederate emblem was on the flag for far too long.
Some people say it's heritage. I don't buy it. I have Confederate soldiers for ancestors, and I've never felt the need to honor them by flying that flag.
I also know it wasn't even the Confederate flag. It was the battle flag of the Army of Northern Virginia. (My ancestors' unit, by the way.) And I know that even the Daughters of the Confederacy advocated not using that flag anymore back in the 1920s. And I also know that it didn't really make a comeback until the 1950s when a Supreme Court decision let African-American children go to school with white children.
Do you think that flag has been flying in front of the South Carolina capitol since 1865? It hasn't. It was put there for one reason only: racist defiance in the face of integration.
I think you believe that the flag brands you as a "rebel" or somehow honors your outlook on life. It doesn't. It brands you as a racist. You may not think you are one, but flying that flag is a racist act.
I know that right now you are saying, "But I'm not a racist!" "Heritage, not hate!" But this isn't your heritage. It's mine. And it is hate. And it is racism. And every time you put that flag on the back of your car, we all go back in time a little. And the past wasn't so great for many of our neighbors.
The present isn't so great either, by the way. Because in a time when nine African-American churchgoers were massacred at their church by a man wearing that flag, and in a week when seven black churches have been burned with little media attention, those flags tell everyone that you could care less about what is happening. Others can suffer, so long as you get to wear your flag. It's like showing up at a funeral and dancing on the grave.
Is that the kind of man you are? One who doesn't care who is being hurt, so long as you get to show off your flags on your truck?
You aren't being a rebel. And you aren't being courageous. And you won't be on the right side of history.
But here's the good news: it doesn't have to end like that. You can stop flying the Confederate flag. You can honor your ancestors here in the North by learning why they were willing to give their lives to fight against that flag. And you can honor my ancestors down in the South by saying you are willing to learn from their mistakes.
Please. Our town doesn't need those flags. And, if you look inside and find your better self, you'll find that neither do you.
Popular in the Community