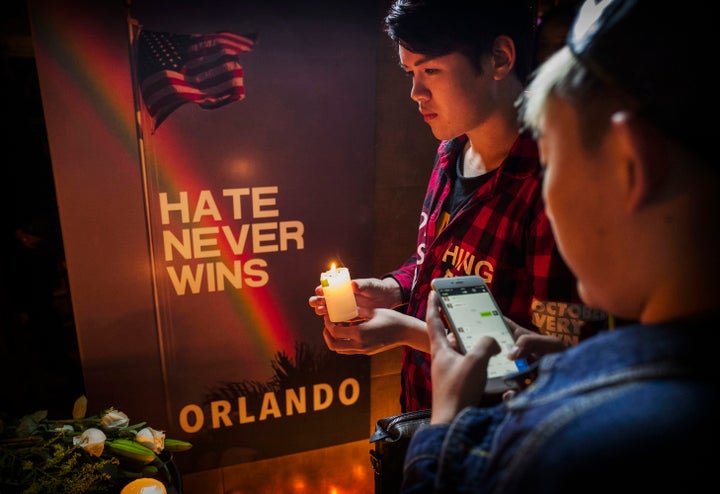 I don't know you at all. I picked you up as a Facebook friend as thoughtlessly as I might have picked up a computer virus, probably from some Facebook alumni page, or one of those "Find Your Classmates" websites I usually avoid like the plague.
I knew your name, of course. I heard it often in my first year at the all-male boarding school we both attended at different points in our lives. It was spoken with awe and respect in connection with your toughness, your athleticism, your stoicism, the perfect way you embodied the school's Spartan ethos. You probably know that were a bit of a legend in your own way.
You don't know me at all. As far as I can tell, we've never exchanged a personal message, or an email, or even a note. Even writing this, I can barely recall your face. It's interchangeable in my mind with that of any number of red-faced, well-fed, well-tended, well-off middle-aged, middle-class white men.
As I said, you don't know me at all. If you did you'd know that, before going to bed, I check Facebook, Twitter, and the news—a bad recipe for sleep, I know, but being a news junkie is an occupational hazard for an ex-journalist.
In the pre-dawn hours of June 12, 2016, I read the news that there had been a shooting in a gay bar in Orlando. In the hours that followed, the horror began to reveal itself. The body count wouldn't be revealed until later, but as the night went endlessly on I followed every bulletin, every mention on Twitter. I reached out to west coast journalist friends who were the ones awake at that hour. The British media, eight hours ahead of us, were on the story while the majority of American networks all seemed to be fast asleep.
In between updates, Twitter trolls played with the tragedy like it was a game of cat and mouse.
An L.A. comedian sent out fake news stories claiming he was the killer. Teenagers tweeted pictures of other teenagers, claiming that the police were looking to question them in connection with the murders. One member of the truly lunatic fringe of gun nuts even tweeted: They're faggots and they don't like guns. The guns were in hands of real men not a gay bar.
Just before dawn, the Orlando police tweeted that they had killed the murderer of what was then thought to be up to 20 people. I fell asleep at 6:00 a.m. and I slept fitfully till 3:00 p.m. the following afternoon.
Like almost every queer person I know, I spent that Sunday glued to various screens—my laptop, the television, my iPhone. Facebook became like my living room, with good people I know, both in real life and online, weighing in, offering support, sharing their anger, grieving together. The wake may have been virtual but the grieving was in real time.
That's when a message from you suddenly flashed up on my public page.
It was angry, scathing, filled with contempt. You told me there were "other things in life besides [LGBTQ issues]" and that you were "dumping" me, which I understood to be the late-middle-aged iteration of Facebook "unfriending"
You told me Trump would "sort it all out" when he won the presidency in November, and that you were sick of my "rants." Those may have been the first words you ever addressed to me.
My retort was predictable, swift and blistering.
And then you wrote Fuck you fag on my Facebook page.
In the stunned nanosecond that followed, you accomplished what you set out to accomplish, my friend. I congratulate you on your achievement.
With three words, you stripped me of my humanity. You actually stopped time.
You made me fifteen years old. You made it the afternoon when, after literally a month of non-stop bullying and violence, two older boys dragged me out behind the furthest building from the dining hall and beat me up for being someone too delicate, too dewy, too queer for their liking; someone entirely alone in a new place, someone different, someone terrified, and someone who wouldn't—or couldn't—fight back. In that second, I heard the brutal, ice-cold voice of the one who repeatedly slapped me across the mouth, hissing Faggot! Faggot! with every blow. I heard it as clearly as if it had come from my computer.
Forty years later, almost to the day, my third novel, October, partially inspired by that encounter, would be published. The book would be, among other things, a very welcome exorcism of a deeply malignant spirit. But in 1977 I was just a scared kid with a bloodied mouth in an alien landscape a long way from home.
They left me there behind that outbuilding, weeping, bleeding and struggling for breath from one last punch in the solar plexus, knowing full well that I wouldn't tell the teachers, because that wasn't done, as I had already learned. This was a school designed to produce "complete men"—presumably the kind of "complete man" you now are.
But that nanosecond passed, as they do.
I'd like to think you deleted your words because you regretted of them, or because of the excoriation you received from my friends, but it's just as likely you were afraid I'd immediately screen-cap them, and someone you knew would see them, and see the ugly, aging bigot behind the congenial online mask of geniality.
Either way, it didn't matter. I blocked you, and I hope I never see or hear from you again.
You see I'm not fifteen years old now. I'm an adult. I'm a man. I'm an accomplished writer who has been married to a brilliant, handsome, loving man for thirty-three years. I have a wide, varied, and sophisticated group of friends. I have family, chosen and otherwise, who love me passionately and whom I love. I have been an out gay man since I was nineteen, and I am no stranger to activism.
Still, forgiving you was surprisingly easy.
Eighteen months from that terrible night, I've made peace with the fact that there must surely be something irreparably broken in the soul of an adult man who would write Fuck you fag on a queer person's Facebook wall less than twenty-four hours after a savage anti-gay hate crime that coincidentally was also the worst mass-shooting massacre in U.S. history at that time.
I can't imagine what it would take to so casually throw that particular fistful of salt on an open wound, especially that night, when the airwaves and Internet were full of death, tears, horror, weeping mothers begging for news of their children or sharing the texts their sons sent them in the moments before they were shot in the head by a monster.
The young men and women murdered by Omar Mateen could have been my friends and I, back in the 80s, dancing as though we were immortal, and as though Sunday morning would never come.
Today, they could be my sons and daughters.
I feel sorry for you, to be honest. In spite of all your successes and your possessions, and your memories of your glory days as a schoolboy, something is clearly missing. I hope you find it, because God knows neither of us is getting any younger.
Forgiving the idea of you is harder, but I think I'm almost there.
You see you gave me a number of gifts without intending to. In the banality of your cruelty you gave me something ghastly against which to compare my friends—women and men, old and young, including those complete men, with no quotations required, who don't need to be members of marginalized groups themselves in order to stand up for what's right, or denounce what's wrong, or offer comfort, or protection.
You reminded how, in the same way that the sight of two men kissing will drive some other men to murder, the sight and sound of our lamenting the murders of our brothers and sisters will be an irritant to some others— something to be slapped down as a disruptive interruption to their peace and quiet—indeed to their ordered view of the world itself.
It's a reality that queer people share with women, and with racial, ethnic, and religious minorities. Until this happened, I'd only understood the erasure that is #AllLiveMatter intellectually and morally. I understand it viscerally now.
You reminded me that in spite of all our successes, however many books we've written, or movies we've made, or friends we have, or how long we've been married, or how many children we're in the lives of, or how many "out" celebrities we can claim, or how many politicians are now in our court, or however freely our younger generation can blithely dispense with a lot to the things we had to go through (which is good), on some level, to some people, we're still just faggots and dykes, and trannies to be shot dead in the street for daring to not be like them.
That's not self-pity, that's just the weight of facts. It all feels horribly old, and horribly familiar. And other people will always continue to try to explain us to ourselves, and explain our lives to us, and make it about them when it suits them, and make it all our fault when it doesn't.
Most of all, my friend, you confirmed something for me.
You confirmed the reason for the dailyness of activism. As life-changing, unforgettable, and dreadful as the Orlando massacre was, as long as Fuck you fag can ever be an nominally civilized straight man's response to any queer person's grief, there's so, so much work to be done. Don't worry, though. We're on it.
For that, I thank you. I forgive you. And, fuck you too.