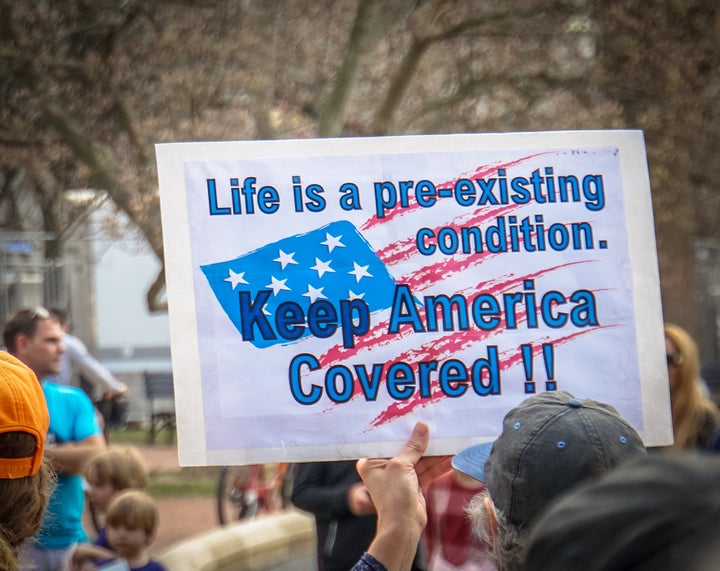 All of the members of the House of Representatives who voted to repeal the Affordable Care Act (ACA), also known as Obamacare, and pass the replacement bill are cowards. They rushed this bill through the House in response to bullying from President Trump, the Freedom Caucus, and Speaker Ryan, many without even reading it. They did this not because most of them believed in their hearts it was a good bill but because they put politics before people.
Because some of those people who will be hurt by this bill are my grandkids, I am "mad as hell and I won't take it anymore." I have a grandchild born with cystic fibrosis, which would definitely be a pre-existing condition. And I have grandkids on the autism spectrum, another pre-existing condition. Their mothers had healthy pregnancies, and yet these precious children were born that way.
I remember very well what insurance companies could do under the name of pre-existing conditions. Like my daughters' families, neither my husband nor I worked for companies that provided insurance benefits. When we were in our 40s and healthy, we were forced to apply for a new individual insurance plan because our old one was discontinued. As a condition of getting this insurance, we had to agree to exclude coverage for our pre-existing conditions. This meant that because I took a thyroid replacement hormone and had once taken a medication for break-through bleeding, I would have no coverage for anything related to my thyroid and reproductive system. Because my husband had a kidney stone, no kidney disease would be covered. Allowing states to permit this cruel and greedy behavior again is unconscionable.
Here is a complete list of what will likely constitute a pre-existing condition.
Reasonable Republicans like the 20 members of the House who voted against the bill and Ohio Governor John Kasich understand that the bill that passed the House last week would allow states to waive the protections of Obamacare, permitting insurers to charge sick and older people higher rates. They acknowledge that high-risk pools for people with pre-existing conditions are likely to be underfunded. "Access" doesn't mean much if people can't afford the insurance. Doctors who treat children like my grandkids agree this is bad approach to healthcare. The American Academy of Pediatrics condemned the bill, calling it "bad policy for children and dangerous policy for our country."
"Sorry Jimmy, your sad story doesn't obligate me or anybody else to pay for somebody else's health care."
Representative Raúl R. Labrador from Idaho, a member of the House Freedom Caucus, proclaimed, "Nobody dies because they don't have access to health care." Really?
When he received the John F. Kennedy Profile in Courage award on May 7, President Obama said:
"I hope that current members of Congress recall that it actually doesn't take a lot of courage to aid those who are already powerful, already comfortable, already influential, but it does require some courage to champion the vulnerable and the sick and the infirm ― those who often have no access to the corridors of power."
For the sake of my grandkids and all of the vulnerable, sick and everyday people, I pray the Senate will reject the cowardly and greedy bill sent by the House of Representatives. I hope they understand that unaffordable "access" will kill many Americans. We all need to stand up and insist that they do the right thing.