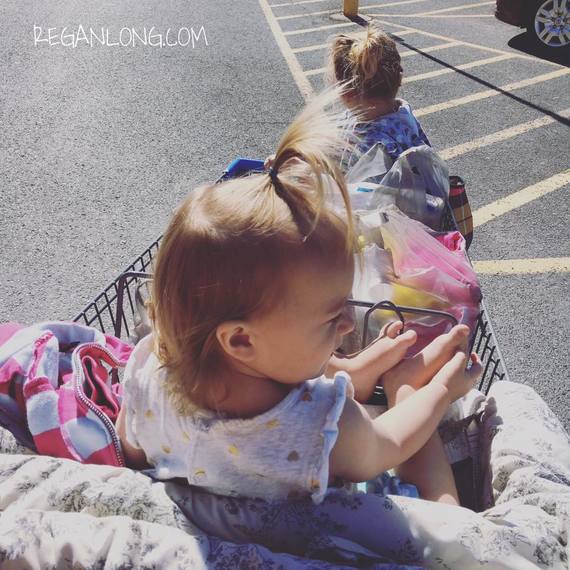 I know all too well that worried look you had on your face. As each item was scanned, your heart must have been beating a bit faster.
I know all too well that huge lump in your throat you must have had thinking if you would have enough in your account to cover the total bill.
I know all too well the humility as you quickly glanced around to see if anyone was watching or would notice what was about to happen.
I know all too well the heart wrenching feeling staring down at your newborn in the cart thinking HOW will you continue to do this, let alone survive this day?
Today I'm so grateful I was behind you in the check out line. I'm not ignorant to the fact that God perfectly placed me behind you at the most perfect time for a number of reasons.
I'm so thankful that you let me pay for your groceries when the heart wrenching time came that the needed funds were not there.
I'm so thankful to return a favor when God had always "found" me.
I'm so thankful for His perfect timing in all things and His promises to surely find a way.
Oh sweet Mama, why do I know this feeling all too well? Because it wasn't long ago that I was there. I was in that very same position, battling the very same battle, experiencing the very same turmoil, and having insufficient funds to get some necessities for my family.
As this mother and I walked out of the market in tears, she shared that she had to take the day off from work to take her precious newborn son for his 2 month shots. However, she has already been back to work for nearly 4 weeks. She passed over her barely 1 month old, forced back to work as those unpaid 4 weeks off after delivering her baby already put her family MORE than behind.
Although once again I found my heart aching, I smile and praise God that He always delivers. When there isn't a way, when there aren't funds, well... He brings them to you.
One may say this was a chance encounter? But I beg to differ -- this was what you call a beautifully orchestrated meeting by the One who knows all and is ready to swoop in at our moments of despair.
Remember my Friends, you never know why the person in front of your or behind you is there. No coincidence, but they just may be in need of you and whether it's simply a kind word or helping hand, YOU are needed -- YOU are important -- YOU can impact a person's life with the smallest act of kindness.