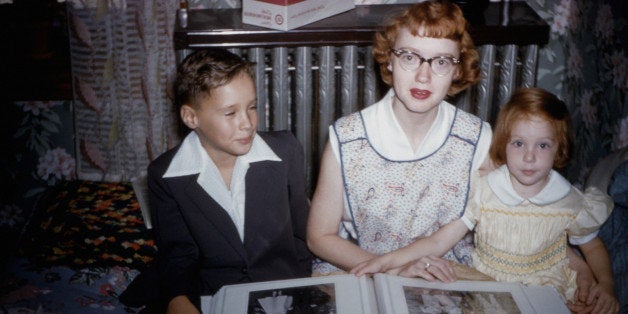 On Mother's Day, it's nice to acknowledge our own mothers and grandmothers, sisters and aunts. This year, I'd also like to pay tribute to a few others. These are the mothers I've never met. These mothers created, shaped and molded the friends who support me and it is through these friends and their spirit that I sense the women who mothered them. If I could, I'd write the following letter to these mothers of my friends and let them know that they did a good job.
Dear Dorothy, Jane, Carol, Pam, Bonnie and Deb,
I never met you, but I need to thank you. You claim membership in a generation that came before me, and your child is a part of my league of friends and young parents. With the support of one another, your children and I are navigating our way through this tricky business of raising little human beings together. Your son or daughter is a part of my village. And my goodness, it really does take a village!
At a park, at a job, or during school pick up, I met your child independently of you as our own young children, your grandchildren, tugged on our legs and played with the hem of our skirts. Over time, the rhythm of our relationship unfolded and your child became my friend.
You may live in another part of the country, in what my friend describes as a hometown. You might spend your winters in warmer climates, or travel frequently Sadly, some of you have died and passed to another place before I ever met your child.
But I want you to know that no matter where you are, I feel you here in my village. Your lesson and your legacy are here, supporting, uplifting and encouraging me. I couldn't do my job as a mother without the lessons of community and kindness that you taught to your child.
As a young mother, I need your child, and she needs me. When I have a meeting to attend, your daughter offers to babysit my toddler. When we buy new furniture, your son comes over to help us lift a sofa. When I can't get three children to three separate activities in different parts of town, your child steps in and carpools mine. When my child falls at the playground, the league springs to action and your daughters, my friends, rush in with wipes, water and advice on whether to call the doctor or go straight to the emergency room.
I sense you in the actions of your children. But I also feel as if I know you through the stories that my friends share about you. Even as adults, we, your children, are just as proud of you as you are of us. In the intimacies of a glass or wine on the porch or in the casualness of pushing a swing on the playground, we talk about our family, our childhood; our home base. Because no matter where we go, or how fast and far we run, we always feel the desire to ground ourselves with a quick touch on home base by sharing a memory or two.
I've heard about the tent you created in the living room with your children, and laughed about how you, too, were once driven mad by motherhood and stormed off in silence before returning home renewed with a mysterious source of laughter. I saw the childlike twinkle in the adult eyes of your son or daughter when they told me a funny story from a family road trip, or the time you painted your house blue. I've even tasted that secret ingredient that you add to your lasagna recipe. Your child made it for my own family when our youngest baby was born.
I know that you raised six daughters and that my friend's middle name is yours. I've heard a bit about the times when your heart broke wide open. Some of you suffered through cancer or divorce, the death of a sibling or the loss of a job. You've reminded me that everyone loses battles, and that everyone wins battles. And whether I'm winning or losing, your child is able to help me through my battles and challenges because she witnessed you going through your own.
As a mother, I am connected to you in a universal language of sacrifice, reward and a spirit of generosity. I know that many years ago you changed diapers, or rocked a baby on a sleepless night. At this stage of motherhood, I'm exhausted! You must have been too. Yet you still found the time to instill in your children a sense of kindness and the willingness to lend a hand. I hope I am doing that too.
I admire you and I respect you. I think of you often. You raised a good person. I know, because I'm lucky enough to call your son or daughter my friend. I am the beneficiary of your life's work. You took on the sacred job of raising a child and then gave that child over to the world. Your legacy is the future that you created.
I sense your legacy when my friend remembers to call me on my birthday. I see your legacy when my friend picks up the mail for me when we're out of town. I feel your legacy when my friend guides his or her own children in an act of kindness or compassion towards others.
As a mother, if I can't be everywhere all at once, then I'm grateful that your son or daughter is my understudy. My friends are an invaluable part of this stage of parenthood and since you raised them to be the people they are, I want to say thank you. I recognize the impact of your motherhood in your daughter, your son and your grandchildren, and this energy lives on and is deeply appreciated.
We are separated by time, yet united by the privilege of this role. Mother to mother, thank you.