I got home after midnight from a business trip last night. That's probably why I didn't notice it until the morning. A gift bag. Alone. On the kitchen table.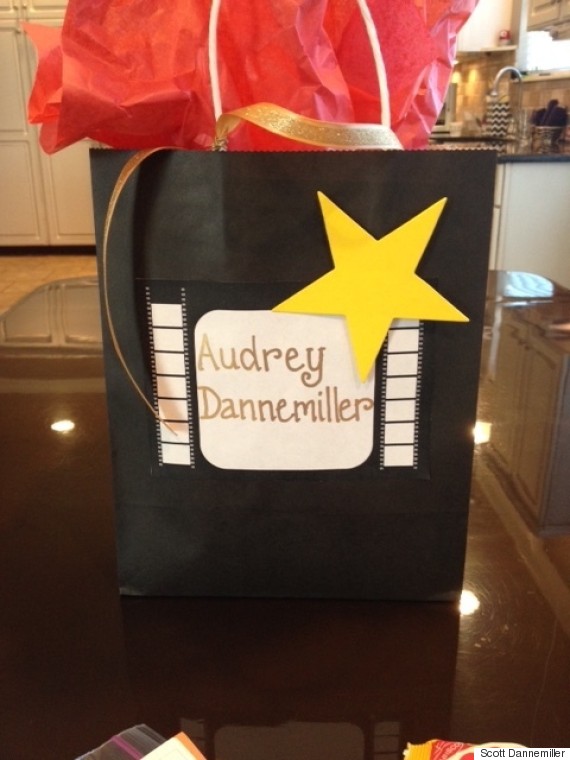 Normally, getting my kids to the breakfast table is like trying to coax a couple of cats into a swimming pool. As soon as they wake up, they hide under blankets on the couch and make strange noises. But this morning was a different story.
Audrey came out of her bedroom, wiped the sleep from her eyes, and went right to the table. She sat in front of the bag with a smile on her face.
"What's the bag for?" I asked as I created my super-duper breakfast parfaits. Colorful layers of yogurt, fruit, and cereal.
"We got it for our end-of-year party yesterday." She reached into the bag.
She started pulling out different items and commenting.
"Goldfish crackers... Some cookies... Ooooooh! Gummy worms! And a mustache!"
The morning went on as usual, with me reminding the kids to brush their teeth, make their beds, and get a summer job. (Note: "I'm only 7" is not an excuse.) We finally made it out the door and walked to school as a family unit.
When Gabby and I got back home, I tidied up the breakfast mess before getting to work. When I reached down to pick up all of the things that Audrey had removed from her bag, I did a double take.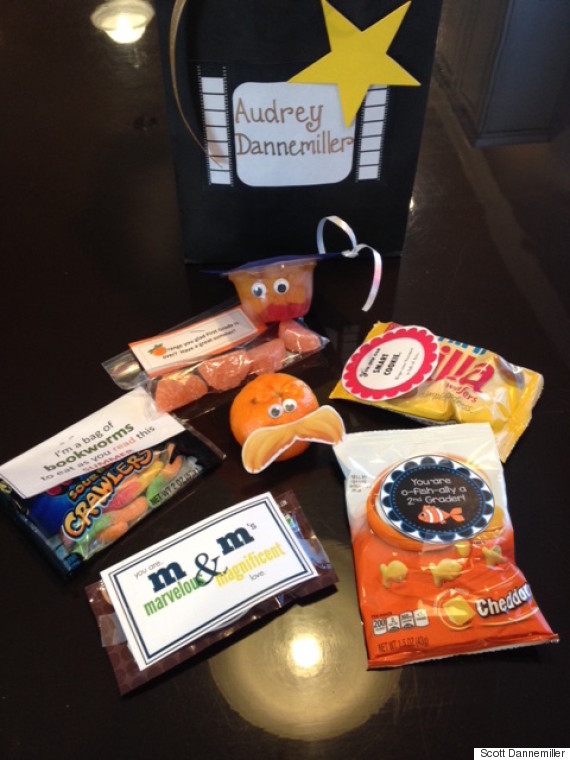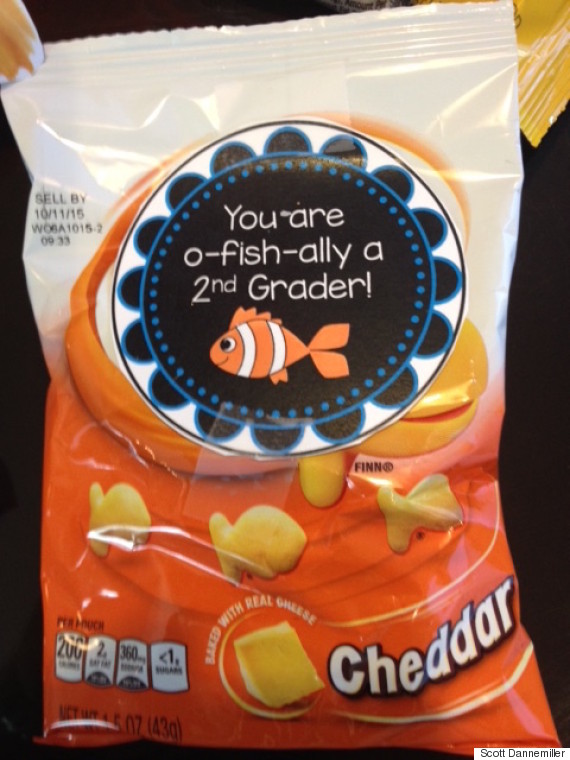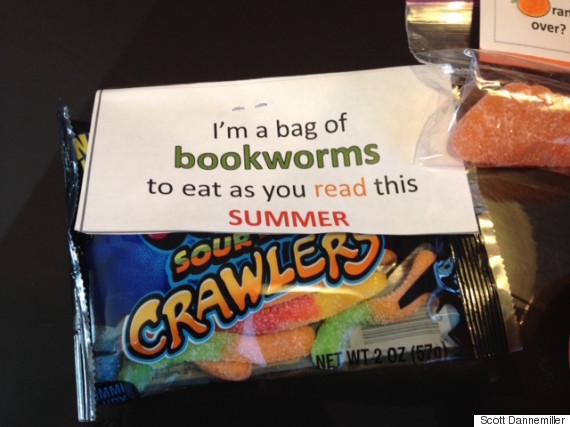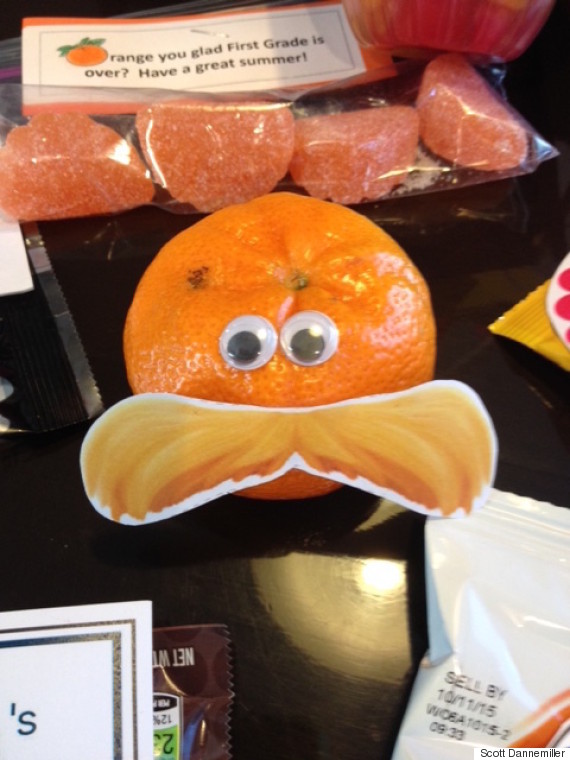 Every single item was accessorized. Little notes. Ribbons. Sayings. Like a professional stylist had just prepped them for the red carpet at some weird awards ceremony for pre-packaged snacks.
Follow me on this one. I truly appreciate that people have taken so much time to make sure my child felt important yesterday. Craftiness is a gift. One I do not possess. I am awestruck by the flawless execution of cuteness on these snacks. And I realize the inherent hypocrisy of my statement, since I am guilty of adding a bit of "flair" to the breakfast parfaits from time to time.
But for some of you, it's exhausting, right?
As the man who is married to the person who reluctantly put googly eyes and a graduation cap on all the fruit cups, I feel I am qualified to offer this sage advice to the mothers of the world who do this kind of thing through gritted teeth, out of a sense of obligation.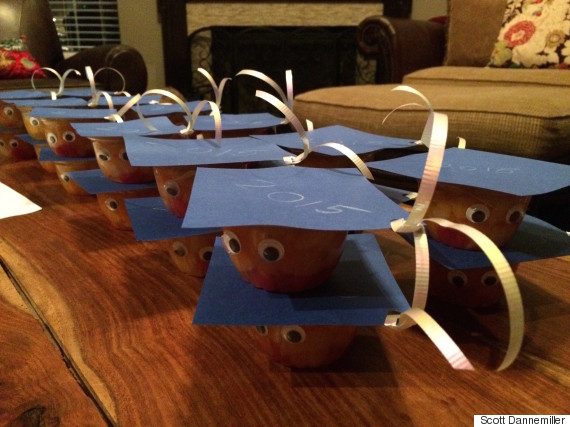 Here's a theory for you. There's a type of person who actually enjoys doing this kinda thing. She sits whistling in her craft room, making little doo-dads out of marshmallow fluff and fairy turds while bluebirds flit about her shoulders -- and she's having fun. Meanwhile, all the rest of the moms are like:
"$#!@. That f'in party is tomorrow, and I gotta come up with something cute for the kids, 'cause you know Susie Craftsalot is gonna make the Taj Mahal of lemon bars. Here, let me just slap some googly eyes and some construction paper on this fruit cup and call it good."
So now we're all working to impress Susie Craftsalot, hoping to measure up. All the while, she doesn't give a flying unicorn fart what we made. Not because she thinks she's better, but because she's honestly, genuinely surrounded by the intrinsic joy of making creative stuff. That, or she's too damn distracted by the little field mouse she trained to ride a unicycle to deliver her handmade, end-of-year teacher gifts.
Whatever the case, for most of you moms out there, the competition is all in your head. And so is Susie Craftsalot. Some folks love to do this kinda thing, and that's totally cool. But if it's not you, then don't try to be something you're not. Because the results of our endless impress-a-thon are not good. A 2013 survey of 7,000 women showed that their average stress level is 8.5 out of 10. Nearly 50 percent reported suffering from "Pinterest Stress" -- not feeling crafty enough. And three out of four said "the pressure they put on themselves is worse than any pressure or judgment they get from other moms."
I remember when crackers used to be enough. You probably do, too. Can we get back to that place, please? Deep down, we know we're not doing it for the kids. They couldn't care less. My daughter didn't even notice the adornments. But she did appreciate the snacks.
And you know what? No one will judge you for bringing a box of Chips Ahoy. Or an unopened bag of string cheese. And if they do, why do you care? Pardon my fit of cynicism here, but we spend far too much time and effort worrying about what others will think, forgetting that most don't even notice. And those few who do are likely too self-absorbed to be true friends to you anyway.
So stop it. No more worrying. No more needless effort. No more made-up competition.
Because oranges are enough.
Enjoy this post? Subscribe to Scott's blog at The Accidental Missionary, where this post first appeared, or follow him on Facebook. Scott's book about his family's Year Without A Purchase is due out August 4th from WJK Press, and is available from Barnes & Noble or Amazon.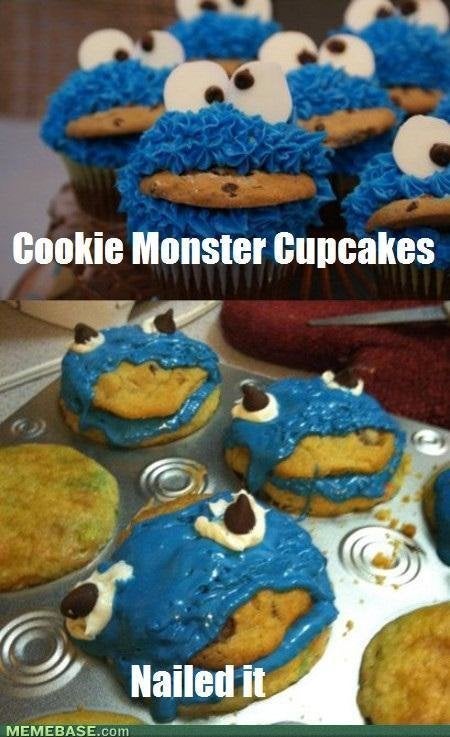 Pinterest Food Fails
Related