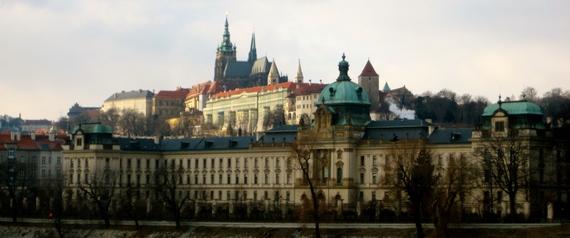 Travel in any form is a special kind of adventure, but there is extra beauty in traveling by yourself. You alone choose how you want to fill every minute of your days and nights: what to do, what to eat, where to go, and how to get there. I've taken myself on trips all over Europe and a few places in Asia, and I eagerly anticipate adding more countries to my life. While I love the freedom and the time spent only with my own thoughts and the books that I invariably carry in my purse (along with other essentials, such as a camera, passport, and lip balm), it's a paradox of travel and life that being alone makes you so approachable to strangers. Like every lover of solitary sightseeing, I've experienced the clingy individual from the hostel who thinks you should do everything together, the talkative man at the bus station who makes you so nervous that you give out a fake name, and the big group of travelers who want you to join them on their touring and inevitable partying.
Despite those occurrences, some of my most human connections (and best stories) come from the similar souls whom I've encountered on my travels. We may have only spent a few minutes or a few days together, but meeting you and sharing brief moments changes me for the better every time. This is my ode to those people... to you.


You've come from England, Scotland, China, Germany, Syria and more. You resembled Sean Connery and recommended books that I'm still reading. In Taiwan, I first noticed you as the only other white person at the bus station. You were initially shy to speak in English (you had probably never used it outside of the classroom), but soon you were asking me to take a selfie to send to your mom. Maybe you didn't speak English at all, and we communicated entirely with made-up sign language. One time you took me on a hike I was ill-prepared for, but redeemed yourself by insisting we have dessert after every meal. You invited me to stay with your family when I traveled in the UK (but of course I didn't).
We met on the subway in Prague and at the Staatsoper in Vienna (where we had hours to talk while waiting for standing room tickets). You approached me at a bus station in Boston or perhaps at a hostel in Taiwan or Greece. We first saw each other in one city and serendipitously ended up in the same restaurant in a different city hours later.
Our conversation lasted the length of a subway ride, was interspersed between the acts of Le nozze di Figaro, or took place over our 24-hour friendship. Through charades, you showed me that your life was unbelievably different from mine and your hardships almost unimaginable to me. But you were curious about my life too. I admired your perseverance and positivity, even though I couldn't figure out a way to tell you. One time you were a talented performer and we sang show tunes together, probably to the frustration of our fellow hostel-mates (though I thought we sounded good).

We were the same age, and I could hardly fathom the different paths our lives had taken. Sometimes you were older than me and savvier in the ways of travel. I learned from your experience, but I also had to explain to you that a smartphone is not necessary for exploration. A few times you were younger than me, embarking for the first time on your own, and I was able to pass on some of my own travel tricks and tips (like the easiest way to make a hostel bed).
You may have added me on Facebook, but most likely you didn't, and it's probably better that way. I invited you out for drinks with my friends, or we agreed to meet up the next day for sightseeing. But maybe you had a bus to catch. You hadn't realized that it would take you over 24 hours to get to Chicago. We marveled at the size of America. You regaled me with tales of life and love all over Europe, and frankly, I was a bit nervous until you got off at your stop, and I was reassured that you were just a friendly, talkative person with a fascinating life and a flair for storytelling.
We all pass like ships in the night (excuse the cliché), with nothing to mark these intersections in the map of our lives but memories that have enriched us, and I wouldn't have it any other way. These interactions are the stuff that make the memories that make the stories that make the lives. Were it not for these people, I wouldn't have made it to the top of a steep mountain in Taiwan, be reading exciting and historically informative tales of espionage in war-torn Europe, or have the briefest insight into what inspires people from all corners of the world to travel in just the same way and to the same places that I do. I'll continue to travel by myself, reveling in my solitude, but to the fellow traveler who sees me absorbed in a book at a café, feel free to strike up a conversation.