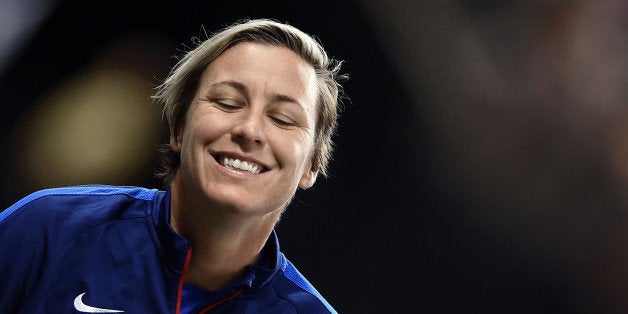 I am writing letter after just witnessing you play you last minutes in a U.S. Women's soccer jersey, and I have to say I'm surprised with how I feel. I expected to feel sadness, a loss for one of the greatest players that has played the game. But instead, I find myself feeling grateful. Grateful for all that you have done for the sport I love and for the young women you have inspired.
Growing up, I was a very shy child. I remember my first day of recreational soccer. I clung to my father's leg until the coach called us over. He assigned us to pass with a partner; I was paired up with another girl. After the drill was over, our coach called us in, and the little girl stole my soccer ball so I ran off the field crying. That ended my time with rec soccer, and it would be years until I would finally step back onto the field as a player.
I can still remember exactly where I was the day you scored your header against Brazil in the World Cup. My high school soccer coach snuck us into the coach's lounge at the North Carolina soccer camp. Yes, I did end up sticking with soccer. The room erupted into cheers, and for one brilliant moment the feeling of watching history be made settled over all of us. It was right then that I realized the impact that sports have on people.
I firmly believe that soccer changed my life. It forced me out of my shell. On the field I wasn't the best player, but I became the fierce player that was going to throw herself into the game and leave it all out there. Soccer taught me to be tough, to stand my ground and to never give in. Every sprint, every mile, every shout from my coach was another test I had to pass, and the point was not to always succeed but, to never back down. After all, soccer is a team sport, and giving in meant giving up on the girl, the sister, next to you.
So thank you, Abby. Thank you for inspiring me, for making me fall in love with soccer over and over again, for letting it break my heart and for helping it make me the person I am today. I have had to go through this farewell process before, as a little girl when I watched Mia Hamm play for one last time, and I have realized that this is not goodbye. It is a passing of a torch; you have progressed women's soccer as much as you could and now, it is time for other women to take their turn at leaving a mark on the sport.
Perhaps losing to China is not the way you wanted to end your career, which is understandable. But Abby, I do not think the result mattered. You walk off that field the greatest winner, because of the number of lives you touched, the number of girls you inspired and the track you have pushed the sport on. Remember Abby: "Heroes get remembered, but legends never die." You may one day get surpassed in the record books, and your accomplishments may be exceeded, but your legacy will live in every girl who laces up her cleats, every girl who learns to head the ball, every girl who gives her heart to game and every girl who outdoes you because you gave her the motivation and belief that she can.
All Heart,
A little girl never stopped loving the game
Calling all HuffPost superfans!
Sign up for membership to become a founding member and help shape HuffPost's next chapter