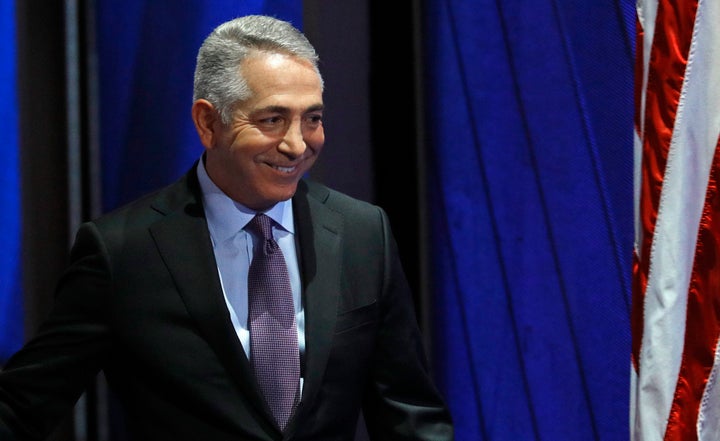 Respectable Republicans, you have a special role to play in this year's presidential election. This year it's not about conservative values; it's about human decency.
It is not only about how America is represented to the rest of the world, but how we see ourselves as Americans.
From the first announcement of Trump's intention to run, his support has been triggered by anti-Mexican, anti-Muslim, and pro-gun rhetoric that is all a certain class of Republican needs to hear to pledge their loyalty to his cause. Some are duped by the idea that just because they know his name, it's a name they can stand behind. Nothing beyond that matters to them.
Trump gives them the permissions that all the peacemakers of the last century have been denying them, inciting their rage against anyone who is different, encouraging them to bully and berate. He sells the conceit of elevating a select few and targeting everyone else.
This kind of voter is easily taken in by the man who has no investment in them beyond gaining their vote. They are not rubbing elbows with the rich and famous; they are being herded into his throng of toadies.
I know you know this. I know you see this. It may not be who you are, but if it helps your cause, maybe you allow it to happen.
My guess is that you are in the camp who does not approve of much of what Donald Trump says, but you are willing to ignore it because you don't believe that much of it would come to pass. Perhaps, you even think that the wild, insolent demagogue will do nothing more than wear the title and run his mouth on cue. He'll be the front man, but everyone else will be running the show.
Maybe you are okay with that image. Maybe you are okay with that gamble. But, are you okay with yourself?
Are you okay with your God (if you worship any)?
Can you live with yourself knowing that your wives, daughters, mothers, grandmothers, sisters can be publicly insulted without recourse? Can you live with yourself in a country that openly insults its military and those who have lost loved ones in battle? Can you live with yourself in a country where racial hatred is actually encouraged?
If you can see that what is at stake in this election are not the usual matters of policy, but matters of personhood, then you have a big opportunity to make a difference.
I urge you to set aside your policy concerns for this race, and vote for Hillary Clinton. You don't have to love everything about her. You don't even have to agree with much Democratic policy, but she promotes human decency, encourages us to treat each other with respect, and she has the qualifications to represent America to the rest of the world as an experienced leader with practiced diplomacy.
Join the scores of renowned Republicans who have already announced their decision to vote for Hillary despite their many years of strict loyalty to the Republican Party. Some have even gone so far as to start their own movements, such as Republicans for Hillary and R4C16. High-profile speakers such as Michael Bloomberg (Independent) and Doug Elmets (Republican), who are so disappointed in the GOP's nomination that they spoke at the Democratic National Convention in favor of voting for Hillary Clinton, are not willing to accept the gamble on Trump. Are you sure you are?
If there is any part of you that is better than hate speech, insults, and blame; I urge you to vote for Hillary Clinton.
If there is any part of you who is smarter than the village mob, I urge you to vote for Hillary Clinton.
The number of people in your position hold a great deal of power in this election. You cannot afford to be silent. You will decide our country's image to the rest of the world, and amongst ourselves. You will decide our country's image in your heart, to your God, and for your children.
With Clinton as Commander in Chief, we remain indivisible with liberty and justice for all—with Trump, that all goes out the window.
This year your vote transcends the normal political debates.
This year you must be accountable to your vote in a different way—make the choice that represents the best of you.
 (Then, spend the next four years grooming a reasonable candidate.)
Calling all HuffPost superfans!
Sign up for membership to become a founding member and help shape HuffPost's next chapter
BEFORE YOU GO